My contemporary vehicle rides on technology. It connects with my phone to make and take calls for me, reads my emails out loud, plays my favorite tunes, and its navigation software guides me through traffic labyrinths.
What would I do without that technology? I found out when I formed a team to compete in the 2018 Rebelle Rally last October. Instead of apps, power cords and chargers, I returned to paper maps, a compass, wristwatches, dividers and parallel rulers.
Off-road competitor Emily Miller created the Rebelle Rally in 2016, an off-road adventure and competition for women only. The Rebelle calls upon teams to find multiple checkpoints each day and plot the best routes to accumulate the most points. Raw speed does not matter, but precision navigation, off-road prowess and teamwork do.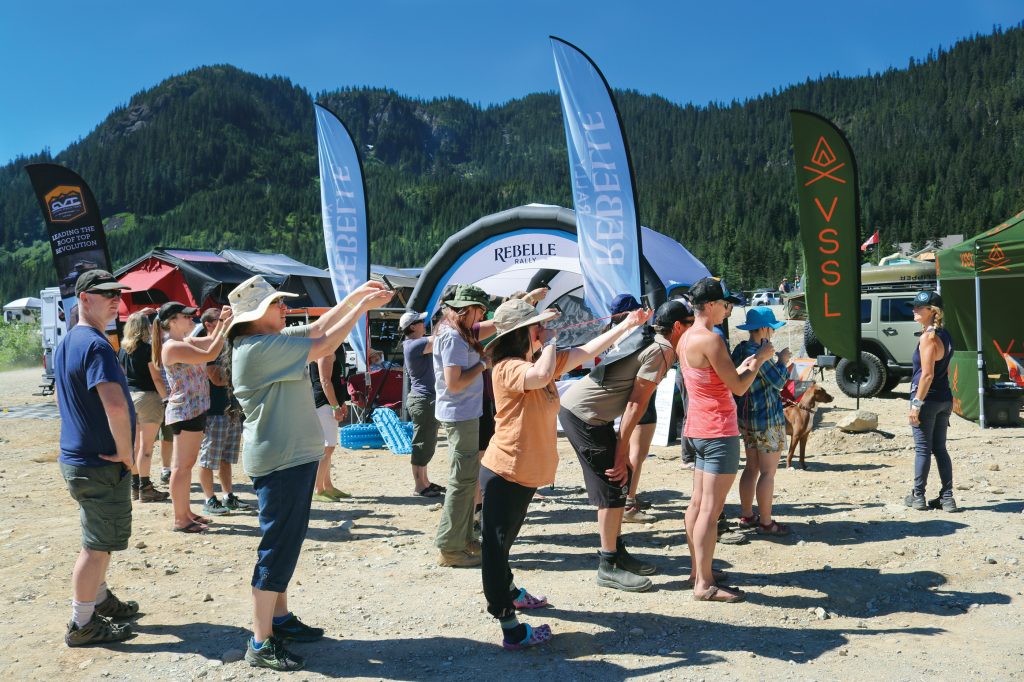 Emily based it on her participation in the Rallye des Gazelles; if the French could convince over 100 female teams from across the globe to compete in Morocco, why couldn't she create an American rally and convince teams to come here? [See Spring 2015 and Spring 2016 issues -ed.] The 10-day event covered off-road territory extending from Lake Tahoe to San Diego, terminating at the legendary Glamis Sand Dunes; the organizers did not reveal the actual course until the race began on October 11.
How to Be a Rebelle
Entering the Rebelle Rally requires a well-maintained vehicle (preferably a Land Rover!), committed and determined teams of two women each, a lot of know-how and cash — $12,000 for 2018. That sounds like a ton of dough, but in the rally or race world, it actually isn't. Registration covers items such as permits to use the land, 65 staff members, on-site medic and mechanics teams, showers and gasoline housed at a huge "base camp" (where a Michelin-star chef prepares meals), satellite phone and tracking devices (so no one gets left behind), etc. You'll also need helmets, specific equipment, travel expenses, and gasoline (or diesel). Recovery gear, good clothing and shoes, and solid camping gear is critical (sleeping in the desert is cold at night!) More isn't necessarily best, but packing smartly and thoughtfully is.
In addition to the above costs, Rebelle Rally prep takes time — a good deal of time. My partner lives in Montana and I'm in Oregon. We took time off work to join up and practice; she with navigating and me with driving. There's also an online navigational class that's required before competition, too.
Training for the Rebelle
Fortunately, I attended the Overland Expo West in NM, the Northwest Overland Rally [see Summer 2018 issue -ed.] and the BC Overland Rally, where I participated in additional off-road training. At Overland Expo West, Nena Barlow's two-day intensive clinic proved very beneficial to our team as well as other competitors. We learned some critical skills needed for the Rebelle: proper use of a Hi-Lift jack, winch recovery and safety, properly plotting points on a map, getting correct bearings, and even got our teacher's Ram Powerwagon "un-stuck" using Maxtrax recovery gear. Additionally, we drove our rigs up and over volcanic hills, got stuck and un-stuck, and put our newly-honed skills to work. We got dirty, sweaty, and weary — but had a great time.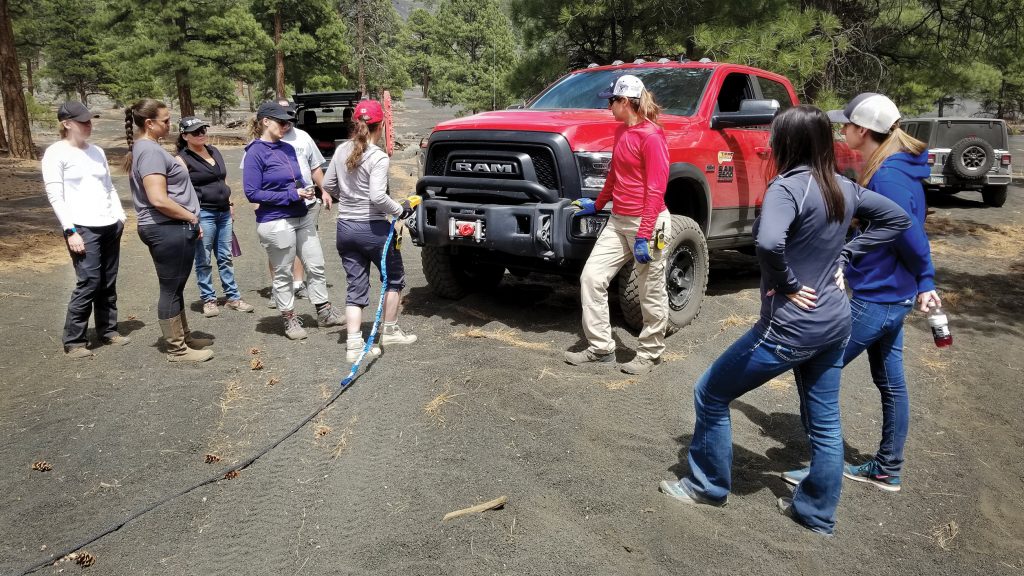 Both NW Overland and BC Overland rallies had several hour-long classes dedicated to the Rebelle Rally. Emily facilitated sessions to educate people about navigation, learning about your off-road vehicle, and how to become a Rebelle. In addition to Emily's classes, the rallies hosted ladies-only off-road driving courses — designed to get women behind the wheel and drive through technical courses successfully. Women learned basics like how to put their vehicles into high and low ranges and equally importantly, why and when to engage the different ratios, as well as how to navigate off-camber situations, hilly terrain, and wash-board bumps. The large attendance at each class demonstrated the strong interest by women in off-roading.
Thayer Cook and Penny Dale (Team Anam Cara)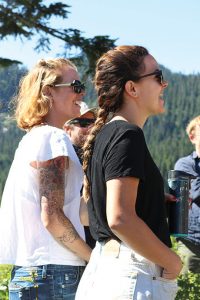 I met many competitors at these trainings and one team stood out to me, because they chose a 2009 LR4 as their Rebelle vehicle.
Canadian Penny Dale lives in Vancouver, British Columbia. An Interior Designer, she has serious adventure cred. "In 2016, I traveled over 45,000 kilometers from Vancouver, British Columbia to Ushuaia, Tierra del Fuego, Argentina. I crossed 15 countries and drove through some incredible, varied, and often unexpected terrain. I met countless inspiring people. It taught me to embrace and be excited for the unknown, and drove me to say yes to new challenges, opportunities, and adventures."
"One of the most difficult challenges I faced personally on that trip was missing interaction with other women. I also noticed that usually it was men that did the driving — our scenario included. I was the route planner and navigator and spent probably 90% of the time in the passenger seat. There's something funny about women not being in the driving seat as often and it's something I want to help change."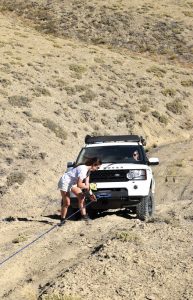 Thayer Cook is a stay-at-home mother of two daughters, ages 2.5 and 3.5. Born in southern California, she considers Crested Butte, CO and Newport Beach, CA her influential homes. The proud owner of an LR4 and Discovery II, Thayer's unconventional off-roading past has fueled her interest in the Rebelle Rally. She's always been competitive; as soon as she read about the Rebelle Rally she knew she had to do it. If other women could do it, then she could, too!
"I felt like I never really 'got into' off-roading, but always have… we drove on all the dirt roads that led deep into the mountains when there wasn't much to do. This was, of course, in the 1980s in Subaru DLs and other small cars — nothing like the Land Rovers we drive now!"
Instagram connected Penny and Thayer to discuss their Land Rovers. Penny sought a new adventure vehicle, and after an exhaustive search, she set her sights on a 2009 LR3. Thayer has a 2004 Discovery II and a 2013 LR4, which they entered as Team Anam Cara (Celtic for "soulmate").
Emily Miller
Emily Miller, the Rebelle Rally founder, said she created the event because, "Driving and navigation have been powerful skills in my life, not only for fun, but for opening up the doors for adventure around the world. From my experiences in off-road competition and training, I've realized that given the representation of women as drivers, automotive consumers, and just the total percentage of our population, there should be more of us off-roading. It should be their badge of honor."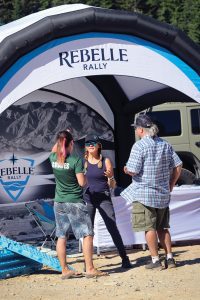 "The Rebelle Rally provides a platform that welcomes women in. The event is not about gender as an abstraction. It is a welcoming and inviting challenge with nothing watered down; it would be as difficult for men as it is for women."
"I was fortunate to learn off-road driving and navigation skills from the best. I did not want to keep them for myself, I wanted to share them." Best of all, she accomplished the course preparation and training in her first Land Rover, a 2011 LR4.
Off-road instructor and former Camel Trophy competitor Bill Burke has trained teams for the Rebelle Rally in recent years. In a phone interview from a remote location in Idaho, he noted, "The Rebelle Rally might be as challenging as the Camel Trophy."
Bill Burke on the Rebelle Rally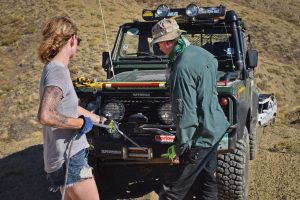 "The navigational skills required to find the required checkpoints, plot the best course and then actually tackle the obstacles, are considerable. At least in the Camel Trophy we could often travel in a convoy and had a route in mind."
For this year's event Bill worked with Thayer Cook and Penny Dale, who comprised Team Anam Cara. "Given the nature of this event the key elements for competitors would be mechanical sympathy, vehicle preservation and situational awareness." Bill found that while they had little off-road experience, "They were great to work with, an open book. They were good outdoors people, understood the challenges and dangers and had done all their Rebelle homework. They knew they would be navigating in unfamiliar environments and would have to be alert to what they would need to think about as they stepped out from their vehicle."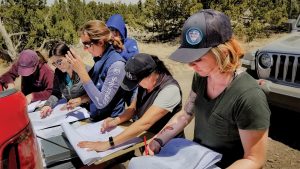 "Given that they were driving an LR4, my job wasn't that hard. A most common issue is that in modern vehicles, many drivers don't understand how capable the vehicle is compared to an older vehicle — like my Defender 90 with its open differentials. In its normal mode, the LR4 follows me without drama, without a slip. Their vehicle has software you can use to your advantage; in an older vehicle, it's harder."
"The modern vehicle compensates for our mistakes. Thayer really got it; Penny got it when she tried different settings in different conditions. I'm really just trying to get them to keep the wheels in right places; how to use landmarks to navigate between checkpoints. After a day and half, they ran 7 checkpoints over 50 square miles."