For 13 lucky years my wife Stacie and I enjoyed life with our '96 Discovery I. A local banker had owned it, maintained it through Vermont's one dealership and left it stock. A set of BF Goodrich All Terrain T/A's, Bilstein shocks and a stainless steel NRP gave it the right look and added capabilities. Our happy times with the Discovery outweighed the occasional frustrations. We drove it and created fond memories.
Driving a Discovery in winter snow is half the fun of owning one. However, we live in Vermont, which pickles its roads in salt every winter. The frame rusted beyond reasonable repair and the Discovery would no longer pass inspection. Regret lingered for only a few months when we began searching for its replacement. Quickly, we learned that we had caught the tail end of that generation of Discoverys and that a replacement would be challenging to find.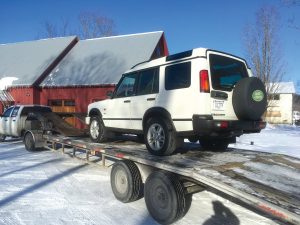 During our Discovery I ownership we never even looked at other Rovers or paid attention to trends and values. We started from scratch. Given our love of the Discovery model a Discovery II seemed the obvious choice, but we'd never been around one and we knew of the potential pitfalls of buying the wrong Discovery II.
It did not take long to realize that Discovery II's were surprisingly rare birds within 100 miles of us, perhaps because owners love them so much that they're reluctant to sell them. The ones we found for sale turned up rough with sellers demanding high prices based on the status of the Green Oval. After driving a few and speaking with enthusiasts we expanded the search.
We found many online classified sources and auction formats where we could learn about the Discovery II without leaving home. Patterns emerged based on location, condition, mileage, year, price, private sales, dealer sales… we geeked out studying the Disco II. Soon, we felt like we were seeing every Discovery for sale in America online — up to 50 Land Rovers daily popping up on our screens.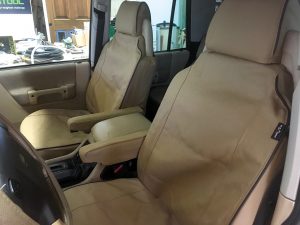 Vermont lies close enough to Discovery-rich markets like Massachusetts, Connecticut and New York. We focused our search to these markets, thinking maybe we could buy one and get it home. At first, they looked like Lands of Plenty. Dealers and private sellers offered bunches with high mileage and high asking prices. We learned that dealers in the Northeast returned calls slower when you request photographs of the undercarriage. CarFax proved a helpful resource, listing the number of previous owners, reports of accidents and their states of residence. These abundant markets appeared to be mostly rich with overpriced Salt Belt lifers — no, thanks!
We took the search further down the East Coast as well as westward. Local Land Rover experts urged us to consider the risk versus reward on buying a local or regional example we could inspect in person against examining one remotely that had passed its life in drier climes.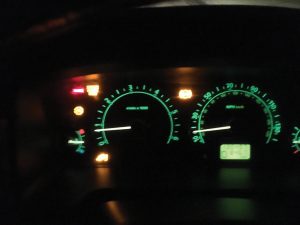 Supply and demand dynamics vary enormously across different markets. We learned that there are many more Discoverys available in markets outside of the Salt Belt. We found many fine examples in Texas, California, Colorado, New Mexico and Florida, and they encouraged us to budget transport costs into potential offers. Logistically, Florida emerged as our target state due to reasonable shipping costs.
Our target Discovery II became a '99-'03 model with less than 130k miles, evidence of proper maintenance and three or fewer previous owners. We want it in our dooryard for under $5,000. While lots of folks on this journey told us that we were dreaming, focus is important while chasing a dream.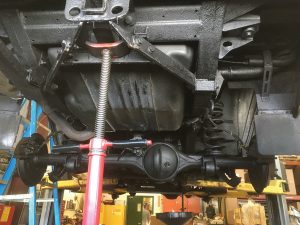 Long distance shopping for Discovery II's requires clear and direct communication with sellers to sniff out problems with motors and frames. The former grew out of the aged tooling used to produce the blocks, which could be adversely affected by lazy maintenance causing overheating, head gasket failures and/or slipped cylinder liners. We read online accounts of the dreaded "Three Amigos" — bad fuel pumps, and electrical issues. Our old Discovery I suddenly looked like a legend of reliability.
How might we reduce the chances of buying a flawed Discovery II? We could not remotely run a Combustion Leak tester on a candidate. Tapping or ticking sounds from the engine can accompany coolant-burning issues, but could also be less-serious problems such as a failing spark plug wire or hydraulic lifter leak. More ominous would be the sound of coolant bubbling in the expansion tank reservoir.
How do you do this when you are buying from a distance? Ideally, there's a knowledgeable Land Rover enthusiast and/or shop nearby who can examine the Discovery for you. If not, request that the seller do an open hood video call with you, showing the motor from a cold start (verified at the dash from the interior), so that you can see and hear the truck warm up and come to idle and temperature.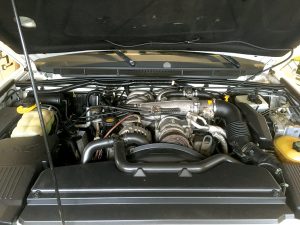 If you'll pardon the pun, we looked to sniff out problems by, well, having someone sniff the exhaust for us. We knew that an engine leaking coolant internally will burn it off and the odor is distinctive. The odor might also be accompanied by silver or gray smoke emanating from the tailpipe. In a 30-second video, you can confirm by at least the senses of sight and sound what is going on. Buying from a distance comes with risk. Be cautious, thorough and smart in assessing mechanical condition.
The second big issue lay with the frame of a Discovery II. Checking out the entire undercarriage is essential, in person or through photos. Obviously, a Discovery II that has spent its life launching and retrieving boats in salt water becomes a likely candidate for significant corrosion issues. Similarly, one that has spent lots of time towing heavy trailers should also have received more frequent oil and transmission fluid changes.
Carefully look at the front frame rails at the Y pipe and catalytic converters. Check the welds, top and bottom, and the overall condition of the frame. You can see these front sections from both the top and bottom sides of the engine compartment. Your video call could also include having the seller slide under the car, as you would do, to take a hammer to the frame rails. A dull "thud" might be a sign of serious rusting.
After all these checks and long-distance chats, we found our next Discovery in December 2017. The '03 Discovery II SE-7 had spent its entire life and 128,000 miles in Florida. It exceeded our expectations in terms of motor and frame conditions.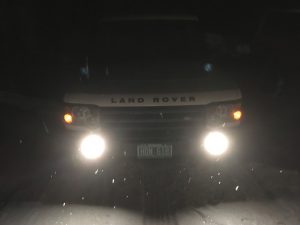 In December of 2017, we dragged our dream into existence: a 2003 Discovery SE7 with 128k miles purchased from a dealer in Florida. We embraced our 30-day temporary registration as a time window for a shake down prior to the mandatory state inspection. We found that we would need new track rods and a steering damper. Depending on the day, we either found warning lights of the Three Amigo variety — or Five Amigos. The fog lights and other lamps would not illuminate, and the battery would clearly not survive a winter. The interior of the rig was in excellent shape: clean and tight headliner, a straight dash with no cracks. The exterior trim and plastic moldings were losing the battle to the Florida sun, but they would prove easy to swap.
At our one-year anniversary, we've come to believe that a key to success with the Discovery II can be summed up in keeping water out of it and appropriate fluids in it.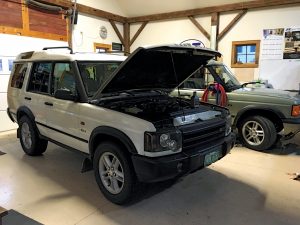 The first order of business for us, before putting this truck on the road was to undercoat thoroughly. We chose WaxOyl hard wax and cavity wax. The elements might win in the end, but we committed with confidence to the idea of a comprehensive initial treatment, which we will inspect and maintain annually.
Secondly, we seek to keep water out by checking seals around the many glass panels in the Discovery. The seals appear sound at the windshield, but the sunroofs [sealed shut prior to our purchase] can be problematic; a sagging headliner indicates water intrusion.
Third, we changed most of the fluids: engine oil, diff fluids, gear box, transmission plus filter, coolant flush and brake fluid. The condition of the fluids coming out demonstrated a basically well-maintained truck.
We chose Amsoil fluids for the ending and drive train to give it the very best going forward. Doing as much of this as possible yourself is a great way to learn about your rig. We were fortunate to be referred to an excellent Rover tech for issues that we cannot tackle ourselves (there will be plenty of those.)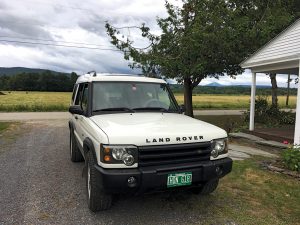 As an owner, getting under the hood regularly is essential to knowing your Discovery. It's not a good idea to wait for dashboard lights to tell you of problems. Every time I pop the hood, my eyes go straight to the coolant reservoir, oil level, then to the power steering and brake reservoirs.
Getting to know our newly-acquired Discovery has been exciting, especially after a disciplined purchase process. We have now added 6,000 miles with no regrets and lots of family fun times. Knowing how your Discovery looks, sounds, smells, and the general "feel" of it has helped us know what to expect while getting most out of it. It should remain a long-time member of our family.