Arriving in California for the 24th running of the Mendo Recce, I asked my host, Jeff Briggs, how long it would take for his Series III 88" to get us from his house to the event. He replied, "It's a short drive. Three hours, maybe four or five. Don't worry about it." I can assure you that when seated on the rear metal wheel well of a Series Land Rover, there's plenty to worry about and no such thing as a "short drive."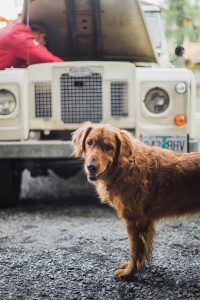 The Mendo Recce took place over the weekend of April 28, 2018, which Californians know can provide for some unique and diverse weather. Arriving in Sacramento, the 70-degree weather felt just like Vermont's at that time. During my ride from the airport, Northern CA local Jeff Briggs and Jason England of New York, NY, informed me that the weekend's weather in the Mendocino Forest I could be a bit more challenging. In hindsight, I probably should have asked about that before flying
across the country, but there I was.
There's so much to a Land Rover that has less to do with the vehicle than the people attracted to them. More than just a mode of transportation to anywhere, it's an opportunity to connect with people across great distances. The Mendo Recce began in 1995 as an event for like-minded Land Rover owners who decided it had been too long since their last off-road adventure. Eleven enthusiasts under the guidance of Series owners Granville Pool and Morgan Hanniford set off for a recon trip to the Mendocino National Forest, now known as "Mud Run One".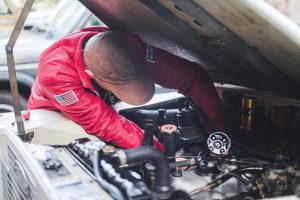 I awoke to a beautiful northern California sunrise in Jeff's recently self-built Mediterranean style home in the hills of Auburn. I'm not known as an "early-riser", and as I made my way downstairs, Jeff and Jason—who'd likely been up for hours—greeted me. While Jason made work calls, Jeff tinkered on his beloved 88" that would transport us on the "short drive" to Mendo later that day. Once finished swapping some ignition parts that I'd hidden in my carry-on, we went out for a test drive in the steepest part of town. We drove for 15 minutes before the Series III slowly rolled to a stop as the engine sputtered to a stall.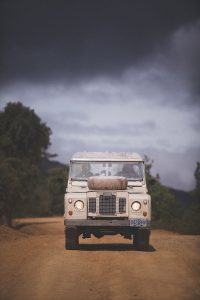 I knew we'd be in for quite an adventure. Just like in rural Vermont, spotty cellphone reception meant a field fix for the 88". Luckily for us, Jeff's experience with Series trucks had us back up and running in minutes (a non-seated spring on the points grounded out on bumps). We headed back to Jeff's house to shove in Jason, me and enough gear for three guys for a full weekend.
We only made three stops in the nearly 5 hour trip: one for fuel, one for an In-N-Out Burger lunch and one at a Walmart for my tactical overland survival gear (sleeping bag, ground pad, pillow, and an-advertised "Jesus candle"). I would describe it as one of my most successful overland trips of 2018.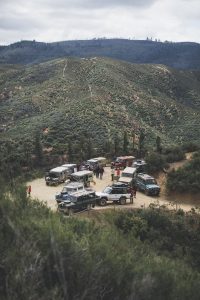 The mid-afternoon arrival at the Mendocino forest brought beautiful bright skies shining on the mountains with ominously black skies in the distance—an omen of the occasional sunshine, rain, snow and cold nights of the weekend. Of the 16 vehicles there upon our arrival, I enjoyed the large turnout of Series I's. In the Northeast, corrosion has forced Series I's into the status of "rarity". We set up camp in the far end of the campsite, where we found enough room for Jeff and Jason's tents and a pair of trees for my hammock. This would be home base for the weekend, with the "Jesus Candle" as our guiding light each night.
Each night ended with conversations around one of the large campfires in the site, discussing various Land Rover trips and adventures. The groups stayed up into the late hours of the night, trying to keep warm in the mid-40 degree weather. Just as in Vermont we woke up to frost-covered tents and frozen appendages. After a quick breakfast everyone lined up for the trail rides. Jason and I got lucky when we hopped into Randy Rose's Series 1 107". We enjoyed a great day of driving old trails along the peaks of the hills in the area. After a late lunch we headed back to camp. On the way we pulled over to load up the 107" with firewood; as validation of our decision, it started to snow as we loaded up the Rover.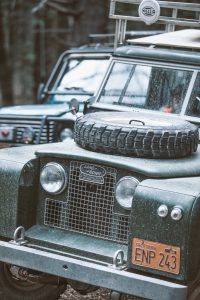 Back at camp the snow turned to rain which didn't relent until late in the evening. The attendees started their cooking early on for the event's classic potluck-style Saturday dinner. I sampled a delicious variety of dishes, each one better than the previous. As everyone seemed to have a blast cooking and sharing, it surprises me that this is not a more common feature at events I've attended around the country. Afterwards, people went back to the campfires for more stories and drinks, reciting tales of the adventures that day. It was an early night for us; getting to bed a bit before 1:00 am ensured we'd be bright eyed and bushy tailed in the morning.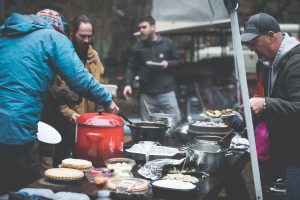 We packed up early in the morning, said our goodbyes and hit the road. Being a Rover trip, we decided to take an alternate route back. It was only miles into the trip when Jeff stopped the truck for a view that we apparently "had to see". We pulled into a small viewing area, where a not-so-recently deceased wild boar lay on the ground, seemingly just for our arrival. We decided it made for the perfect group photo, so I setup the tripod and took a few photos of our newfound friend. The rest of the drive back was mostly uneventful, besides stopping along the American river for a bit of fly fishing and lunch.
The Mendo Recce introduced me to Northern California and it totally blew me away. The stunning landscape, perfect climate, and great people all make me want to return as soon as possible. If you like fly fishing in ice cold NorCal rivers [see Sidebar this page], I absolutely recommend you make the trip.
Fly Fishing Along the North Fork American River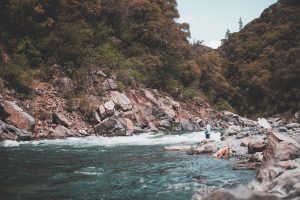 California's North Fork American River runs for 88 miles from its source near Lake Tahoe to its mouth at Folsom Lake and eventually, the Sacramento River, on its way to the San Francisco Bay and finally the Pacific Ocean.
While on his way back from the Mendo Recce, Rovers North's Zack Griswold, who always travels with his fly fishing gear, stopped along the North Fork of the American River. Out came his 11 ft. RedIngton Euro rod, Sage Click reel and his travel case of flies.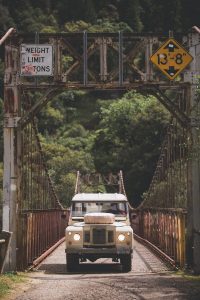 "It was a beautiful place that we saw on our way out to the event, and on the return, we decided to stop so I could fish the river. The water is a glacial blue that just does not exist in Vermont. It was insanely gorgeous – you're looking at a towering mountain sides surrounding a 30 foot wide rapid run of water, crystal clear and ice cold. All around us the valley was a brilliant green, just a stunning landscape."
"We saw only one other fly fisherman there, not far from his gold Discovery I."
However, Zack won't reveal where "there" is. After releasing his rainbow trout to the water, he headed back to the Land Rover and his flight to Vermont. His secret fishing spot remains just that, secret.