"I'd never seen anything like it," said Bradley Phipps, reminiscing about his first sighting of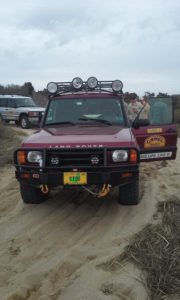 a Land Rover on Cape Cod as an 8-year-old in 1970. "It was a Limestone color Series IIA, with a tire on the hood, on Sandy Neck's Little Neck Beach in Barnstable. I never forgot it." The self-described "small town lawyer" lives and works in Medway, MA. He credits his grandfather for love of beach off-roading. "He had an International Scout and took me everywhere!" The family summer house on Sandy Neck cried out for a vehicle on which to drive the sandy beaches. He first fulfilled that commitment with a '97 Discovery 1, purchased new from Land Rover Peabody [MA]. The following year, he added a '95 NAS Defender 90, but those could not replace his desire for a Series Land Rover. "I wanted it to be a Series IIA," he recounted, "as I believe those to be the most authentic."
In 2002, Bradley came across a "for sale" ad placed by Don Frye, Petersham, MA, a long-time enthusiast and the organizer of the All-Metal Dash. Don had a '64 IIA 88" Station Wagon for sale — it proved irresistible to Bradley. As is often the case, this one needed a frame. Bradley confessed, "I knew nothing about restoration work, the scope of what was needed. Over the next 15 years, I would pay for my ignorance. I chipped away at the repair work whenever I had some extra funds. A local mechanic dismantled the Land Rover and started repair work on the bulkhead. Rovers North was my primary source for parts, including a galvanized frame."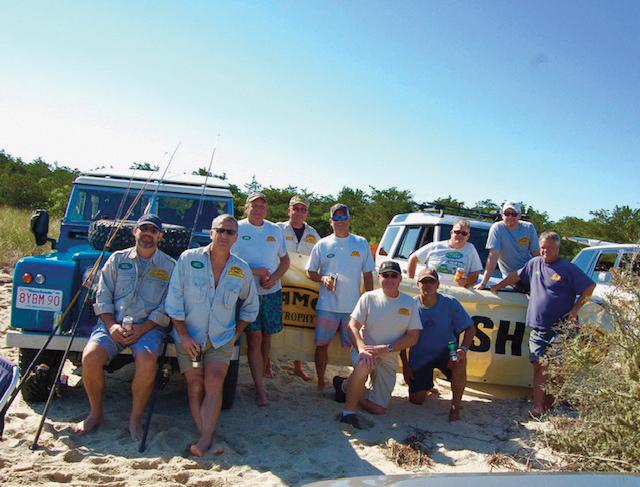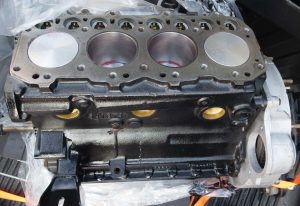 In 2012, Bradley's sister dated a mechanic who knew of a 109" sitting on blocks in nearby Sandwich, MA. It had sat unregistered since 1991, and wore an awful shade of green, hand-painted at that. Scrub off that green, and behold, he found original Limestone paint — could it be the same Land Rover that captivated him as a kid? Admittedly it was a mess — no engine, rotted bulkhead, and doors. When the mechanic exited the Phipps family, it fell to Bradley to buy it ("admittedly, without telling my wife.") Bradley figured that components from the 88" could be transferred over to the 109" (but that, of course, is not really the case.)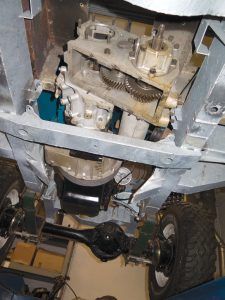 Next came a search for a shop to complete the work, which brought Bradley to JE Robison Service in Springfield, MA. John Robison picked up the story in a phone interview.
"In 2016, I was told that he had a Land Rover all disassembled which just needed to be put back together. I said we could certainly do the work, but there was a great likelihood it would need additional work. Sadly, what we received was a rolling chassis and a 109" body, but absent a steering linkage, a pedal box, and the stronger [and standard -ed.] Salisbury rear end." Along with the wrong axles and an engine that would not turn over, it was far from complete and ready to go. As John wrote, "It looked like a Land Rover, except that it was hollow. Nothing inside. No hardware, no sound deadening, no trim panels, no wiring, not seats, doors or body in front of the firewall, no heater, no wipers." Even the frame presented a problem; someone had cut out the transmission mounts in an effort to install a Discovery 5-speed. We gave Bradley a long list of what was needed to complete the job."
Bradley decided to stick with the original 4-speed transmission and have Robison's rebuild a stuck motor. As John wrote, "The giveaway is that when we turned the motor on its side, water came out of the spark plug holes. No wonder we couldn't turn the engine with a wrench on the crank pulley." John had it rebored and the crank reground. He found a 4-speed transmission and rebuilt it, and then turned his attention to the rest of the vehicle. With a new radiator and hoses, parabolic springs and rebuilt suspension, a rebuilt steering linkage, new fuel tank and wiring harness, the 109" now featured "a bit of this and a bit of that." Some parts that came with the 109" were actually "Series I or Series III parts and did not fit correctly." There were enough used bits from other vehicles that John was hard-pressed to assign a date to the Rover. A set of Exmoor seats completed the interior, "just some of the many parts from Rovers North," noted Bradley. He then sent the 109" to Chris Laws' Badger Engineering for the taxing job of installing a new headliner. Chris also identified the missing interior pieces required to complete the interior, and they are underway as of press time.
Robison and his team completed the job in time for New Year's 2017, and Bradley remains thrilled with the results. "The 109 is such a show-stopper," he said," that I don't drive the Defender as much. It's remarkable how much attention it gets!" He hopes to share his twin love for Cape Cod and Land Rovers through a new venture, Sand Rovers Cape Cod, "an old guy with a dream to show off some of the Cape's prettiest spots in a legendary vehicle." Legendary vehicles captivate Bradley as he's quite a Camel Trophy buff as well. He regularly joins a group of eight Camel Trophy enthusiasts (one being Darko Dular of the '91 Yugoslavian team) to meet up, off-road and enjoys the spirit behind the thrilling international challenges. Bradley's Land Rovers provide him with the same thrill that his first sighting of one 49 years ago did. With apologies to B.B. King, the thrill is not gone.
JE Robison Service
If you've attended The British Invasion weekend event in Stowe, VT, you've seen a fleet of brilliantly restored and refurbished Rolls-Royces and Bentleys walk off with many awards and admiring looks. They're the result of a commitment to originality and precision by founder John Robison. Fortunately for Land Rover enthusiasts, he's quite pleased to work on vintage through contemporary Land Rovers, too.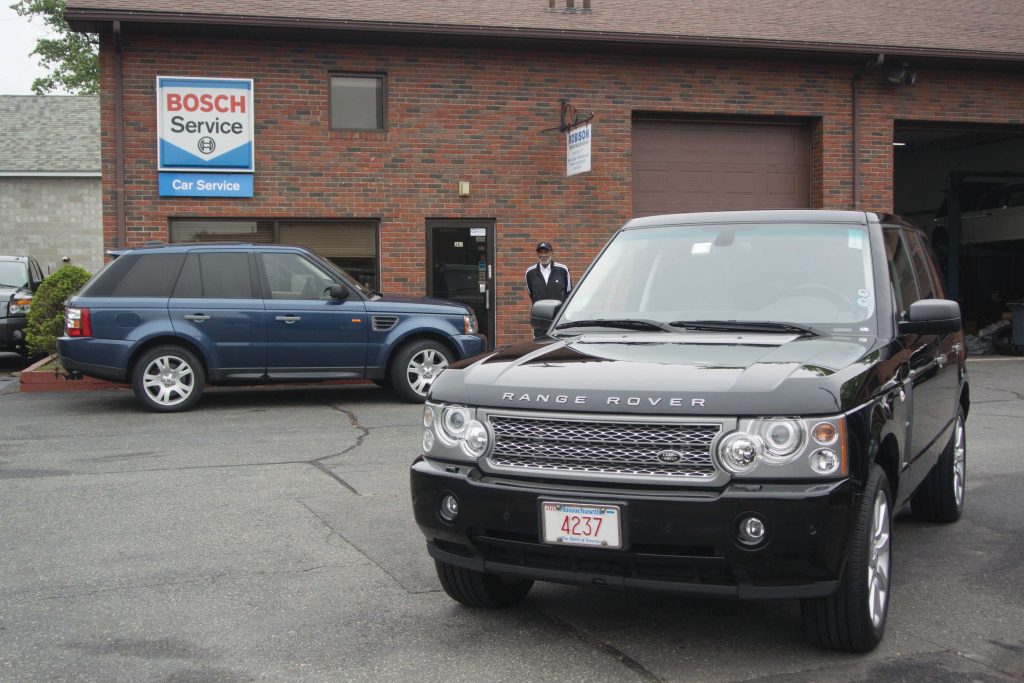 John's family brought him to western Massachusetts, where he's lived since 1966. He's been a car guy from age 4 and states he dropped out of public school at age 15 to become a roadie and engineer for touring bands, including a stint with KISS. He set up his company, J E Robison Service, in the late 80s in Springfield, MA, and his shop space has grown from a 440 square foot garage to a five-building complex. John's blog routinely offers technical advice and service recommendations for Land Rover owners; he started working on them with Land Rover's return to North America in 1987. His company works on the Crewe-based Roll Royce and Bentley models, as well as German brands. It also maintains a fleet of EMS vehicles that provide emergency services for many western Massachusetts towns.
A published author, John's writing (Look Me in the Eye and Raising Cubby, among others) and advocacy for people with disabilities have landed him speaking engagements worldwide and service on the Interagency Autism Coordinating Committee for the US Secretary of Health and Human Services.
[For more information, visit www.robisonservie.com and www.robisonservice.blogspot.com.]