We took a break from shoveling snow off the roof to compile the Sightings for this issue. The number of entries demonstrates that many enthusiasts hunker down while searching out Land Rovers in advertisements, commercials, movies, and online sites.
It's always helpful for veteran and novice Sighters alike to review the rules that govern when we award a Coveted Mug:
Rule # 1 – All Sightings receive recognition and our appreciation, but not necessarily a mug. We reward only those Sightings that capture the unique qualities of Land Rovers and their owner and display them in a distinctive way.
Rule #2 – If your Sighting doesn't really surprise you, it won't surprise us, either — thus we can't award you a mug. We're delighted, but not surprised, that Land Rovers appear in British television programmes, British publications, films with British themes and shows about African safaris. You shouldn't be surprised, either, and should consider looking for other ways to get a coffee mug.
Rule #3 – At an ever-changing date before publication, we close off the Sightings; for this issue it was December 31, 2018. If we've mentioned the Sighting in an earlier issue, we might not mention it again. If you're new to the family of Land Rover enthusiasts, you may not have seen your Sighting in an earlier issue.
Rule #4 – We're not outfitting your kitchen. If you qualify, one mug per Sighting per issue.
Rule #5 – Sightings that are Land Rover references in books go to our Literary Land Rover editor for mention, but only when space permits.
Rule #6 – Psst… email submissions — remember we can't send a mug by email. Send us your real name and shipping address, too.
Rule #7 – Grudgingly, very grudgingly, the Editor admits he might have made an error. Let us know if you think you've been jobbed, but all decisions of the Editor are final.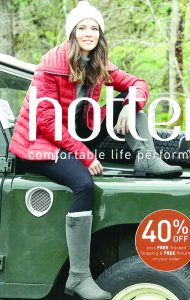 Catalogue producers know that Land Rovers provide the perfect eye candy for any product. Dave Newton, Albany, NY and Rob Modica, Tucson, AZ, spotted the Series Land Rover in the backdrop of a Hotters catalogue — quite appropriate for the British company. Adam Setliff, Flower Mound, TX, spotted a Defender in a travel gear catalogue named, ahem, Douchebag. The European company clearly knows how to attract world-wide attention. Josh Smith, Chester, VA, spotted a Land Rover on a sweatshirt in a United by Blue catalogue; Greg Valvetti, Mt. Lebanon, PA, found a coffee mug with a Land Rover on it in the same catalogue. Eric Sousa, Melrose, MA, spotted a Defender identified as a Discovery in an Athleta catalogue. Orvis has long produced the most Land Rover appreciative catalogues. Sean Donahue, Lake George, NY, and Joshua Smith, Chester, VA, noted the presence of a Land Rover again in their catalogue. Derek Leith, Frontenac, MO, spotted a Series Land Rover in a Frances Valentine's sample ad.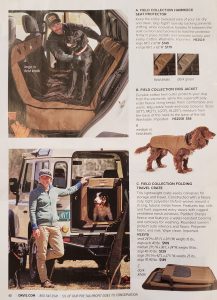 TV shows also love Land Rover content. While not the star of the show, Gordon McNair, Lawrence Township, NJ, enjoyed seeing a RHD Defender 110 in the background of an episode of Netflix's Car Masters. Ray Romano, San Antonio, TX, enjoyed watching a Discovery serve as an emergency vehicle as a Porsche raced around the historic Monza track. Paul Kennington, La Grande, OR spotted a Land Rover in an episode of Below Deck. Jane Barrett, Plainfield, ON, spotted a Defender 90 in an episode of Letterkenny. Alyssa Smith, Lakeland, FL, watched an episode of Salt, Fat, Acid, Heat and saw host Samin Nosrat in a LHD Defender while on food expedition. Ray Sisk, Hope, ME, watched the National Geographic's Mars and caught a Defender 110 and a Range Rover in a shot featuring a massive California traffic jam. Chuck Hester, Bel Air, MD, caught a Series IIA Land Rover in traffic as part of a local tv ad for Horizon Services. Mark Daffinee, South Bend, IN, watched an episode of Welcome to Murder Town and spotted the front wing of a Defender on the screen. Brian Jones, Raleigh, NC, and Sam Brooks, Bend, OR, noted a military Land Rover quite destroyed in a PS4 advertisement.  Rob Kenner, Davis, CA enjoyed the 1970s Christmas special, Santa Claus Is Comin' to Town, and noted the boy at the end is playing with a toy 109". Paul Kennington, LaGrande, OR, noted an NAS Defender in a showroom on the program Billions.
What could better set the life of Elton John in Rocketman than a Series I; Eric Lindstrom, Des Moines, IA, spotted it in the teaser trailer for the movie. Jane Barrett, Plainfield, ON, sent in a screen shot of a Series Land Rover from the movie, The Man from U.N.C.L.E. — except that the grille shows it's a modified Series III. Brent Lane [See Rule #6] noted a Series IIA or III in an "old movie" named Operation Gold. Documentarian Bryn Mooser and his Defender 90 are on the cover of Face the Culture magazine, notes Greg Calvetti, Mt. Lebanon, PA.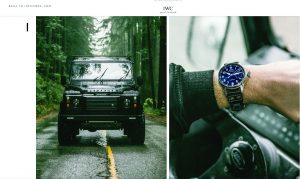 Digital advertising knows that Land Rover provides the perfect clickbait. Adam Setliff, Flower Mound, TX, found a Series Land Rover on the Allen Edmunds website touting collaboration with Weiss watches.  Dave Smith, Scottsdale, AZ, saw his friend, Ryan Teasley's, Defender 90 in an Anthropologie digital catalogue; Jerry Ruggieri, Southport, CT also saw the ad. Rob Wollschlager, Omaha, NE, noted a digital ad for PrAna which as with their catalogues, often has a Land Rover in it ("The government must keep a close eye on me as more and more ads targeted for me feature Land Rovers!") Jason Sheehy, Mt. Sterling, OH, noted the Defender in an Instagram ad for AO Coolers, one for Huckberry [see below] and one for Emirates Airline, all on Instagram. Bill Badger, Manchester Center, VT, spotted the tail end of Discovery I in a Yeti Cooler Christmas ad. Clay Ayers, Potomac Falls, VA, spotted the topless Series Land Rover in a North Menswear ad on Instagram. Keith Comess, Portland, OR, saw a black Defender highlighting an IWC watch on the Hodinkee watch collector site. Ryan Lowe, Ellington, CT, was searching for a new watch when he spotted the Series Land Rover on the Weiss Watch website. Jason Sheehy, Mt. Sterling, OH, and Ann Williamson, Sharon Springs, NY, received a printable gift card from TreadWright Tires with a Defender on the card.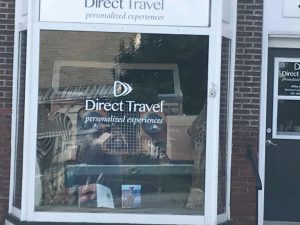 In the Unusual Sighting category, Catherine Chace, Charlotte, VT, enjoyed seeing a spectacular window display at a Middlebury, VT, travel agency. Chris Hopek [see Rule #6] sent in a photo from a company called TOMS that included a Defender on a tag. John Hickey [see Rule #6] noted a colorful drawing of a Series Land Rover in a Susan Wallace Barnes calendar. Ryan Lowe, Ellington, CT, spotted a set of solar panels being towed behind a UK Defender in a Facebook post. Steve Bradke, Niskayuna, NY, found a pair of boxer shorts at a Banana Republic that featured a Series Land Rover and a Minerva. Jason Sheehy, Mt. Sterling, OH, spotted a Land Rover lineup running the sandy beaches of Aruba in a poster at New York's Grand Central Station. Andrew Pizor, Pomfret, MD, followed an NBC news story of a convicted felon and the forfeiture of his Land Rover; the case is in front of the Supreme Court. Patrick McGrew, New Orleans, LA, was tempted to buy an expensive TV at a local Costco because it had a Defender 90 in a promotional video across the screen. Ken Jones, Santa Ana, CA, noted a Land Rover in an "[un]natural setting, a trendy urban hipster boutique in Downtown LA." Jonathan Greene, Pikeville, NC, and Charles Bell, Mobile, AL, enjoyed seeing a Defender 110 on a Moe's Grill menu. David Ducat, Lebanon, CT, found a 1970s issue of Salt Magazine in Ogunquit, ME; in an article on a barn raising, there's a Series 109" in the background. Denis Nault [see Rule #6] spotted a t-shirt with a Defender on it at Cabela's. Ryan Lowe, Ellington, CT, watched a Facebook post about setting the bead on a tire off-road which featured a Land Rover — he, too, feared for his life!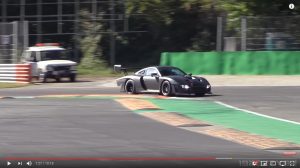 We've mentioned these before, but we want to credit Sighters for their hard work. Tony Brooks, Leesburg, VA, and Michael Stalker, Albany, NY [his first Sighting!] noted the presence of multiple Land Rover vehicles in the Huckberry catalogue. Kathy Tyson, Grimesland, NC, recognized the rear of a Series soft top in the Kevin's catalogue. Doug Fowle, Boothbay Harbor, ME, William Stewart, McMinnville, OR and Jason Carlisle, Golden, CO, caught the Series in the PrAna catalogue. Keith Barrett, Plainfield, ON, spotted the Defender in the Athletica catalogue. Chris Hopek [see Rule #6] spotted the Defender in the Roark catalogue. Kathy Tyson, Grimesland, NC, enjoyed seeing a Range Rover Classic in a Belk sale advertisement. P T Schram, Churubusco, IL spotted a Land Rover 110 in a Playstation ad during an NFL playoff game. Dave Rockwell, Nimrod, NY, enjoyed seeing skiers pushing a Defender 90 in a Title Nine catalogue. Peggy Mason, Williamsburg, VA, found a Cide Road bottle with Kevin Duffy's Series Land Rover on the label. Greg Coffman, Coshocton, OH, saw a Series Land Rover in the documentary Chappaquiddick. Lisa Monish, Pensacola, FL, saw the Land Rover in a magazine story about YOLO boards, featuring Mike Ragsdale and his Land Rover 90. Paul Kennington, La Grande, OR, spotted a couple sitting on the bonnet of a Series Land Rover in a De Beers diamond ad. Kevin Smith, Roanoke, VA, found the Land Rover in the American Express mailer.
Winners:
Charles Bell, Mobile, AL
Ryan Lowe, Ellington, CT
Derek Leath, St.Louis, MO
Jonathan Greene, Pikeville, NC
KC Jones, Santa Ana, CA
Keith Comess, Portland, OR
Greg Calvetti, Mt. Lebanon, PA
Jerry Ruggieri, Southport, CT
Patrick McGrew, New Orleans, LA
Steve Bradke, Niskayuna, NY
Josh Smith, Chester, VA
Clay Ayers, Potomac Falls, VA
Bill Badger, Manchester Center, VT
Alyssa Smith, Lakeland, FL
Jane Barrett, Plainfield, Ontario
Jason T Sheehy, Mt. Sterling, OH
Dave Smith, Scottsdale, AZ
Adam Setliff, Flower Mound, TX
Catherine Chace, Charlotte, VT