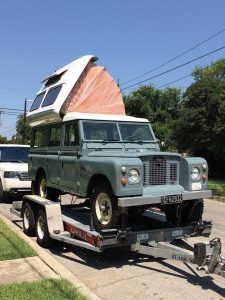 Sixteen years ago, Bill Saunders' brother-in-law purchased a Discovery II for his work as an oil company geologist. "We were driving on the property of my wife's family ranch in Goliad, TX. I couldn't believe what it would do, completely stock," said Bill. "That did it for me!" Since then he's done everything possible to keep Land Rover in his family.
Born in Ft. Worth, TX, he's lived in San Antonio since 1962. His eclectic careers have included camera repair, then professional photography, and a long stint creating architectural finish woodwork for executive offices worldwide. The last one brought him travel opportunities from New York to Dubai.
As an avid camper in Texas and New Mexico, it's no surprise that Bill sought out a Dormobile. "I'd been reading about them for a long time and found mine in Arizona about eight years ago. Mine came with the stronger 2.6L, 6-cylinder engine. I really admire the engineering that went into the interior layout, especially the 'Dormatic' seats that unfold to make a bed." There were interior parts to source, but while the original Martin Waller company that produced the Dormobile went out of business, a successor UK company called Dormobile still manufactures parts for this entertaining Land Rover. Bill will soon welcome the arrival of a new Dormobile-style wardrobe locker and installation of the ubiquitous striped roof awning, window moldings and hinges.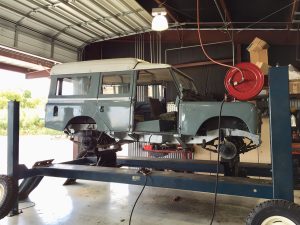 He noted, ruefully, "I wish it had been in better shape when I bought it. While it looked good cosmetically [He'd even had it painted, he said], it turned out to have a rotted frame." When Bill took it to Brett Gilbert of Hill Country British, San Antonio, he put it on a lift to examine the undersides. Brett remembered, "You could hear
the frame go 'crunch' as we lifted up on a two-post lift. We had to call him with the bad news."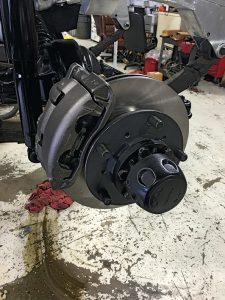 Like a true Texan, Bill would not let the problems deter him. He ordered a frame from Rovers North and had Brett and Josh Gilbert take on other important improvements. They resealed the motor and transmission, installed bushings, new leaf springs, new fuel lines and brake lines, along with a disc brake kit, and welded in new bulkhead toe boards. Bill had them cut a Brownchurch roof rack in half for extra carrying capacity and install a new set of Michelin XCL tires. The Dormobile will soon visit the amazing landscapes of the Southwest; Bill insists its first stops will be Big Bend in Texas, followed by Utah.
While waiting for the specialty parts for the Dormobile, Bill was not without Land Rovers to enjoy. The Saunders have a second home in Santa Fe, NM, where they keep their '93 NAS Defender 110 [#441]. In a touch of Solihull pride, they secured an Arizona personalized license plate that reads, appropriately, "HUE 166". Outside of a modest 2" lift, the Defender looks original; Land Rover Santa Fe asked Bill to enter it in a concours event. At 104,000 miles, it still drives quite well.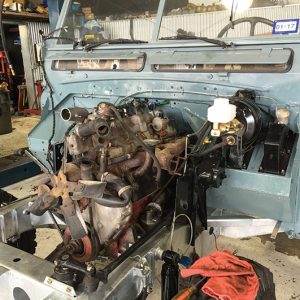 For serious camping, Bill purchased an '06 LR3, named "Olive", which he's modified for trips and off-roading around Moab, UT and Ouray, CO. He had Hill Country British relocate the air pump to the rear, add a custom rear bumper and a front winch bumper, as well as rock sliders. A Hannibal roof tent and solar panel-powered refrigerator provide comfortable sleeping quarters and campsite amenities. Bill has also rediscovered the capabilities of the stock air suspension, having removed previously-installed spacers and coil springs. At 106,000 miles, the LR3 "is abused by still going strong."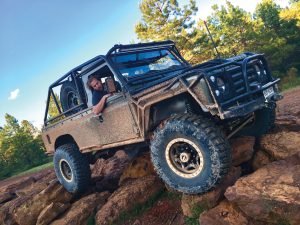 For his wife, Laurie, there's a '10 Range Rover Supercharged and a '17 Range Rover LWB Supercharged, one in Texas and one in New Mexico, as well as an LR4. Their sons, William and Forrest, each have enjoyed a Discovery II. William has purchased a Range Rover Autobiography for his wife, Claire. Forrest owns a custom Defender 110 pickup with a Land Rover diesel engine and "serious" off-road modifications; his wife, Andrea, also has a Range Rover Autobiography.
All together, the extended family owns 10 Land Rovers. For all of the contemporary features of the family's newer Land Rovers, Bill can't wait to complete his Dormobile project. "I am so proud of 'La Tuga' ["The Turtle" in Spanish], as it runs so sweet. I know you're never really 'done' with a Series Land Rover, but of all of mine, I hope to keep this one in the family for a long time."