At the Range Rover Evoque launch, Gerry McGovern sat down to school me with an enlightening conversation about the role of design at Land Rover. We were joined by Paul Owen, JLR UK Public Relations.
Not surprisingly, McGovern had a few points to make to automotive journalists in general.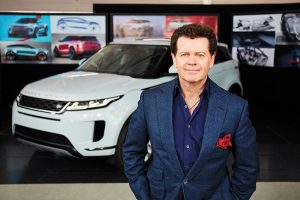 "I read an article," he said, "that disparaged the 2020 Evoque around the similarity of styling to the current model. Since we created this new market segment in 2010, customers have bought over 800,000 of them. Number of sales aside, we're really looking [as much] to maintain the enthusiasm of our existing customers as we are with attracting new ones."
"This is only the second generation of the Evoque. We created something that's intrinsically good and class-leading. Why would we throw it away just to create something new?" Paul Owen agreed, noting, "That's what our enthusiast customers were saying to us."
"With the Evoque, we had to listen to the customer," McGovern said. "Our enthusiast base told us, 'Don't change it, just make it better.' This Evoque is a more tailored, more grown-up design. We try and bring a level of design sophistication to what we do. We pay attention to the technology and engineering, but we have our own path and enthusiast customers are following it."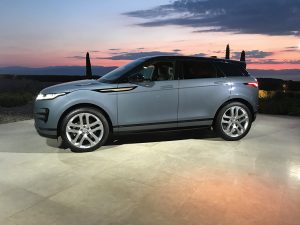 "A completely different vehicle, like the Range Rover Velar, is frankly easier to design because we could start with a clean slate. The Velar let us be radical. The evolution of an existing model is harder to accomplish."
"Design represents the values of the marque. It's the glue that pulls it all together. I am convinced that our off-road engineers, who create the mechanical bits, they're the best in the world. They're bloody geniuses. Design has to be reconciled with engineering, thus every detail should be doing a job. The surface is critical as it signifies the technology that underlies the vehicle."
"Cosmetic change just for its own sake is meaningless. Customers aren't stupid. They expect that we'll present them with a compelling set of qualities exemplified through design. In the interior and exterior, we sought to create cleaner lines. Some make the Evoque look lower, as befits its use on the road. With this iteration, we were able to smooth out the wheel arches, as the Evoque looks cleaner without them."
"At the same time, we retained the design elements that enthusiast customers recognize as part of the Land Rover DNA: the floating roof, upswept sides and distinctive, functional rear. While the Evoque's proportions and volume appear similar, this new model shares no exterior pieces with the previous Evoque except for the door hinges."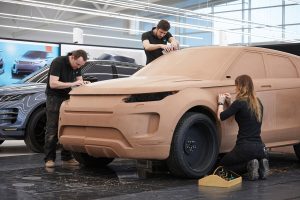 Our conversation stretched back to his time with Ford when it owned Land Rover as part of its "Premier Auto Group." McGovern's design work for Lincoln and Ford bore fruit with the recent generations of the Ford Explorer. When our conversation rolled around to the new Discovery, I noted how many American enthusiasts chafed at the resemblance between the Discovery and the Explorer, with the latter being available earlier than the new Discovery. As the Ford Explorer has virtually no presence outside of North America, the impact of the commonality had not been felt in the rest of the world.
Paul Owen put it bluntly. "Ford nicked the look for the Explorer from the Discovery, from Gerry's designs when Ford owned Land Rover."
No discussion with any Land Rover official is complete without mentioning the new Defender. McGovern asserted, "Core Defender values are durability and adventure, so we have to make certain you will be able to kick the hell out of it." He also noted that until the announcement of the end of the Defender production, Land Rover barely sold 25,000 Defenders annually. The new Defender must incorporate the expectations of not just the traditionalists, but also of the new customers and contemporary international regulations.
Gerry McGovern summed it up by noting, "Our competitors would kill to design and produce vehicles like the Range Rover and Range Rover Sport." He's right, and considering the reality that Land Rover has never produced a vehicle lampooned and scorned publicly, I'll keep an open mind on the new Defender.
Inside Land Rover Design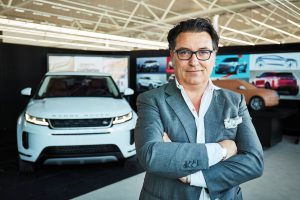 Massimo Fraschella, Chief Designer of Land Rover Exteriors, grew up in a seaside town in Tuscany. He studied transportation design by working at Bertone and wound up working with Gerry McGovern at Lincoln-Mercury's European operation. When Ford sent Gerry McGovern to their California design studio, Massimo joined him there. Massimo's wife, Amy (Chief Designer, Colour and Materials) was raised in Lake Charles, LA, so they remained in the US until a few years ago, when they rejoined McGovern at Gaydon.
"Design is at the core of what we do," said Massimo in an interview at the New York International Auto Show. "Designing a Land Rover must represent something special, something that can only be a Land Rover. Our designs lead with simplicity and character; they're understated and never overdone. First and foremost, we study the volume and proportion of the vehicle, working very closely and collaboratively with our engineers. Design elements need to be present for a reason, not a random assemblage of disparate elements. We must discipline ourselves to use fewer elements."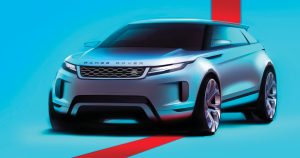 Asked about the relationship between a vehicle's engineering and its styling, Massimo replied, "We don't use the term, 'styling.' We reject the word. We don't just beautify. You must work together with our engineers from the beginning. We can't dictate to each other; it's a part of a process. The basic architecture has to be related to our engineers so they already have an understanding of what we want and strive to accomplish. Being the designer of a Land Rover is a most difficult situation. Regulatory challenges, such as emissions, safety, connectivity and electrification exist, but we must use them to our advantage."
"We're creating Land Rovers here, not just any vehicle. Like great music, great designs will have appeal for a long time." When I asked if that included the new Defender, he answered, "Yes," followed by silence — but accompanied by a smile.