Sourcing the right parts for your Land Rover requires product knowledge, commitment and perseverance. Dirk Parkins, who heads up parts procurement for Rovers North, covers all of them.
Dirk grew up in the Philadelphia area and moved to Vermont in the 1980s, to learn how to work with draft horses logging wood; "A tough way to make a living," he remembers. When his employer in nearby Fletcher purchased a 109" from Mark Letorney, Dirk followed suit and purchased a '70 Series IIA. He recalled, "Mark taught me how to work on the Land Rover and in December 1984, I joined the company." His affection for Series Land Rovers continued with a '67 IIA 109" Military (his favorite, as it was "built to the highest standard and is the easiest to work on") and '68 IIA, given from a friend as a wedding gift. More Land Rovers would follow.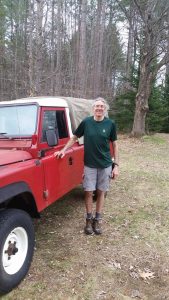 His encyclopedic knowledge of the marque enabled him to help create the Rovers North Parts Guides, which became essential companions for every enthusiast. As Dirk had rebuilt his Land Rovers (before and after rollovers) himself, he provided critical advice and reassurance to the Rovers North community in service, shipping and sales, before moving to his current position. He made his first trip the UK to source parts in 1986; today he heads a dedicated team searching out the best parts for the many models of Land Rovers.
He's been married for 19 years and still enjoys the rural lifestyle that first brought him to Vermont — and, of course, he's still enjoying driving his Land Rovers. His daily driver is his '70 109" Military.
Dirk never fails to amaze me with his parts knowledge. When an enthusiast walks into Rovers North with a rusty old part, I bring it to Dirk and within seconds he tells me what it is and how to replace it. When we receive containers of parts from Land Rover or other suppliers, Dirk can tell me the part number faster than I can look them up in our inventory system. His expertise and professionalism is invaluable to me as a Land Rover enthusiast and to all of us at Rovers North.
To enthusiasts everywhere, he's Fabulously British.