Reflecting on her 9 days and 1,500 miles off-roading for the Rallye Aicha des Gazelles, Karen Hoehn, Del Mar, CA, said, "Even the misery was fun!"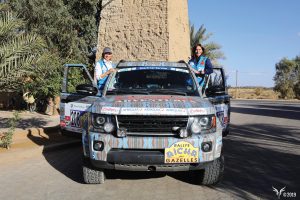 Since 1990, thousands of women have devoted months of planning, navigational practice, off-road driving practice and fundraising to compete in the Rallye Aicha des Gazelles. The event begins in Nice, along the French Riviera, crosses the Mediterranean by ferry and continues for 9 days on the deserts and rocky trails of Morocco.
With apologies to Dr. Seuss, this rally comes each year without the "ribbons, tags and packages" of electronic navigation aids — no GPS, no cellphone apps, no electronic charting or mapping at all. Unlike conventional rallies, the teams do not know the course in advance. You're handed a paper map each morning that includes the coordinates of that day's checkpoints, and with your compass, parallel ruler, protractor and chart divider, you figure out the best route to reach the checkpoints that will give you the highest point total.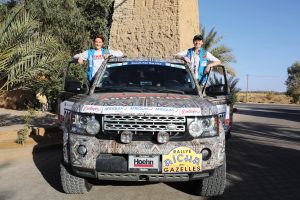 Among the hundreds of vehicles — 4×4's, crossovers, quads and motorcycles — 10 teams ran Land Rovers. Jo Hanna Hoehn and Susie Sexton, San Diego, CA, finished 9th in the highly competitive field, separated by only 40 points from the winning team. They shipped their LR4 from California to France and reported no problems with the vehicle.
Their mothers ran in their second and first Rallyes, respectively. Karen Hoehn, Del Mar, CA and Dana Sexton, Encinitas, CA, had competed together in the US-based Rebelle Rally [see Winter 2019 issue -ed.] For this year's Rallye, they chose a '14 LR4 V6 Supercharged and had no mechanical issues. As Karen said in an interview, "I am so in love with the rally world; I wish I started 30 years ago! I love the game of it, out in the desert, camping and getting dirty. There aren't that many all-female rallies around. Add the lure of Morocco and it becomes even more fascinating. It's an exciting and exotic country. The terrain and landscape are really varied and quite spectacular. I've always felt safe and the people are friendly. The whole experience — sights, smells, sound — is quite exotic."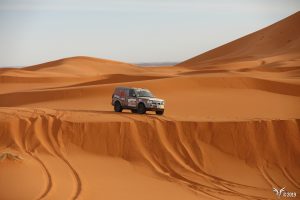 "We finished 61st overall, but we were in 37th place until a missed checkpoint during one of the marathon legs did us in." [A marathon leg is a 2-day section during which you're camping out on your own, not in a bivouac -ed.] On the second marathon leg, we did not make it as far as we wanted, and we were lost. We met up with a French team and we camped together for the night. We were so grateful for meeting up with them as we felt more secure. The next morning, we heard some noises. A camel herder had found our campsite and offered us a fresh cup of camel milk. Mind you, he spoke French, English, and Arabic! Hospitality is alive and well out on the desert!"
"Dana and I won the combined oldest age team, and we even wound up on French television because of it. We don't mind being the oldest one out there."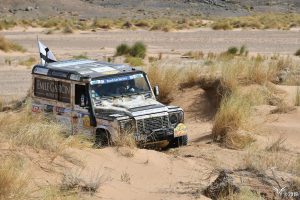 "Maman" Valerie Theillier and her daughter, Alexa, competed in their Defender 90 and took 23rd place. Alexa, a pharmacy college student, and her mum achieved a dream of a decade ago to run the Rallye. Valerie said, "I've been dreaming about this event for the past 10 years. For an extraordinary adventure, I needed an extraordinary partner. Who could be better than one of my daughters! We considered ourselves complimentary, combining our brains and our physical strength."
The mother-daughter team of Katherine Chaboud and Joanna Caudan Chaboud, from Brittany, France, finished in 29th place in "Lady Green", their family Defender 110 TD4. Katherine is retired and Joanna works in real estate. They're "passionate Defender owners," splitting four Defenders between their two families.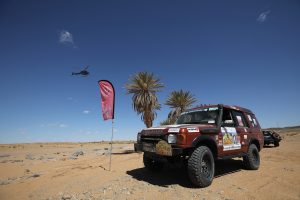 Nathalie Courreges, Gringy, France, works in Human Resources and paired up with her daughter, Roxane Loyola, Lons, France, a house painter. They competed in a Defender 90. Roxane noted, "This rally would allow me to have an unprecedented family experience. We are two independent women, always seeking to complete what we start."
Virginie Grizon-Samit, Bosmie L'Aiguille, France, an emergency physician, and Audrey Antech, Deyme, a podiatrist, have been friends for 20 years and ran their Discovery Td5 to 33rd place. Virginie called competing in the Rallye "the realization of a dream that took me out of my comfort zone, rising to new challenges. Our motto was, 'If you think that adventure is dangerous, you're wrong. It's the routine that is deadly.'"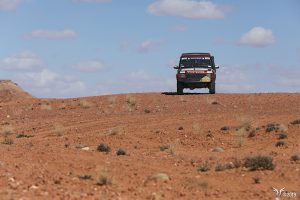 Isabelle Durand and Adriane Plantin Verdier both live in southeastern France. Isabelle, the mother of two sons, manages construction projects; Adriane works in team management. They chose to run the event in a Discovery I and finished 68th. They described themselves as "combative and tenacious" and delighted to participate in a rally that "proudly supports women. Beyond the sporting challenge, it is the human adventure that drove us. We had the desire to go beyond ourselves and discover our limits."
Two British ex-pats ran the Rallye in a '98 Defender 110, named "Priscilla, Queen of the Desert", that they found back in the UK. Helen Tait Wright, a former couture fashion designer turned interior designer, lives in the Deux Sevres region of the Loire Valley. She paired up with her friend, Haley Bennett, who runs a gardening and building business. "We met when Haley was operating a fish and chip van," Helen recalled. "That's an important taste of home in a foreign country." They both immigrated to France in the early 2000s.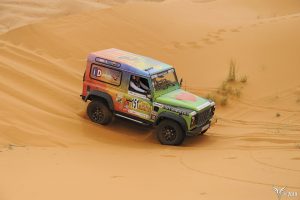 Helen said, "I have of friends in Marrakesh. Morocco inspires me and the country makes me feel alive. In 2015, a Moroccan friend told me about the Rallye; I'd never heard of it. Haley remembered Helen "asking me whether I was 'intrepid' —read, crazy — enough to undertake the Rallye, and I said, 'Why not?' I live to drive and travel to different countries." "Priscilla", their Defender, took them to a 117th place finish.
That position came about from a mechanical error and penalty; who knew that the differential plug on their Defender could be screwed in so far that it would drop into the casing, necessitating a call to mechanics? Helen noted, "We also became bogged down in an 'oued', basically a dry river bed into which a Defender will sink suddenly. We lost a lot of time to recovery and thus missed out on checkpoints."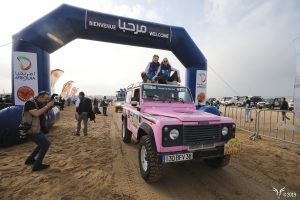 "We owe a big debt of gratitude to the Hoehns who advised us to empty everything out of our heavy Defender when tackling the sand dunes. That meant we had to return to the bivouac point every night, but we would have never made it at all without their help. One set of dunes required four hours of shoveling and pushing!"
"We had witnessed fellow Gazelles falling out, destroying major car components, having big accidents and being admitted to hospital. We knew we had to preserve Priscilla, as she was our ride back to France!"
"In the end, we drove a 21-year-old Defender through some of the most inhospitable, yet beautiful terrain on the planet. And we survived. I don't suppose many people can say that."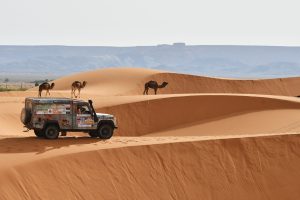 Stephanie Lambert, Neufchateau, Belgium, competed in the 2015 Rallye Aicha des Gazelles with Fatima El Bachiri, Bertrange, Luxembourg, in a '12 Defender 110. Stephanie recalled the event as "one of the greatest experiences of my life as a woman. It enabled me to extend myself, both physically and emotionally. It was wonderful to expand beyond my life as a mother and a wife. Our use of a Defender was also very symbolic, because for me, it is an iconic vehicle, and not once did I doubt its capabilities. As proof, we never got stuck! I had complete confidence and felt invincible in it."
[For more information, visit: www.rallyeaichadesgazelles.com.]