I'm partial to small places. I live on a small island in a small state. I'm fascinated by small nations like Iceland, and more recently, Luxembourg. Tucked in between France, Germany and Belgium, this small country seemingly sprouted Land Rovers everywhere.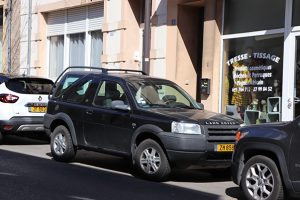 Land Rover exports to 128 countries. With only 16% of its sales in the UK, the rest of the world really matters to the financial health of Jaguar Land Rover. As North American enthusiasts, we think of our market (about 20% of Land Rover global sales) as the most important one, and thus, our preferences should drive decision-making at JLR. The Range Rover Sport has been the most successful model in this market, followed by the Range Rover, Range Rover Velar, and Discovery, and then the Evoque and Discovery Sport.
Europe — including Luxembourg — swept up 30% of Land Rover production. There, size matters and the Evoque and similarly-sized Discovery Sport have become volume leaders. Travel through Great Britain and Europe and the reasons become more evident. Whether you buy liters of gasoline or diesel, you will pay substantially more than in the US. We can shrug off the lower fuel mileage of larger [and older] Land Rover and Range Rover models because of our relatively inexpensive fuel. When you pay the equivalent of $6.00 – $9.00 per gallon, you come to appreciate a smaller, lighter Land Rover.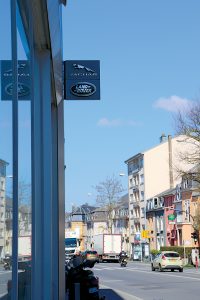 City and village streets are historically narrow; parking spots require dexterity, not bulk. Rural roads were not designed for bulky vehicles. Even motorways, autoroutes and toll highways average only 2-3 lanes. By American standards, they all seem narrow and more challenging to drive.
To learn more about the European market, I asked for the help of Land Rover of Luxembourg. The multi-story building in the middle of Luxembourg City is an eye-catching mix of architectural styles as befits its corporate parent of over 100 years, the Arnold Kontz Group.
Marc Muller is the Land Rover Brand Manager — a genuine enthusiast, and like so many Land Rover owners, an eclectic and very interesting personality. "I didn't think that I would be in this profession. I actually studied and performed as an organist for choirs — and I still love music."
"I arrived at the dealership about the time of the first Evoque and I enjoy my work very much. Our clients are passionate about the marque. They love the British qualities and British touches in every model."
Land Rover Luxembourg sells about 600 Land Rovers annually. "The Evoque is our most popular model, with the Discovery Sport behind it. Our clients prefer the premium features of the Range Rover Evoque, Velar and Range Rover."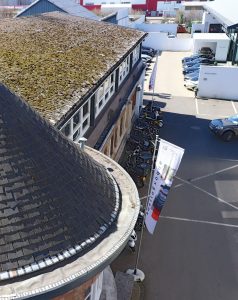 The dealership also supports off-road rally teams running events such as the Rallye Aïcha des Gazelles [see Winter 2015 issue -ed.] and others in Europe and North Africa. The dealership also helped establish a Land Rover Experience Centre in Luxembourg; 200-300 people will attend each event.
While Marc does not have a classic Land Rover himself, the company's president, Benji Kontz, the fourth generation to lead the family business, does enjoy a 2012 Defender and "has always had one." That probably helps explain why the Kontz Group also operates a classic car restoration and refurbishment subsidiary not far from the dealership; classic Land Rovers and Jaguars are most welcome.
Marc viewed the new Defender in Portugal without its camouflage cladding ("They took our phones away," he said glumly,) and promises, "It will be superb. There will be a great demand for the new Defender." In fact, Marc stated that he's interested in getting one for his family.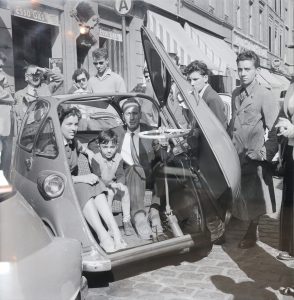 After the interview, I reached out to Luxembourger enthusiasts the same way we do in the US. I left a card with a request to talk Land Rover anytime whenever I saw one from my hotel lobby window. When an LR4 appeared in the parking lot I asked the desk clerk if she would agree to leave a note with the owner. Within an hour, a woman name Kate called and said she and her husband, Jamie, owned the vehicle. Her British husband was "passionate" about Land Rovers, but unavailable at that moment; however, her employer, climbing onto his motorcycle outside, was equally infatuated with his LR4.
That's how I met Juan Pablo Minoprio, a former resident of Buenos Aires, Argentina. In 2001, he was determined to find an affordable Discovery 3. High demand, high taxation and an unfavorable exchange rate made it impossible. Juan Pablo cited the stepped rear roof, alpine windows and seating positions as reasons for his affection for the Discovery.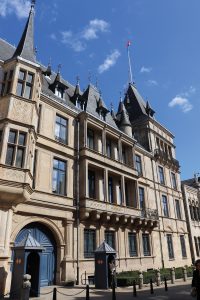 He kept searching for a Discovery after he moved to Luxembourg — and especially after he saw the first photos of the Discovery 5. "I did not like the new look— it had none of the styling features that I loved about the Discovery," When he and his wife, Natalia, went shopping for a new vehicle in 2016, they wound up at the SMART/Mercedes dealership, looking to trade in their SMART EV. When the SMART dealership was inexplicably closed, Juan Pablo remembers "forcing Natalia to come with me to Arnold Kontz."
The last Discovery 4 in Luxembourg sat in the dealership, a demonstrator with just a few thousand kilometers on it. "Marc Muller was the best salesman ever as he convinced me he was giving me the best deal possible," Juan Pablo said with a grin. "The Discovery 5 may be years ahead in many respects, but Natalia and I love our Discovery 4. We have family in Barcelona and it makes the 1,200-km trip with me feeling very fresh after the long drive. Our children, Gianluca and Valentina, love camping in the woods in a tent. I can't stand it, but I can sleep in the back of the Discovery while they enjoy their tent."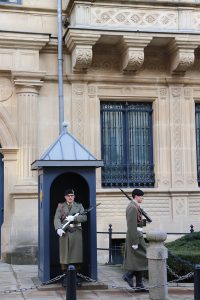 The next morning, Kate Murray sent her husband, Jamie, with their 2012 Discovery 4 to my hotel. He grew up in England in Somerset, near Bristol, but has lived in Europe for eight years and enjoys life in Luxembourg. He's a former two-time Defender 90 owner who adores their Discovery. Purchased in 2016, with 107,000 km on it, it now has 156,000 km.
"I get so much joy out of being a Land Rover enthusiast. I travel regularly enough to Seattle and when I return, I look forward to seeing the Discovery and my family — in that order. When I'm driving I will give and often get a wave from a Disco driver; I would not expect one from a Defender owner. I draw the line at Discovery Sports — I will not wave at one!"
"My sons, William, 9, and Arthur, 6, named the Discovery 'Rocky', because we've climbed rocks at the Land Rover Experience. (At age 1, our daughter Isabella was too young to have a suggestion.) The Discovery is a part of our family. It's like having a Labrador dog. You have to feed it, play with it, show affection to it, and every so often, take it to the vet for medical care."
"I've owned two Defender 90s in the past and I'm looking to buy a Defender 110. It's tough to find them here, as in an agricultural country like Luxembourg, most are farm trucks that have led hard lives. I'm sure the new Defender will be a great vehicle, but I'll always prefer the the original. Their imperfections are a part of their beauty. They won't go much over 100 km, they're not well sealed against rain and the windows fog up."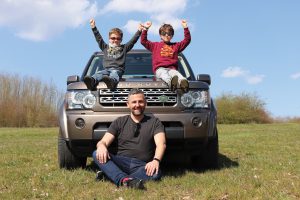 I left a card in the windshield of Cristiano Gembari's 2014 Discovery 4 when I saw it in a restaurant parking lot. The now-retired Luxembourg resident once worked for the European Commission, so he had a few choice thoughts about the Brexit negotiations. Once past them, he spoke with pleasure about his diesel V-6 Discovery. "Mine is a lower horsepower model as it does not have an intercooler, but it has also meant better fuel mileage. I don't need a Ferrari. I use the Discovery as a super station wagon. With our grandchildren, the 7-seat capacity is important. I have family in Sweden and Italy; it's perfect on those trips. I still only drive about 10,000-12,000 miles annually. The fuel range is excellent, as is its handling on the motorways. It's also a very comfortable vehicle because of its excellent ventilation system (I rarely use the air conditioning.) I'm planning a possible move to Switzerland where the 4-wheel drive system has been superior."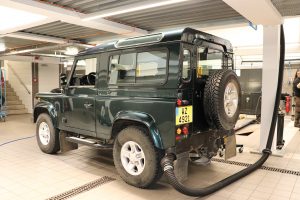 Cristiano has not yet warmed up the Discovery 5. "The Discovery 4 has a distinctive look — you either love it or hate it. I'm certain the Discovery 5 has wonderful capabilities, but I'm a tall person and I have found that the shared Discovery 5/Range Rover platform forces me to restrict rear seat legroom behind the driver's seat." He likes to keep his vehicles for a period of 7-8 years as "it's better for the environment."
He's very interested in the upcoming Defender and hopes that Land Rover will produce a basic model analogous to previous Defenders. "I don't use my vehicle's navigation system, I use maps. I don't even have a mobile phone. As a serious classical music lover, I would never listen to it as just background music on a drive. As long as it would have reasonable motorway speed and comfort, I will seriously consider one."
I saw many smaller Land Rovers —even a Freelander — on the streets of Luxembourg and the dealership confirmed their popularity, but how wonderful to hear of the affection for the Discovery and Defender. Small countries do have big enthusiasts.
Arnold Kontz Group, Luxembourg
Back in 1917, when "personal transportation" meant bicycles, Arnold Kontz of Luxembourg completed his studies in Paris to open a bicycle shop. The shop would grow to follow "new", up-and-coming modes of transport such as motor scooters and automobiles. Now under the leadership of fourth generation family member Benji Kontz, the multifaceted dealership can still provide you with a wide range of bicycles, scooters and automobiles.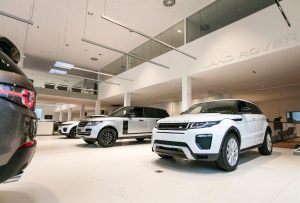 One-hundred two years later, Arnold Kontz Group has grown to also become the exclusive dealer in Luxembourg for Land Rover, Jaguar, Lotus and Aston Martin. It's always been located in Luxembourg City, and in its current location, only 6 km from the historic old city, since 2006.
I found my visits there true kid-in-the-candy-store moments. From the outside, you stare at the lineup of Land Rovers through the glass wall fronting the sidewalk. The melange of architectural styles reveals the repurposing of old buildings and the perfect mix of two and four-wheel transportation. Need a bike and bike rack for your Land Rover? All are available in the same complex of buildings.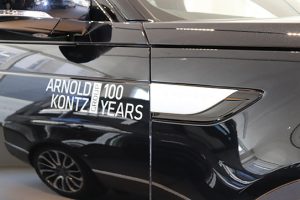 Surgery-clean service bays and a body/paint somehow co-exist in the rabbit warren of buildings. Walk up a couple of flights of stairs and there's a floor full of Lotuses, a marque I never see in the US. If you want to satisfy your inner James Bond, the Aston Martin showroom connects to the Jaguar showroom. Arnold Kontz also has a second Jaguar Land Rover dealership in Neiderkorn, in the south of the country.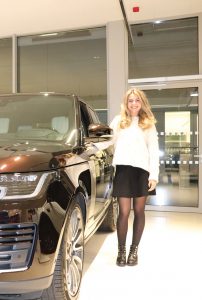 Equally impressive, Arnold Kontz Group has sponsored off-road teams in numerous events, such as the famous Rallye Aïcha des Gazelles, Trophée Roses des Sables, Morocco Sand Express (2016) and Sahara Desert Challenge. They've also enticed hundreds of clients to get the most from their Land Rovers at the Land Rover Experience course near the dealerships.
Pierre-Louis Leg (Classic Car Manager), Roger Stelitano (Parts Manager), Marie Heffman (Marketing), Julien Tarantini (Sales Manager), as well as Marc Muller all took the time to chat and smile, as if I were a potential client who didn't speak bad French. Their shared enthusiasm for British vehicles, especially Land Rovers, made me feel right at home.