The competition between auto manufacturers for attention has never been fiercer. In the midst of the explosion in social media platforms, one old-school method — the auto show — retains its luster. It continues to entice people to stare, touch, and feel new vehicles. Jaguar Land Rover has expanded its presence at auto shows and I caught up with them in Washington, DC and New York this spring.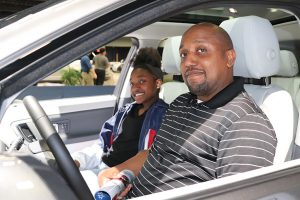 In the case of Land Rover, you go, as they like to say, "above and beyond." What makes that possible is a cadre of extraordinary people — demonstration course designers and contractors, Land Rover Experience instructors, DrivProduct specialists, and brand ambassadors. Watching them in action behind the scenes in Washington, DC and New York City was amazing. Knowing that they had 10 long days at each event was humbling.
The Washington DC Auto Show fell in April, a scheduling change from the usual January dates, and Land Rover (and Jaguar) provided a royal treatment for attendees. Of course, you had the chance to see the newest offerings up close. Land Rover lured tens of thousands to step inside, experience the interior seating, legroom, and controls, and imagine themselves as Land Rover owners.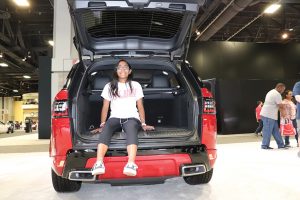 Floyd Armstrong, Upper Marlboro, MD and his teenage daughter Lisa seated themselves quite comfortably in a Discovery Sport. Lisa's reaction — "I like it a lot!" — was confirmed by her huge grin. Floyd noted that he grew up in Guyana, "where I saw lots of Series Land Rovers. I'd see them off-road all the time." He hoped that there would be a Land Rover in his future. Tamika Decatur, Eldridge, MD, and Elena Pritchard-Manwell loved the room in the back seat of a Range Rover Sport. Young Sandy Sangi, Ashburn, VA, lept right into the open rear compartment as if she were ready to watch the Land Rover Three-Day Event in Lexington, KY.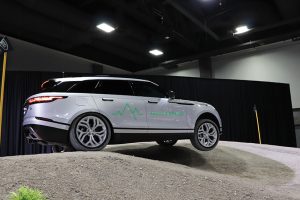 Jaguar Land Rover created two special experiences for attendees: one was a Halo Tour of the new I-PACE, which you were encouraged to take before you took a Fast and Furious-type ride with a professional driver in the car. (Note — the I-PACE drifts with the best of them!)
The monster experience came in the form of a Land Rover off-road demonstration course. Karen Angus, the driving experience manager for Jaguar Land Rover, oversaw the development of the 10-minute off-road driving course which featured 20-degree side slopes, ascents that left you staring at the ceiling, expectedly-steep descents, and mogul fields to show off the capabilities of the Land Rover models (all but our much-desired Defender). Karen insisted she wanted to create a "ballet of off-road experiences."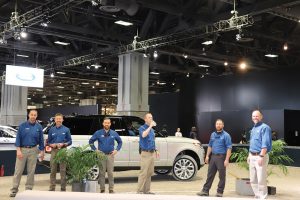 The course required an enormous layer of plastic, hundreds of plywood sheets and 120 dump truck loads of reclaimed crushed concrete, tightly packed and carefully groomed. An estimated 20,000 drivers and/or passengers waited patiently in line or watched from the sidelines. It took a team of 24 Land Rover mobile event instructors, Land Rover Experience instructors and at least a dozen "concierges" and attendants on the Land Rover side alone to keep things entertaining and safe.
When Karen asked if I'd like to run the course, I agreed quickly and she scanned the floor to see which instructors would want me in their Land Rover. Chris Tefke, Don Floyd, Jim West, Ramsey Benson, Jim Swett and Bill Mariano joined others in quickly scattering, but Karen determined that Fred Monsees, former Camel Trophy driver and events instructor, had not run fast enough and would be stuck with me. With a mighty sigh, Fred opened the door of the Range Rover Sport and had me climb into the driver's seat.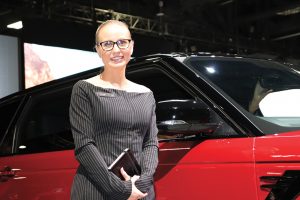 As he explained the features of the Sport, his immense knowledge of any Land Rover became evident. On events like this one, he figured that he had "less than a minute" to assess the driver's or passenger's wishes and temperament and to adjust his instructional style accordingly. For me, he chose a simple admonition; "The worst thing you can take off-road is your ego."
Later, Carolyn and Fred Nickens, Washington, DC, let me ride the demonstration course as a passenger while instructor Jamie Cote drove them around. They stepped out gobsmacked. Fred said, "The Range Rover seemed to drive itself. I know I signed a waiver, but all I could think of was, 'Please don't tip over!'" Carolyn messaged me later stating, "We loved the Range Rover at the Auto Show. We're going to buy one!"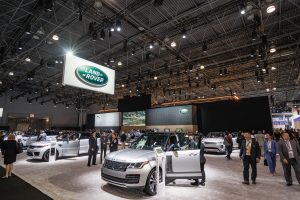 Other instructors, such as Chrystyna Young, Chris Walker, Warren Blevins, and Tim Hensley, among others, completed the ride/drive with the attendees. Keeping the crowds orderly and safely fell to a rotating group of instructors, product specialists and brand ambassadors. I quickly learned that the requirements to fill these positions are substantial. Land Rover takes its product specialists and brand ambassadors on-road and off-road in its vehicles so they can experience their capabilities for themselves. The training and testing are intense. It's no surprise that the individuals selected have the intelligence and talents to match their charisma.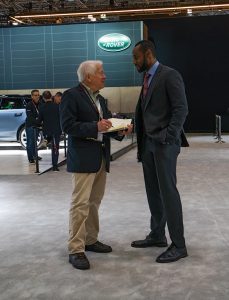 Gabriela David splits her time between her native Brazil and Miami, where her art was presented at Art Basel this year. She's worked with other auto manufacturers and said, "No team is more educated about the vehicles than the JLR team." Not surprisingly, Gabriela is also multilingual, another JLR expectation. Sarah Wilke, Lansing, MI, noted that some JLR team members know American Sign Language. Rebekah Bruflodt, Dallas, TX, reiterated the breadth of expectations and JLR's high standards. She also brought her childhood experiences as the daughter of missionaries in Lusaka, Zambia, where she rode around in Series Land Rovers.
Rashika Pickett, Pittsburg, PA, who has represented JLR at events from Los Angeles to New York, is also a producer, actress, and model. Valence Thomas lives in New Jersey when he's not appearing in films such as Men in Black III, Notorious, Cadillac Records and the upcoming, Meet Me in a Happy Place. He's also the voice of Zekhan on the latest World of Warcraft game. Janora McDuffie, Los Angeles, CA, has worked with Jaguar Land Rover for over 16 years and helped oversee the behind-the-scenes team at the Washington and New York Auto Shows.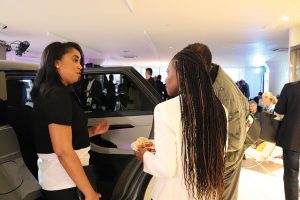 Hard on the heels of the Washington Auto Show came the press days of the New York International Auto Show. JLR held a technical presentation and welcoming event at the new, 150,000 multi-story home of Jaguar Land Rover Manhattan. Jon Sobel took over the dealership, number two in Land Rover sales in the US, in 2017, after leaving his previous position with Goldman Sachs. "I bought the dealership because Land Rover and Jaguar are iconic brands. My first Jaguar was 15 years ago and it was a work of art." On display at the event was the new Range Rover Evoque. Jack noted, "I'm 6 ft 2 and I can move the driver's seat back for comfort while still having foot room in the back seat — it's a brilliant design."
Once again, it fell to the product specialists and brand ambassadors to share their knowledge of the Land Rover lineup with guests and attendees. Yurika Collazo, Brooklyn, NY and Christophe Parker, Los Angeles, CA, complimented JLR as "the most demanding and the most professional of the manufacturers, in terms of presenting its vehicles." Judging from the comments overheard around the New York Auto Show, their efforts paid off well. Renada Roman, New York City, listened to a presentation about a Range Rover and said "I had a Range Rover once and I loved it. It will be my next car." That's music to the ears of everyone, behind and in front of the scene.