While the cherry blossoms have, err, blossomed throughout the southern states, New England's trees have just begun to bud as we slide from mud season to Spring. April showers do not bring May flowers, at least not here. They do, however, bring a lot of digital and snail mail entries to the Sightings Desk.
As the Sightings judge wends his way through this issue's entries, it's always helpful for veteran and novice Sighters alike to review the rules that govern the award a coveted mug:
Rule # 1 – All Sightings receive recognition and our appreciation, but not necessarily a mug. We reward only those Sightings that capture the unique qualities of Land Rovers and their owners and display them in a distinctive way.
Rule #2 – If your Sighting doesn't really surprise you, it won't surprise us, either — thus we can't award you a mug. We're delighted, but not surprised, that Land Rovers appear in British television programs, British publications, films with British themes and shows about African safaris. These Sightings are appreciated, but not mug-worthy.
Rule #3 – At an ever-changing date before publication, we close off the Sightings; for this issue, it was April 30, 2019. If we've mentioned the Sighting in an earlier issue, we might not mention it again. If you're new to the family of Land Rover enthusiasts, you may not have seen your Sighting in an earlier issue.
Rule #4 – We're not outfitting your kitchen. If you qualify, one mug per Sighting per issue.
Rule #5 – Sightings that are Land Rover references in books go to our literary Land Rover editor for the mention, but only when space permits.
Rule #6 – Psst… email submissions — remember we can't send a mug by email. Send us your real name and shipping address, too.
Rule #7 – Grudgingly, very grudgingly, the Editor admits he might have made an error. Let us know if you think you've been jobbed, but all decisions of the Editor are final.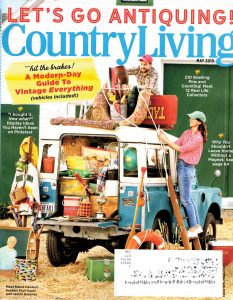 Movies and television programs, regardless of how they're delivered, love to include Land Rovers to keep an audience's attention. Chris Liles, San Diego, CA, saw one in a promotional spot for Whiskey Tango in his local newspaper. Scott Just, Berkley, MI, enjoyed seeing the Series I in the Elton John biopic, Rocketman. Brent Lane, Saco, ME, watched a 1965 German film, 13 Days to Die, that featured Series I's and II's. Scott Just, Berkley, MI, watched bullets ricochet off the Birmabright wings of a 4-headlamp Series IIA on Magnum, PI. Rick Mackie, Fond du Lac, WI, noted the Hulk seated in the back of a Defender pickup in the latest Avengers movie. John Rusk [see Rule #6] sent in a Daily Mail article on the new James Bond film, which might have a Series III in it.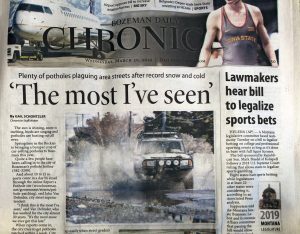 If you have a product to sell, there's no better way to draw positive attention to it than by including a Land Rover in an ad. Bill Schimikowski, Westborough, MA, enjoyed receiving a Yeti email ad with a Discovery I front and center. Lori Kennedy, Honesdale, PA, enjoyed seeing a Series IIA in the opening of a Fiber Trek Youtube video. Will Ficner, Ottawa, ON, spotted a large poster of a Series Land Rover attracting shoppers to a Garage clothing store in Ottawa. Jason Sheehy, Mt Sterling, OH, caught the rear of a Series Land Rover in an online Talbot's ad for the Hari Mari clothing line. Mark Hollahan, Jacksonville, NC, enjoyed seeing the RHD Defender in a Stauer catalog. Daniel Smith, E. Greenwich, RI, isn't certain what the Navy Federal Credit Union is selling, but they used a woman lacing up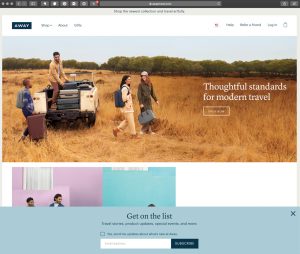 her hiking boots on the back of an LR4 as eye candy. Adam Setliff, Flower Mound, TX, noticed a cartoon drawing of a Land Rover 90 on a Columbia t-shirt. Ryan Lowe, Ellington, CT, enjoyed seeing the British-made Wavian jerry can ad online with a Defender in the background. Rob Wollschlager, Omaha, NE, was strolling through a Costco when he watched a big screen LG light up with videos of a Defender in action. Check Hester, Bel Air, MD, had to buy a book whose cover featured a bull elephant confronting a Land Rover 110. Richard Betts, Holly Ridge, NC, saw a poster at Rack Room Shoes of two kids having the time of their lives on the back of Series Land Rover. Scott Erickson, Sequim, WA, received an Allstate flyer suggesting that a Discovery I could break down in winter weather — bah! George Nelson, Sharon Springs, NY, noted that the cover and inside pages of the Bremont Watch catalog feature a Defender and a military Lightweight.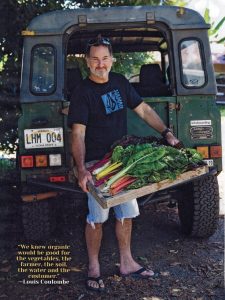 If you have a magazine article, including a photo of a Land Rover will draw attention to your story. Sally Coleman, Brewer, ME, Jon Winningham, Scottsdale, AZ, and Dean Chronopoulos, Dover, MA, saw one in Eating Well magazine about an organic farmer in Hawaii who uses a NAS Defender. Kyle Madigan, Warner, NH, Jeff Sawyer, Kaneohe, HI, Larry Jenkins, Gallatin, TN, Edward Moorlach, Fullerton, CA and Suzie Dalgleish, Millville, NJ, spotted a Series Land Rover on the cover of Country Living magazine. Popular Mechanics ran an article entitled, "How to Hit a Junkyard", and sadly included a Series II in the photo spread, noted Alan Slightom, Indianapolis, IN and Sean Jones, Fairview, NC. Bryan Sanders, La Palma, CA, enjoyed seeing the full page shot of a Series IIA canvas top in Sunset magazine. David Ducat, Lebanon, CT, was happy to see a Defender 90 adorning a story in Yankee magazine. Kraig Mackett, Perrysburg, OH, noted the P38 in an American Way photo spread.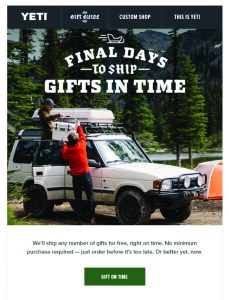 In the "Unusual Sightings" category, Bill Conn, Snohomish, WA, spotted a Series III in an online ad for Ink, a tattoo brightener. We received an email from Xapflash Productions about a nice exhibit at the Peterson Auto Museum about the love affair with the automobile, and a wall poster featured a Series IIA [see Rule #6]. Thomas Sennett, Chatham, NJ, saw a Direct TV online ad that featured only headlight illumination in a most distinctive pattern. John Morgese, Pound Ridge, NY, wonders if Walmart used a "modified P38" in their Transformers ad — looks a like an older Ford Explorer to us.
John Dillingham, Canton, GA, noticed that a captive nut tool advertised on Facebook included a Defender in their photographs. The Fields family, Smallwood, NY [isn't that where Superboy lived? -ed.] noticed an RHD topless Series Rover on the AwayTravel website. Jeremy Vimislik, Seattle, WA, had a friend snap a photo of a framed poster extolling surfing at the NW Florida Airport in Pensacola, FL. Of course, there's a Defender under the surfboard. PT Schram, Churubusco, IN, watched a CBS news story that included an LR3 stuck in a Colorado blizzard — clearly inaccurate! Jason Wachtel [see Rule #6] noticed a wireframe Defender in a Wakaliwood video from Uganda. Jason Sheehy, Mt. Sterling, OH, shared mock-safari photos for the IWA trade show in Nuremberg, Germany. Jeff Jones, Albuquerque, NM, found a wooden Defender 90 on Reddit for a mere $50,000 — no thanks! Ben Boerum, Washington, DC, enjoyed seeing the RHD topless Land Rover beside a Brigit Bardot look-alike in Vogue Paris.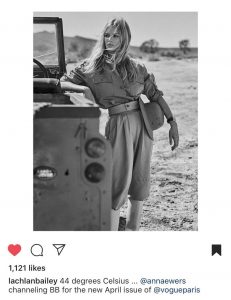 We've mentioned these before, but we want to credit the hard work of Sighters. Sean Jones, Asheville, NC, and Ryan Johnson, Tucson, AZ enjoyed seeing the Charles Tyrwhitt ad with a Series Land Rover in the March issue of Roundel, a BMW publication. Colin Spencer, Kodiak, AK, Kraig Mackett, Perrysburg, OH, Derek Leath, Frontenac, MO, and Paul Kennington, La Grande, OR, caught the Purdue University commercial online with a quick screenshot of a Land Rover. Ron Dade, Washington, DC, caught the Land Rover in the Kevins and Orvis catalogs. His wife also found a nifty Land Rover shaped cooler as a Christmas gift! Brent Sanders, Huckberry, CA, enjoyed seeing shots of Land Rovers in the Huckberry catalog. Bo Prillaman, Vero Beach, FL, enjoyed seeing the JP Morgan ad for lucrative investments set on an African safari. Jason Sheehy, Mt Sterling, OH, noticed that Beretta continues to run ads featuring Land Rovers. Scott Preston, Hendersonville, TN, and Tom Forker, Bozeman, MT, couldn't miss the driver's window, rear door and roof line of a Defender 90 in the Mountain Khakis web campaign. Allen Padgett, W. Lafayette, GA and Jeff Guyer, Bedford, PA, saw the radio supply company ad in QST magazine featuring a Land Rover 110.
Winners:
George Nelson, Sharon Springs, NY
Edward Moorlach, Fullerton, CA
Larry Jenkins, Gallatin, TN
Richard Betts, Holly Ridge, NC
Rob Wollschlager, Omaha, NE
Bryan Sanders, La Palma, CA
Jon Winningham, Scottsdale, AZ
Dean Chronopoulos, Dover, MA
Jason T. Sheehy, Mount Sterling, OH
Will Ficner, Ottawa, Ontario Canada
Jeff Sawyer, Kaneohe, HI
Suzie Dalgleish, Millville, NJ
Kyle Madigan, Warner, NH
Thomas Sennett, Chatham, NJ
Lori Kennedy, Honesdale, PA
Bill Conn, Snohomish, WA
Bill Schiminkowski, Westborough, MA