Amy Clarissa's earliest memory of a Land Rover goes back to age 7. Her Dad had taken her to a birthday party on the back of his Lightweight. Although it felt drafty and damp, she felt like the bee's knees rolling up in a cool vehicle to the admiring glazes of her friends. Since then, she's been obsessed with Land Rovers.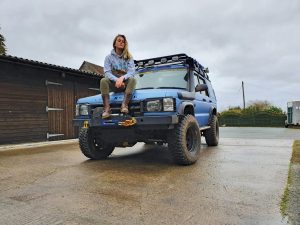 She learned to drive in her Dad's Defenders; after she passed her driving test, a Discovery I became her first vehicle. She forgave it its rust and soon began learning how to revamp and refurbish it, turning it into a handsome Land Rover once again. The Discovery I was followed by a bobtailed '71 Range Rover that she used for off-road practice at the Coney Green "Pay and Play" course [off-road parks in the UK — ed.] Then came a Range Rover Sport TdV6.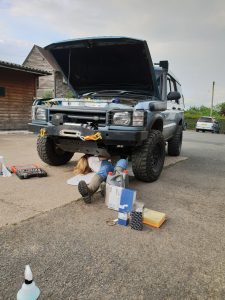 At age 24, she now owns her sixth Land Rover, an '01 formerly-Icelandic Blue Discovery II Td5 ES. She found it near her Tenbury Wells, Worcestershire, home. Having managed to break both the front and rear differentials of her previous Discovery, she called upon her Dad's coaching and a nearby 4×4 shop to guide her in customizing this Land Rover for off-roading, camping and expeditions.
Amy pursued a degree in Equine Studies and now works for her father's sign-making company, so she's not afraid of getting grubby and breaking fingernails. The results of her hard work are impressive to see. She removed the air suspension and replaced it with coil springs. It now has a 2-inch lift, heavy duty steering arms and dampers, differential and tank guards, heavy-duty front and rear bumpers, Spoker wheels, rock sliders, a winch, and many accessories for comfortable and theft-resistant camping. All of this added mpg-stealing weight, so she installed a tuning remapping upgrade to restore the lost grunt and improve fuel mileage.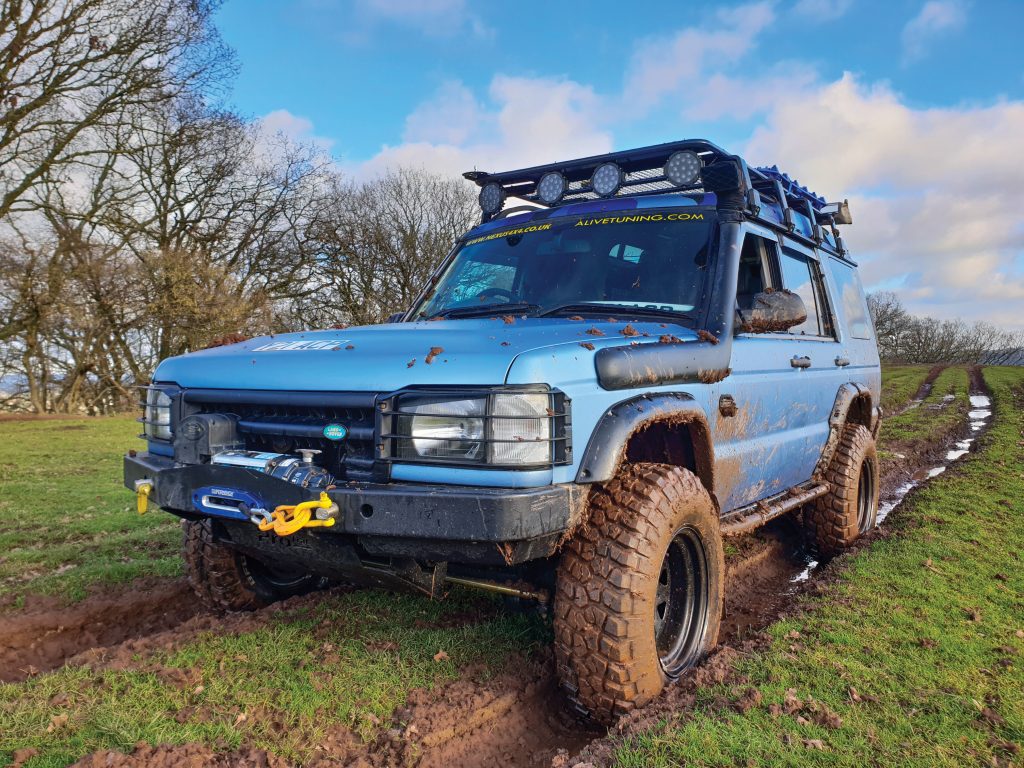 Next in line is the fitting of a roof tent to make it a properly versatile over-lander. She has learned her lesson and is trying not to break this one, having invested so much time and passion in it, so she avoids the more extreme off-roading, happy to green lane and do some tours further afield. A trip around Scotland has only whetted her appetite for more travel.
What Amy didn't know was the provenance of her Discovery.
Back in 2002, Land Rover supported the grueling Midnight Sun to Red Sea Rally, which ran from Ostersund, Sweden to Aqaba, Jordan — 5,000 miles through 10 countries —  raising funds for Cancer Research UK. Land Rover PR Director Jo Cross led a group of celebrity drivers in an '03 MY Discovery II, which stood out because of its pink lipstick livery. As is common in the UK, its assigned "license plate," BU51 VNV, would remain with the vehicle throughout its life.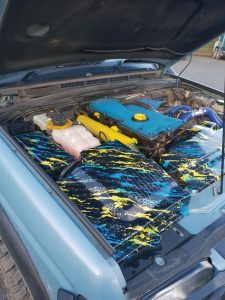 It had a rough go during the event. Turkey marked the end of the event for the Discovery. She lost control in some road works and rolled down a mountainside; fortunately, she escaped with minor injuries, but was unable to continue to the end of the rally.
Cue Nick Dimbleby, photographer, author, Land Rover enthusiast and a near-official photographer for Jaguar Land Rover. Nick followed the competitors at the Midnight Sun to Red Sea Rally, and coincidentally, came across Amy Clarissa' Instagram account, BlueDiscoveryGirl. One photo caught his eye — the one with the registration plate BU51 VNV. Pardon the pun, but his photographic memory connected the dots and he realized that Amy's Discovery, now much modified, started life as the support vehicle for the Rally.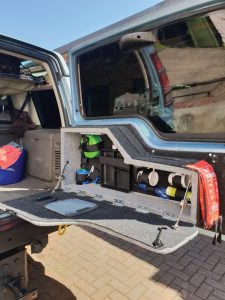 With its many modifications, Amy's Discovery is barely recognizable from the stock vehicle off the assembly line, but she was thrilled that Nick contacted her and showed her archive shots of its past life. Amy said she had no idea of its previous five owners nor of its role in the historic event. It's lovely to know of its heritage in a marathon rally and its global travels, and equally wonderful to see its transformation under Amy's ownership. She's given it a a new lease on life as a daily driver, awaiting its future as Amy's expedition vehicle. I wonder what the next 17 years has in store for this special Discovery II.
[You can follow Amy's Land Rover experiences on Instagram at @BlueDiscoveryGirl, as well as on YouTube and on her website, BlueDiscoveryGirl.co.uk -ed.]