The caravan of old Land Rovers had stopped near the confluence of Slaughter River in Montana's Upper Missouri River Breaks National Monument for all of ten minutes before Wayne Phelps had his hood up and his fingertips black with grease as he fiddled with the fuel supply of his classic Series truck.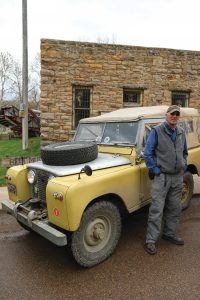 When the Helena, Montana-based Rocky Mountain Rover Club sent out word in late January this year about a possible springtime expedition into the 3 million-acre greater Upper Missouri River Breaks, the group certainly wasn't expecting a positive response from the Phelps family out of the Portland, Oregon area.
"That's just too far to go for an expedition in Series Land Rovers," the thinking went.
And yet, here were Wayne and Cathy Phelps, in one of the most remote places along Montana's Upper Missouri River Breaks National Monument — ordinarily reachable only by boat — in a 56-year-old, Series IIA 88, affectionately known as "Grey Poupon".
The Lewis & Clark Expedition camped at this confluence of a major tributary of the upper Missouri in May 1805, and again the next year on the return voyage down river to St. Louis. Capt. Meriwether Lewis wrote in his journal about, "a vast many mangled carcases of Buffalow [sic]" they found in the area, which prompted the name, Slaughter River.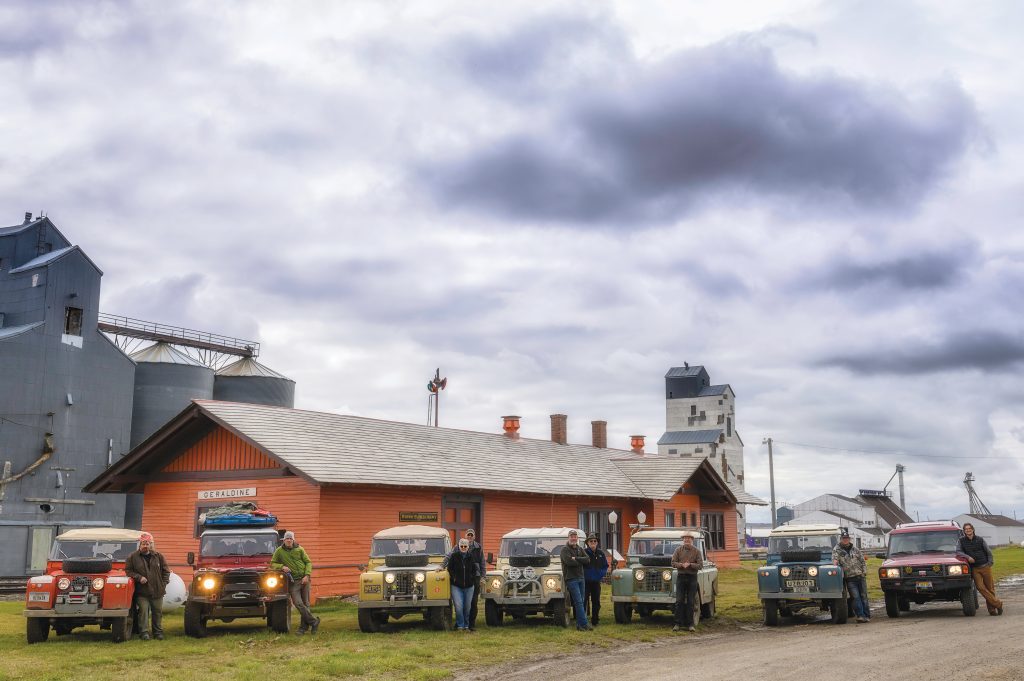 Following a full day of travel along the breaks and benches above the Missouri, most in our party listlessly set up camp or simply gawked as evening sunlight fell on the layered sandstone cliffs. The Missouri here muscles past quiet and powerful only a few yards away. Several weeks before, this entire stretch was scoured by slow moving ice jams, and the evidence was everywhere along the banks.
During the rugged descent from the prairie farm fields into the river bottom, Wayne Phelps heard — or sensed — something he didn't like in the rhythm of Grey Poupon (named such for its unique paint scheme). And here — 40 miles into central Montana's Missouri Breaks country, at the end of a fading two-track impassable at the first drop of rain, where rafts and canoes remain uncommon and vehicles of any type almost unknown — here, Wayne aimed to set things right.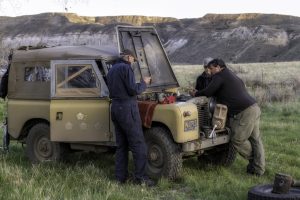 It turned out to be only a partially blocked fuel filter and it was the only problem that arose during Wayne and Cathy's 1,997-mile, 12-day round trip from Portland to the remote badlands of Montana. For comparison, the Helena and Bozeman contingents of the caravan had racked up closer to 700 miles in their Series trucks over the week-long expedition.
And Grey Poupon accomplished it bearing a burden that may have rivaled those of the river boats of the Lewis & Clark party. An unladen Series 88" truck weighs roughly 2,900 pounds, curbside, and has a specified maximum with cargo weight of 4,453 lbs. Wayne said that he found a weigh station on the trip home and his IIA came in at 4,600 pounds, when fully provisioned for 12 days. Comprehensive travel tools and spare parts rounded out the big load, which Wayne admitted "kills speed and mileage." So did the muddy trails of the Missouri River Breaks.
Wayne's encyclopedic knowledge of all things Land Rover and MacGyver-like abilities contribute to the Phelps being highly-regarded among Land Rover enthusiasts of the greater Pacific Northwest.
Members of the Rocky Mountain Rover Club cooked up the excursion into the Breaks with a restriction to Series Land Rovers, powered by those famous 2.25 four-cylinder engines. Even in the minds of the Montanans, it seemed a sketchy proposition, given the distances, the vagaries of springtime mud season, and the remoteness of the destination. After some deliberation, the Helena and Bozeman clubs allowed for "chase rigs" to accompany the five Series Land Rovers, a Discovery and a Defender, nearly new vehicles at only 20-plus-years-old.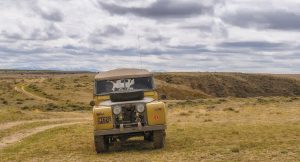 Some club members knew that Wayne had an old Series truck secreted away somewhere on the family property just outside of Portland, but on previous trips Wayne and Cathy had always arrived in their nicely-equipped, 300 TDI-powered Defender 110, known as "Smokey."
The Helena and Bozeman club members shouldn't have been surprised, however, when Grey Poupon pulled off the highway from the vague western horizon and into Helena to meet up with the other four Series Rovers before setting out for the Breaks.
Wayne retired in 2009, from Northwest Natural, a gas utility, and Cathy retired a year later after 32 years as a teacher in the Portland public school system. Since then, the pair will launch major, month-long Land Rover excursions, seemingly at the drop of a hat. They've crossed the country to visit Maine and Vermont — dropping in on Rovers North, a sponsor of the Missouri Breaks trip — as well as to Overland West, near Flagstaff, Arizona. They make a near-annual springtime pilgrimage to California's Death Valley. They've driven to the end of the road at Deadhorse, in Prudhoe Bay, Alaska, which Wayne said is "as far north as you can legally drive." Regional trips in the Pacific Northwest and Canada typically run up to eight days and 1,200 miles, according to Wayne. One of the of the few places they haven't been in a Rover is the southeastern U.S. "That's our next deal," said Cathy.
How do they sustain this penchant for extensive "Roverlanding"?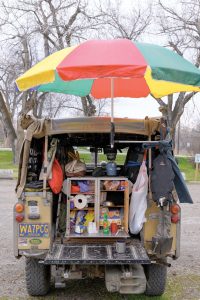 A partial answer is preparation and comfort, and Grey Poupon is well equipped. Over the years, Wayne has added: a mechanical capstan winch, extra stacked spring leaves and extended shackles on the suspension, a spare driver's side fuel tank, a Canadian military two-inch double-hoop bar assembly on the canvas top, a pulley-driven under-the-hood air compressor, and a 32-quart Engel refrigerator.
"When the Engel is stuffed full, you generally have a week's supplies," said Wayne. They re-stock at local grocery stores, Cathy explained, and once in a while they eat out, but mostly they cook. Likewise, they spend an occasional night in a motel, but mostly they camp.
It's important, then, that the outfit also offers a grand total of three ways to heat shower water — a solar bag, an engine coolant heat exchanger with pump, and a stand-alone burner with a stainless steel, 1.5-gallon pressurized tank.
"When we crossed the U.S., I probably had a shower 28 out of 29 days," said Wayne.
For navigation, the couple uses a combination of old and new technologies: Gaia GPS navigation on an iPad, Delorme Gazetteer maps, and an additional state map — "That gives you the big picture," Cathy said.
Generally, they pick a destination and set off, without a whole lot of planning of what route they will take or where they will sleep each night.
"How we get there and how far we travel each day — it's just a matter of how we feel," Wayne explained.
Like everyone who has crossed the country by car, Wayne and Cathy have learned at least one thing: it's a lot easier to camp out West than it is back East.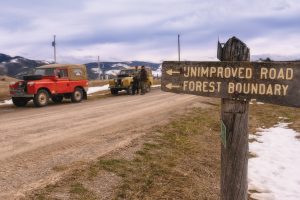 "It's just a lot of private land, no BLM or Forest Service like we've got out here," Wayne said. "The farther east you go, the tighter it gets."
Wherever they go, though, east or west, they meet other people in Land Rovers. You can pass a Rover going the opposite direction, Wayne said, and most times one or the other of you will pull over. Once, Wayne and Cathy met a French couple in Canada and invited them to visit Portland. As it turned out, the couple did stop in to visit, but had to leave in a hurry for a family emergency.
"We ended up storing his Defender 110 at our house for two years," said Wayne, chuckling.
"You just never know who you're going to run across — it's all part of the experience," he went on, adding with a laugh, "even if you do break down."
Wayne noted, though, that Grey Poupon has never left him stranded. He can't say the same for the Defender, which got Wayne and Cathy 10 days into a trip to Alaska before — to use Wayne's words — "the engine decided it didn't want to be part of the team anymore."
"I've put 80 or 90 thousand miles on the '63 Series IIA and I've never had to have it towed home," Wayne said. "But that doesn't mean it didn't limp home on its last legs a few times."