If you're a member of Gen X, you might remember a commercial in which a larger-than-life, permanently tanned Baby Boomer claimed loudly, "I liked this electric razor so much that I bought the company!"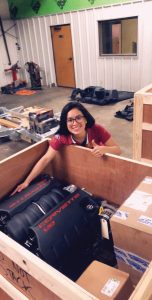 For Scottish ex-pat Andrew Morrison, his work life began during that era as a global supply chain professional for multiple Fortune 500 companies. "I began to dislike having a boss and not caring about my work; I was bored," he said, "but I found myself in Texas and enjoyed it." He bought a Corvette restoration shop and took on rebuilding and customizing the fiberglass sports cars. "I didn't really like them, but they were a stepping-stone; I really wanted to do TVR's!"
Andrew realized that Texas had plenty of Corvette shops, but far fewer Land Rover shops. As one who grew up around Land Rovers, he knew that "with a Defender, you can pull out a barn find, and any abused farm vehicle can be brought back to life. Most of the ones we get are 25-years-old or more, but they all still run. I have learned that in the US, enthusiasts have different perspectives on the Defender and treat them much differently!"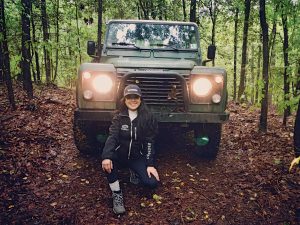 While working at a shop, Andrew met then 22-year-old Laura Rodriguez. Laura grew up in Richardson with her sister, Amalia, and her mother, Norma Jamies. "I lived in a single-parent household all of my life. I saw how hard my Mom worked all her life, and I love and admire that about her. It's made me the strong person I am today."
In 2017, while still a student at the University of North Texas, she spied her first Land Rover Defender. "I loved the aesthetic of the vehicle. It looked so different from the Jeeps I saw all around me that I started to look into them." She joined Texas Rovers and scoped out Dallas-area shops about buying and maintaining Defenders, and at one shop, she met Andrew Morrison.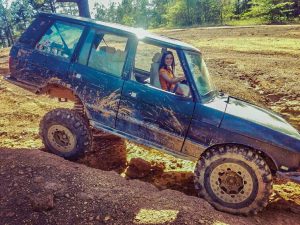 Those meetings resulted first in her purchase of a Coniston Green '97 NAS Defender 90, with 150,000 miles on it. Laura said, "I named her 'Jade' because she's a girl and she's green." After graduation with an Integrated Studies major, combining business law, communications and Human Resources, Laura's second step was the creation of Xerbera Automotive, in partnership with Andrew. In two years, the shop has grown to seven full-time technicians and three managers, completing 10-12 restorations and 8-10 refurbishments annually.
Laura enjoyed off-roading in her Defender, but really wanted to challenge herself and the Rebelle Rally [see Spring 2019 issue -ed.] captured her interest. "The Rebelle will allow me to test myself and get out of my comfort zone. I've never competed in anything like this, off-roading in a rally for 10 days!" She attended the Rebelle Rally navigation training at the Raspy Roost in Ocotillo Wells, VA, last May. "I'm one of those millennials who has never opened a paper map or used a compass. By the end of the weekend, I could read a topographic map and plot a course. It was awesome! All the women there were so helpful, so nice. Next September I'll attend the sand dune driving training, too."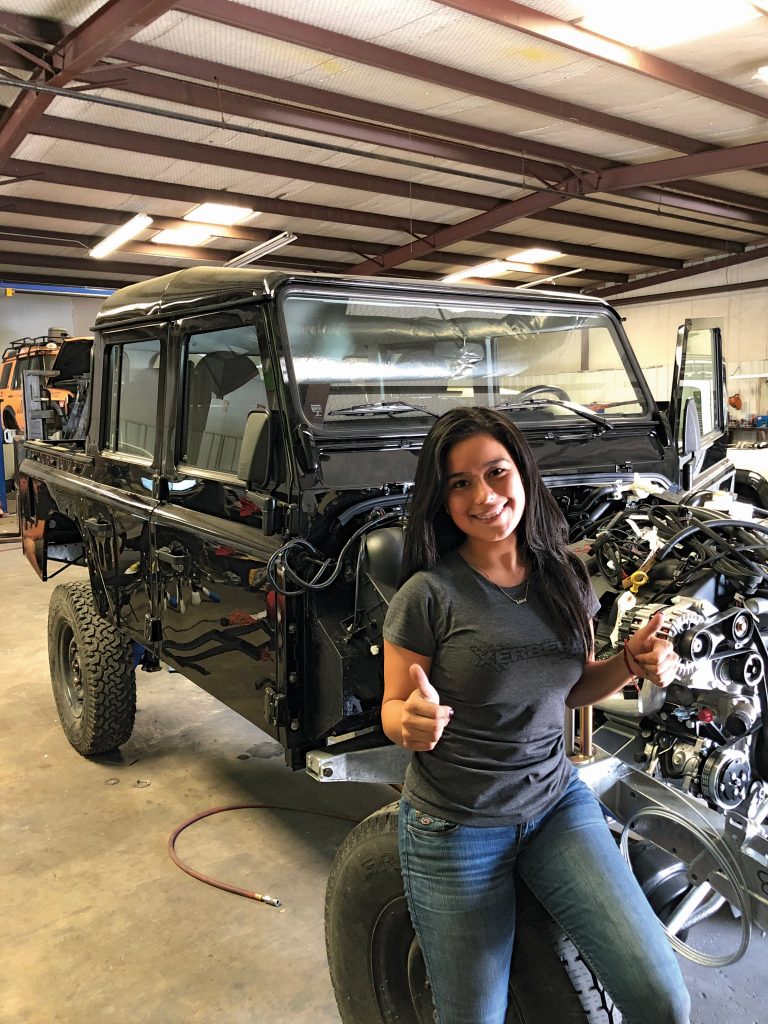 Laura and Andrew decided that "if you're going to do this, you need to go big." Instead of running the event in her NAS Defender 90, they decided to build a Defender 110 Sceptre clone — the double-cab that delighted viewers of the James Bond film of the same name.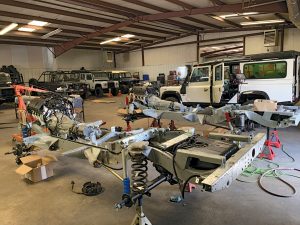 Their Sceptre will run a GM LS 3 6.2L V-8 with 430 hp and 434 ft-lbs of torque, paired to a GM 6-speed automatic transmission and Land Rover transfer case. The donor vehicle is a '92 Defender 110, under which they're sliding a Richards frame [the same one sold by Rovers North -ed.], a 2-inch lift, Ashcroft gears, and underbody protection.
With the build underway, Laura needed to find a navigator. She told a shop customer about her interest in the Rebelle and he linked her up with Kelsey Collins, Dallas, TX. The 23-year-old works with at her father's company, Black Mountain Jeeps. While Kelsey had competed in road rallies such as the One Lap of America, she'd never competed in an off-road rally [which only confirms our worst suspicions about Jeep owners -ed.] As Laura said with laughter in her voice, "Kelsey can scare me on-road doing 100 mph, but I can scare her off-road at 3 mph." Once they met in person, Laura knew "we would be perfect partners for each other."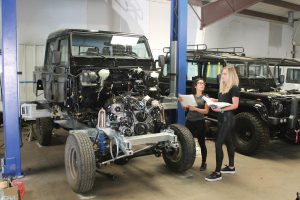 At 24, Laura has the job and the Defender of her dreams. "Every day I feel so blessed and lucky. I am thankful that everything has come together so quickly, and that I have a job at which I'm so passionate. I told Andrew that I was willing to work day and night at our company, and he took me seriously. I'm the only woman at the shop; all the men are 40 years and older. They treat me professionally despite my youth." As for customers, "I find that Land Rover enthusiasts are a different kind of person. They don't belittle me; they take me seriously." Interestingly, many of those customers want a Defender but have never driven one. Laura noted, "We love to ask our potential clients, 'Have you ever driven a Defender?' We let them drive a stock one so they know what to expect — and maybe, what to improve."
The Xerbera Sceptre will make quite an impression on-road and off-road. To paraphrase the 1979 commercial, these Gen X and Gen Y Land Rover enthusiasts decided they liked Defenders so much that they created a company.