"Snowflakes are a-falling, my old home's a-calling, Christmas time's a-coming, and I know I'm going home" — that's the Bluegrass staple that I can't get out of my mind as I prep for winter. For some of you, prepping for winter means pulling out your light sweater or applying a lower SPF sunscreen. In New England, winter means holidays with a genuine chill, frozen precipitation on the roads and fields, and a deep desire to bundle up in front of a wood stove or fireplace.
As always, it's useful to novice Sighters and veterans to review the rules of the contest:
Rule # 1 – All Sightings receive recognition and our appreciation, but not necessarily a mug. We reward only those Sightings that capture the unique qualities of Land Rovers and display them in a distinctive way.
Rule #2 – If your Sighting doesn't really surprise you, it won't surprise us, either — thus we can't award you a mug. We're delighted, but not surprised, that Land Rovers appear in British television programs, British publications, films with British themes and shows about African safaris. You shouldn't be surprised, either, and should consider looking for other ways to get a coffee mug.
Rule #3 – At an ever-changing date before publication, we close off the Sightings; for this issue, it was September 30, 2019. If we've mentioned the Sighting in an earlier issue, we might not mention it again. If you're new to the family of Land Rover enthusiasts, you may not have seen your Sighting in an earlier issue.
Rule #4 – We're not outfitting your kitchen. If you qualify, one mug per Sighting per issue.
Rule #5 – Sightings that are Land Rover references in books go to our Literary Land Rover Editor for a mention, but only when space permits.
Rule #6 – Psst… email submissions — remember we can't send a mug by email. Send us your real name and shipping address, too.
Rule #7 – Grudgingly, very grudgingly, the Editor admits he might have made an error. Let us know if you think you've been jobbed, but all decisions of the Editor are final.
Retailers adore having Land Rovers in their promotions. Charles Buchenauer, North Las Vegas, NV, spotted a RHD Series pickup in a promotional poster for a new store to open on the Las Vegas Strip.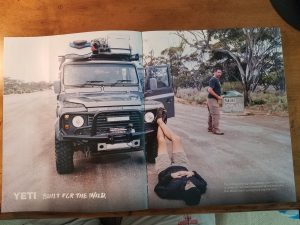 Movie and television producers look for any excuse to add a Land Rover to their productions. Tom Bache, Morristown, TN, spotted a Defender 110 in a desert setting on an Italian movie poster. Kurt Shaffer, Goose Creek, SC, enjoyed seeing a Land Rover in the Beatles-based film, Yesterday. John Dillingham, Canton, GA, spotted a Land Rover in Dora the Explorer. Jane Barrett, Plainfield, ON, and Matthew Spetz, Forestville, CA, noted, "too many Land Rover to mention" in the film Red Sea Diving Resort, and on the TV show Narcos. Jane and James Hutchinson, Cambridge, MA, noted the RHD Series Land Rover in the new film, Falling Inn Love. Keith Barrett, Plainfield, ON, noted the RHD Defender 110 in Red 2. Rob Goodall, Henrico, VA, shared a screenshot of a Defender 110, wading through a river on the Discovery Channel's Expedition Unknown.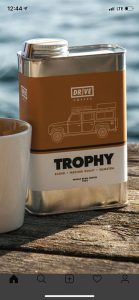 Advertisers for a wide range of products know the importance of a Land Rover in their ads. Steve Bradley, Niskayuna, NY, spotted a Land Rover 110 on a can of Drive Coffee drink. PT Schram, Churubusco, IN, enjoyed seeing "an Evoque like mine" on promotional material from the Canadian firm Multimatic. Tom Forker, Bozeman, MT, noted the Eastern Mountain Sports ad for Tepui Tents, mounted on a Defender. He also sent in an Instagram post from Skyroam that featured a man typing away outdoors on a laptop seated on a Defender wing, an "Adventure Capitalist" hat with a Defender 110 on the brow, a Craghoppers post with a Defender, a Series IIA 109 on the Kiel James Patrick post, as well as other Instagram posts of Defenders in cold places. Matthew Flanagan, Fair Haven, NJ, spotted the same Skyroam ad. Rob Lynch, Apex, NC, saw a Vuzio ad online for a riv-nut tool at work on the wing of a Defender. Jonathan Greene, Pikeville, NC, noted the back of a UK Defender in an Instagram ad for Kurvd Camera. Ron Ellis, Basking Ridge, NJ, Kevin Healy, Massapequa Park, NY and Gregory Rodocker, Evansville, IN, enjoyed seeing the Series IIA 109 on the Martin Dingman Catalogue cover. Clay Ayers, Potomac Falls, VA, enjoyed the new Lego ad with a Series Land Rover in an African setting. Christian Cartier, Alexandria, VA, enjoyed seeing the topless Series Land Rover in the desert on a Ritz Carlton website ad. Peter Kapulonis, Aurora, CO, noted the Series Land Rover on a Tom's shoebox. Charles Bell, Mobile, AL, couldn't miss the Defender in the Moe's Southwest Catering ad.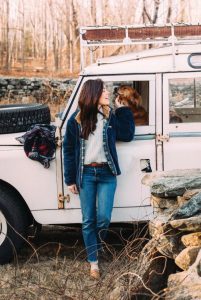 All print stories are more interesting when a Land Rover appears in the article. Jason Sheehy, Mt. Sterling, OH, noted the side photo of a Defender at the Prairie Wildlife Center in Mississippi in Shooting Sportsman. Also, on a trip to London, Jason spotted a Turo Rental Car ad featuring a Defender. Susan Andrews, Johnson City, TN, enjoyed spotting a Defender 110 at work during the Congo's recent Ebola outbreaks. Keith Commess, Portland, OR and Daniel Smith, E. Greenwich, RI, read a Departures airline magazine story about a Defender converted to electric power. Kevin Ayres, Portland, OR, couldn't miss the Range Rover on the cover of Oregon Wine Press magazine.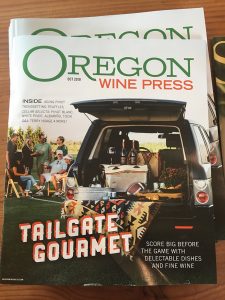 In the Unusual Sightings category, Alex Turkewitsch, Toronto, ON, sent photos of an '81 Series III used as a display at the Cultivate '19 Trade Show in Columbus, OH. Thayer Cook, Arvada, CO, liked an "Adventure Awaits" shirt that she saw on Etsy so much that she bought one — it was the topless Land Rover on the shirt that closed the deal. Tom Sennett, Chatham, NJ, saw a Land Rover in an ad for a religious camp near his home; "I've definitely invoked prayer to help my Land Rover start on cold days," he wrote. Dixon Kenner, Ottawa, ON, is an avid philatelist and noted the presence of an FC 101 on a stamp series from Togo. Travis Kwait, Plano, TX, sent in an interesting CBS news report following up on a 1985 highjacking; the Series IIA in the photo played an important role.
We've mentioned these Sightings before, but we want to credit Sighters for their hard work. Clay Devening, Lexington, VA, Derek Chace, Charlotte, VT, and Nora Thomas, Savannah, GA, spotted the topless Land Rover on the cover of Garden and Gun. The Aardvark comic strip is often set on the African continent with a Series Land Rover present: Zeeshan and Ozzie Farqui, Beaverton, OR, shared the latest with us. The Roark catalog is back with a Land Rover on the cover, notes Chris Hope [see Rule #6], as is Fjall Raven, noted Sherry Block, Hadlyme, CT. Nathan Tucker, Portland, OR, sent us a shot of a Toad&Co catalog cover.
Winners:
Kevin Ayres Portland, OR
Charles Bell Mobile, AL
Travis Kwait Plano, TX
Kevin Healey Massapequa Park, NY
Gregory Rodocker Evansville, IN
Ron Ellis Basking Ridge, NJ
Matthew Flanagan Fair Haven, NJ
Tom Sennett Chatham, NJ
Jane Barrett Plainfield, ON
Matthew Spetz Forestville, CA
Thayer Cook Arvada, CO
Alex Turkewitsch Toronto, ON Canada
Thomas Forker Bozeman, MT
Steve Bradley Niskayuna, NY
PT Schram Churubusco, IN