The Land Rover world knows Don Flye as the man behind the "Metal Dash", a celebration of Series Land Rovers, now in its 16th year at his Doe Valley Farm in Petersham, MA.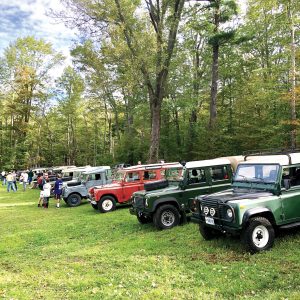 As befits someone at the ripe age of 84, Don has a colorful background. His love of automobiles started at age 13, when his grandfather gave him a Ford Model T. Two years later, the police chief of New Salem, MA, authorized him to receive Dealer license plate so he could start his own business.
In 1961, he served in the Civilian Air Patrol (CAP) out of Lake Charles, LA, during the aftermath of Hurricane Carla — to this day, one of the nation's most severe storms. Don flew food to the people trapped in the massive flood zones, as well as directed helicopters rescuing stranded people he spotted from the air.
By the 1970s, Don had taken his passion of British automobiles to the next level. He started buying used and NOS parts for British sports cars and saloons. His parts stash would gain international fame, and when a British buyer made an offer he could not refuse, he sold the entire lot and shipped it to the UK.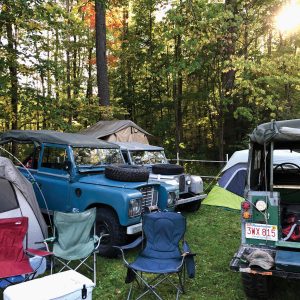 A decade later, Don attended an informal British car show at Abingdon Spares in Walpole, NH. Don drove his Triumph just to be part of the event. While meandering back and forth through the rows of British autos, he spotted a Series II Land Rover. It enticed him with its box-like charm, in contrast to all the sleek curves of the sports cars.
Don had never seen a Land Rover up close. The thing fascinated him with its sparse, utilitarian nature and seeming simplicity. He went home that day thinking of one thing; he had to find one of these all-purpose vehicles for himself.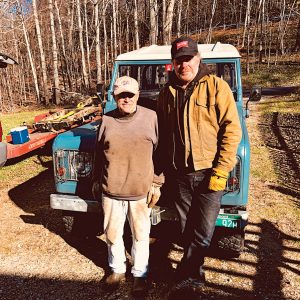 A few weeks later, while riding through western Massachusetts on his bicycle, (he's still an avid cyclist), he spotted a Series III sitting in a driveway with a "For Sale" sign on the windscreen. He went home, mulled it over, went back the next day, and bought it. It didn't need a lot of restoration, but he tweaked it and painted it his favorite color, Land Rover Marine Blue. With an empty barn and a new-found interest in Land Rovers, he thought, "Why not do it all over again?" But this time, for only one marque. Plus, if he wanted to restore his own trucks (which he's done several times), he would have his own hoard to pull from.
Don remembers one chance deal that most of us could never dream of happening. He walked up to a house surrounded by scrap cars and asked the owner, "You have any old Rovers you want to get rid of?" The man came back with, "Sure I've got two working IIA 109's. I'll sell you for $500, for the pair." Don bought them and stripped them for parts. To this day there's a part of him that still thinks he should have tried to restore the pair, but he felt that more would come along.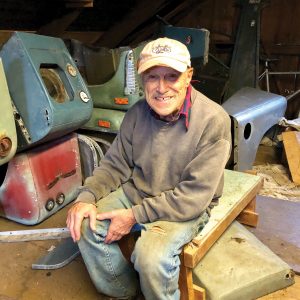 In fact, they did keep coming, which is when he decided he preferred the more "iconic" Rover, with the lights in the breakfast rather than the wings. He found a ramshackle mid-60s Series IIA, with mismatched body panels, rebuilt it, and also painted it Marine Blue. In 2000, while attending the British Invasion in Stowe, VT, he found a Series I. Don dove headfirst into this rebuild, even to the point of smuggling the period correct Avon tires into the country and painting it the correct RAF Blue.
His love of the Series I led he and Tom Bache, then the US representative to the British Series I Club, to offer enthusiasts the first "All Metal Dash" in 2003. What sounds like an event for heavy metal bands would start an annual tradition that continues to this day. Thirteen enthusiasts drove to Massachusetts from as far away as Ontario. Polling participants after the event led him to open the event for Series II and IIA owners, too — it's now known less-restrictively as the "Metal Dash". Today you'll see the odd Defender and Discovery in attendance (Don says suits him just fine, because they might get the Series bug after the weekend is over.)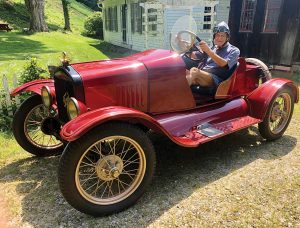 Land Rovers arrived at the farm this year throughout Friday, set up their tents and broke out the coolers in one of the freshly cleaned horse paddocks. Unlike other events I've attended that have extreme trails and/or trials, this event feels more like a gathering. Friday night comes and goes with stories of rebuilds, off-roading mishaps and obscure Rover talk over beverages and tasty campsite food. On Saturday morning, there is a big breakfast for all the attendees. Don insists that this is key to any event and puts out a spread fit for a king. As you sit there drinking your freshly brewed coffee, you notice other Series/Defender trucks pulling into the upper paddock.
Honoring Don's past, there's a swap-meet portion of the event. Enthusiasts come from all over the northeast with whatever spare parts they have and lay everything out on large tarps, like a classic British boot sale. There are many deals to be had here, with most items priced to move.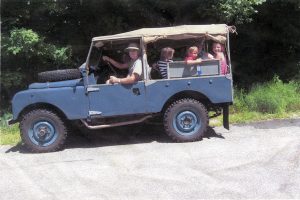 Last year, I went without needing anything, yet came home $500 cash poorer. If you are lucky enough, Don will invite you into his multi-level barn for an even deeper search of that elusive piece. The barn is full of parts from disassembled Land Rovers and organized by model and section: body, steering, brakes, etc., of the Series truck. Need a Lucas L594 beehive lens for a Series II front wing? Go check in the lens bin next to the indicator switch bin.
Later, two groups formed heading in different directions — one for a green lane drive and one on a quest for craft beer at the Ashuelot Brewery in New Hampshire. Both groups reconvened back at the farm's campsite for the second evening of Rover talk. Sunday saw another big breakfast, repacking of gear, and goodbyes all around.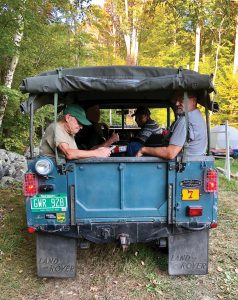 Participants spoke fondly of the reasons they look forward to Metal Dash. Mike Wilson, who lives in New York's Catskill Mountains, makes the 4-hour journey each year because it's a place to catch up with other true enthusiasts and to tap into their vast and "priceless" collective knowledge of Rovers. Don Jenks of Vermont brings his two boys along with hopes that one day they too will have their own Land Rovers, and "of course, the camping and morning breakfasts are amazing." Glenn Parent, Woodstock VT, echoes the others, but offers that it's the "event of the season" — low key, good friends, good food and a very tranquil setting. As he's a Land Rover restoration guy, Glenn had to add that the swap-meet and Don's barn are legendary for finding that one missing part you need to complete the job.
Don still has a Ford Motel T and a Model A, both registered and driven often. As for Land Rover, he has his barn full of parts and for one weekend out of the year, an entire field of Rovers. I asked Don why he holds the annual Metal Dash event. "I like having these people come here," he said. "They look forward to it, like I do. Every so often I've contemplated stopping it, and at the end of each event, people always come up and say that they had the best time and can't wait till next year. So for them, and myself, I will do it for as long as I can."