You must drive 21 miles north of Baltimore to find the town of Phoenix, MD. Ask around about Land Rovers and you'll likely receive directions to my house.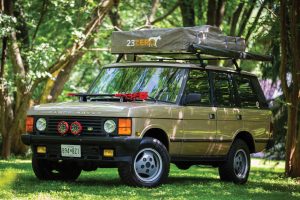 Jason ? considers himself the "caregiver," not the owner of this growing collection of Land Rovers. As he insisted, "This is a collection of working Land Rovers, which means you won't find museum quality or investment grade Land Rovers; mine are used, driven and maintained."
He's purchased a '91 Range Rover Classic, a '99 Discovery I, a stellar '98 Discovery 1, '07 Range Rover L322, and the family hauler, a '16 Range Rover Sport.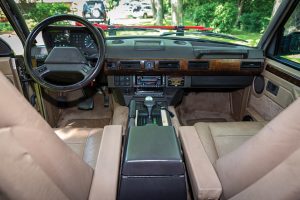 The '99 Discovery I appeared with a $500 purchase price and became an excellent subject for learning about brakes, steering, best tires, seat belts and broken headlight mounts. The Discovery didn't suffer from major rust, but the deep scratches and paint chips hinted at a life of off-roading. It also became a lesson in finances, requiring about $3,000 of parts to make it a reliable, "no-excuses" Land Rover.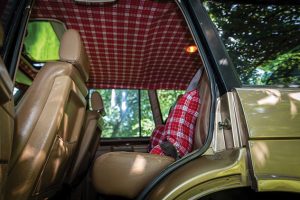 The '98 Discovery I lived its early life in Georgia, but in its later years with original owner Rick Hightower, it spent summers only in Maine. It appealed to Jason because of its well-kept interior, little evidence of rust, and a fine driving report. Rick shared 21 years of service receipts from the maintenance along with the original "Mulroney" window sticker, and happy stories of his years with the Discovery.
He also made it clear that he wished to sell the Discovery only to an enthusiast who would appreciate and respect its many qualities. Rick had bought it new from Land Rover Buckhead; it had taken him on many fishing and camping experiences and left him with sentimental memories. After several phone conversations, Rick and Jason agreed on a price and the Discovery went to Maryland. Since then, it's been treated to an underbody Waxoyl treatment, intense detailing, and a round of preventative maintenance. The Discovery has made its maiden appearance at the Cars & Coffee in Hunt Valley, MD.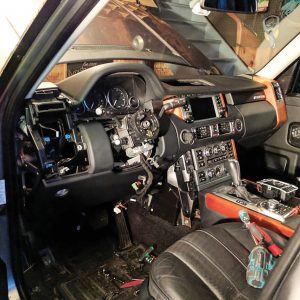 The '91 Range Rover Classic came through a reseller in North Carolina, but it spent most of its life in California and Utah. The previous owner had replaced the floorboards and re-sprayed the exterior. That work let him focus on the interior — it is, after all, a Range Rover. The seat latches required repair, buttons required replacement and the wood trim will undergo refinishing this winter. The sagging headline came out, replaced by something unique that he called "Buffalo Plaid with matching pillows." Adding to this Classic's allure is its 23ZERO rooftop tent, with its built-in king size bed. This Land Rover might not see much hardcore off-roading, but it be the locale for father-son camping trips.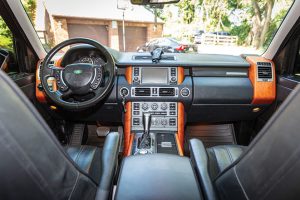 A dealer had sentenced his '07 Range Rover to an auction house before Jason stepped in to rescue it. The L322 needed a new compressor, air bags and window regulators. Those repairs felt minor compared to the dreaded "key would not turn" issue. That entailed tearing out the old steering column and enlisting the help of a friend to install a new one, in a cold garage, in the dead of winter.
The '16 Range Rover Sport serves as the routine family hauler. "It's a great vehicle for the family," he said, "and the safety features are truly beneficial for my wife's commute into Baltimore each day. Admittedly, he like all the electrics, but said, "Going from the Classic to the Sport is like going to a foreign country and having to learn a new language and culture!" The ability to check car data remotely through a phone app plays to his interests in automation, but he could do without the engine stop-start at traffic lights and annoying sensors warning of highway hazards.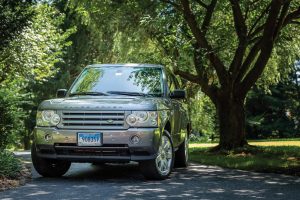 His next rescue is an '03 Range Rover, with its BMW-based engine. It's time to replace the head gaskets, and while his friends might wonder, "Why bother?" Jason wants to ensure this example lives to tell another story. Every Land Rover comes with a story and Jason seeks to spread the stories to an ever-larger enthusiast community. As we go to press, the Range Rover is on its way to Sarek Autorwerkes to help extend its life.
To friends, Jason's Land Rover Rescue mission feels like a hobby, but to him, it's really all about the stories behind each Land Rover. In his office, he has a poster showing the Land Rover family tree. As some adventurers do with maps, Jason has placed a pushpin on the Land Rovers in his collection. He has plans to buy more pushpins as he rescues more Land Rovers. Longer-term, he hopes his rescues will morph into a museum of stories to share with his son.