It's the time of year to fill the tub of the Land Rover with firewood for the impending winter — at least, here in New England. We know that some readers are scraping ice and shoveling snow, while others are wondering whether they need something more than a t-shirt. Whatever your weather, we thank you for participating in this long-running contest.
As always, it's useful to novice Sighters and veterans alike to review the rules of the contest:
Rule # 1 – All Sightings receive recognition and our appreciation, but not necessarily a mug. We reward only those Sightings that capture the unique qualities of Land Rovers and display them in a distinctive way.
Rule #2 – If your Sighting doesn't really surprise you, it won't surprise us, either — thus we can't award you a mug. We're delighted, but not surprised, that Land Rovers appear in British television programmes, British publications, films with British themes and shows about African safaris. You shouldn't be surprised, either, and should consider looking for other ways to get a coffee mug.
Rule #3 – At an ever-changing date before publication, we close off the Sightings; for this issue it was October 8, 2020. If we've mentioned the Sighting in an earlier issue, we might not mention it again. If you're new to the family of Land Rover enthusiasts, you may not have seen your Sighting in an earlier issue.
Rule #4 – We're not outfitting your kitchen. If you qualify, one mug per Sighting per issue.
Rule #5 – Sightings that are Land Rover references in books go to our Literary Land Rover editor for mention, but only when space permits.
Rule #6 – Psst… email submissions — remember we can't send a mug by email. Send us your real name and shipping address, too.
Rule #7 – Grudgingly, very grudgingly, the Editor admits he might have made an error. Let us know if you think you've been jobbed, but all decisions of the Editor are final.
Movie Sightings are few and far between, what with the endless postponement of movie premiers and closure of theaters. Ryan Lowe, Ellington, CT, did spot the interior of what looks like a Series III or early 90 in the trailer for Save Yourself.
Television producers and directors still rely on Land Rovers to draw eyeballs to their programs. In the Netflix show Chef's Table, Chef Dario Cecchini drives a Defender 90 Td5 in that episode; Danny Finnegan, Wyndmoor, PA, enjoyed seeing the Defender. Miles Krischtschun, Branford, CT, spotted a derelict Series IIA Land Rover as a possible starting point for an automotive creation in an episode of Bad Chad on the Discovery Channel. Paul Kennington, LaGrande, OR, Steve Lister, Utica, OH, and Danny Finnegan, Wyndmoor, PA, spotted a Defender 110 hustling up a dirt road in a television ad for Firestone tires. We can assume it was moving fast, because the warning, "Professional driver. Closed course. Do not attempt," scrolled across the screen.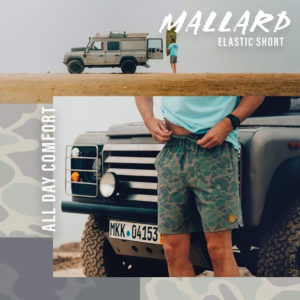 There are fewer print catalogs sent these days, too. Vincent Chung, Chappaqua, NY, Adam Setliff, Flower Mound, TX, and Gordon McNair, Lawrence Township, NJ, noted that the cover of the Summit Racing Holiday catalog featured a Defender 110, with camping gear. Sadly, the license plate shows it to be a European Defender — but it does appear twice in a publication "usually filled with Jeeps and trucks."
David Russ, Lyme, NH, read an article in the New York Times about a YouTube influencer and correctly identified that the influencer, Doug Demuro, sat inside a Defender 90. Or, in David's words, "it's a bird, it's a plane, it's a '95 NAS interior." Keith Comess, Portland, OR, spotted a lovely model perched on the tailgate of what looks to be a Series Land Rover, with VA antique plates, in an issue of Vogue promoting stylish weddings. Chris Lilles, Richmond, VA, noted the RHD Defender 110 on the cover of Blue Ridge Outdoors magazine.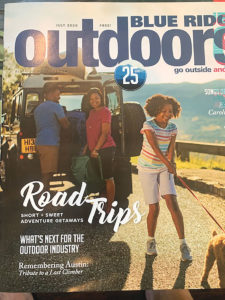 Kraig Mackett, Perrysburg, OH, found an online article on buying vintage SUVs on Outsidex4, which featured numerous photos of Land Rover 110's, with their "Go Faster" stripes. What struck him was that the text of the article barely mentioned Land Rovers at all. "I find this as further evidence that the defender is the "supermodel" of the classic off-road vehicle community. If anything else had the appeal, then they would not use so many defender pics as eye candy." Good point, Kraig! Rob Marsh, Ft. Bragg, NC, spotted the RHD Defenders in a "The Discoverer" blogpost, written oddly to the North American traveler on this continent.
Ryan Lowe, Ellington, CT, noted the LR4 prominently displayed in an online ad for a Dometic Tailgater tent. What better way to draw attention to your product? Seth Velho, South Hero, VT, spotted a Defender 110 in an online ad for Mallard Elastic Shorts. The license plate indicates the Defender was not in the USA, but at some other surfing location. P.T. Schram, Churubusco, IN, noted that a Defender 90 lay on its side, buried in a mud bog, in a Ballistics Fabrication website. Chuck Breiner, Troy, NY, couldn't miss John Mayer "shilling for the new Defender" on the back cover of The Atlantic [which is partnering with Land Rover on the Mayer promotional campaign -ed.] Rob Wollschlager, Colchester, CT, spotted a graphic on an Autotrader site with front parking/directional lamps clearly representational of a Range Rover Classic.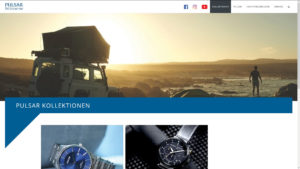 David Russell, Snellville, GA, spotted the Defender on a Magellan Outdoors t-shirt at an Academy Sports. Brenton Lane, Saco, ME [see Rule #6] found REC Watches, which will take a piece of metal from a Defender or a Series III and incorporate it into the face of a watch. It raises the question — why scrap any part of a Defender or Series Land Rover? Pulsar Watches in Germany just used a Defender 90 with a roof top tent in their watch promotion, noted Ben Sands, Gaston, OR.
We know Sighters go to great lengths to capture Sightings and share them with us. John Wedding, Pueblo West, CO, ventured into the woods and spotted the camp of a "famous mountain climber. We took this photo paparazzi style, using a long telephoto lens while hiding in the weeds. You can see the attack dog is alerted. Unfortunately, we can't remember their name, but that's not important now. The impressive thing is that we went the extra mile to prove our worthiness to win the coveted Rover Mug. No mission is too dangerous for that!" The sight of the attack dog is truly chilling! Next time, please exercise greater caution.
Winners:
Steve Lister Utica, OH
Danny Finnegan Wyndmoor, PA
Keith Comess Portland, OR
John Wedding Pueblo West, CO
Adam Setliff  Flower Mound, TX
Vincent Chung Chappaqua, NY
Gordon McNair Lawrence Township, NJ
David Russell Snellville, GA 30078
Paul Kennington LaGrande, OR
Ryan Lowe Ellington, CT
Miles Krischtschun Branford, CT
Kraig Mackett Perrysburg, OH
David Russ Lyme, NH