Land Rover must be quite pleased with the sales numbers for the 2020 Defender 110. The projection for US sales in the 2020 model year, expressed with the Defender's introduction at the Los Angeles Auto Show in October, 2019, called for sales of 20,000. With pandemic restrictions last Spring closing factories and dealerships, things got off to.a slow start, but by the year's end, over 9,000 Defender 110s had been sold in the US. Speak to dealers and they report that Defender 110s move off their lots quickly; there's a months-long wait for orders.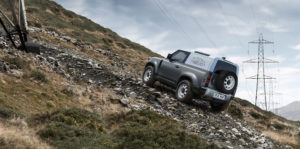 Land Rover had hoped to be shipping Defender 90s by now, but at best, the first ones might arrive at dealers this April. Once again, the initial offerings will be the "First Edition" models, jam-packed for certain –folding fabric roof, premium LED headlights, automatic leveling, 6-place seating with front jump seat – but starting at $65,000.
Time to reject the flossy models and focus on the "Standard," at a MSRP of $47,470. If your fingers don't twitch over the admittedly appealing options and "packs," your hard-earned dollars will get you a 2.0L, 300 hp, twin turbo 4-cylinder, 8-speed transmission, 2-speed transfer case and all the electronic aids required by NHTSA regulations – and locking rear differential. A coil spring suspension will give up two inches of ground clearance, but will also reduce the chance of future suspension issues.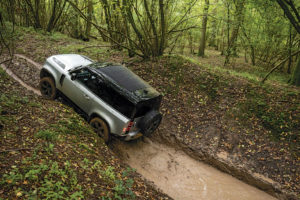 Land Rover, we understand the need/desire for JLR to take advantage of the pent-up demand for the Defender. We know it's bringing over owners of other marques. We know this is healthy for the future of Jaguar Land Rover.
We also know that tens of thousands of existing Land Rover enthusiasts call out for a Land Rover engineered and manufactured for simplicity, ruggedness, durability, endurance, remote maintenance, field-repairability – and affordability. The steel wheel 90 Commercial that you've teased us with demonstrates you can do this. The question is, "When?"