Letters to the Editor
Dear Rovers North,
This is our Rover. Her name is Beastie and we love her very much. This is her on the oldest continuously operating ferry in the United States on Saturday, October 24, 2020. The ferry crosses the Connecticut River from Rocky Hill to Glastonbury, CT.
Sandra and Michael Tierney
Glastonbury, CT
[As I live on an island that relies on a ferry service, I applaud your support of your historic ferry. -ed.]
---
Dear Rovers North,
First I apologize for not getting this email out to all of you at Rovers North much earlier. I have always wanted a Defender 90 since I first saw one as a student in college. I was finally able to acquire a fully restored '92 D90 200 Tdi in October, 2019. I love it, and the one thing I wanted to do was take it up to Northern Michigan to go flyfishing with my brother-in-law. This past June I set off on the trip, only to have the Defender brick and come to a complete stop 50 miles from my destination. I was crestfallen. I had it towed to the lodge, and with the help of a great tech, was able to identify that the ignition barrel had fried. Not to be deterred, I took apart the dashboard, called the helpful folks at Rovers North and had a new ignition barrel sent overnight to me for Saturday delivery in remote Northern Michigan. Saturday morning the part arrived and after a bit of handiwork the D90 fired up, proving yet again, as they say, "Defenders are never done." In a year when great stories are few and far between this was a great one. Thanks for helping to make it happen!
Kelly Mark
Hawthorn Woods, IL 
[Congratulations on the successful field repair, and thanks for letting Rovers North help you solve the problem. -ed.]
---
Dear Rovers North,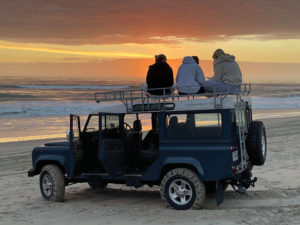 I am a new owner (since October) of an '87 Land Rover 110 RHD 300Tdi. We wanted to share this with you because of what the vehicle means to us – access to places that are inspirational. This photo was shot during sunrise at Corolla, NC, on New Year's Eve.
BTW, the front bumper caps came just in time for this trip, so thank you!
Charlie Connell
Henrico, VA 23233
[Given your Land Rover's travels through the UK, Germany, Japan and Hawaii, it's already inspired you -ed.]
---
Dear Rovers North,
I am happy to share that I've purchased a Series IIA 109" in Arkansas; to keep peace in the family and to make room, I've sold my '66 Ford F-250 camper. Until it gets here, my boys and I will enjoy restoring a '72 Boston Whaler boat. From the accompanying drawing, it's clear where my son Saylor's (age 9) interest lies!
Bill Schimikowski
Westborough, MA
[Thompson Smith, our Creative Director, urges Saylor to keep up the great work! -ed]
---
Dear Rovers North,
After seeing the latest copy of Rovers Magazine with the page of tire covers, the cheetah reminded me of our family cat,"Yoda," in his favorite perch in my '73 Series III 88″. We all thought his choice of resting spot was great and your tire cover ad brought back memories.
James N. Gabor }
Rochester, MN
[He looks like a budding King of the Jungle -ed.]
---
Dear Rovers North,
When I received a photo message from my granddaughters titled, "Our Gingerbread House," my thoughts turned to Rovers Magazine. They were inspired since their brothers worked with me on restoring a Land Rover 109" SW. The girls told me next year the gingerbread 109" will have LED lights to top it off, and the boys hope to be driving the real one. I took the boys to Rovers North when we picked up its new frame, and ordered many new parts. It is great to see the next generation getting so involved.
Robert Jaarsma
Cornish, NH 
[Time for your granddaughters to get their own 109"! – ed.]
---
Dear Rovers North,
Wren and her twin sister Rory just turned two last week and they live with us. As my office is just across from the nursery, they like to come in and look at the back issues of Rovers Magazine.

Keep up the good work; we enjoy the articles and stories in Rovers Magazine. Rovers North has been a good parts source for me since I bought my '65 Series IIA Dormobile back in 1976. And tell Jeff Aronson that I'm happy to see he's added a 109" SW to his fleet!

Paul Donohue
Denver, CO

[Thank you for the compliments, Paul, and thanks for being a correspondent. As an early reader of Rovers Magazine, Wren is clearly destined for greatness! -ed]
---
Dear Rovers North,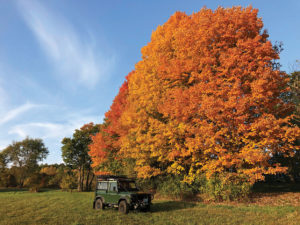 Here's "Gadget," my '97 NAS Defender with a 2.8 Cummins diesel enjoying the first snowfall in Vermont, convoying with Glenn Parent of GP Roverworks and Dave Sweetapple from the magazine and Instagram. We had a great day off-roading together.
David Russ
Lyme, NH 
[It was wonderful to see all the work you've accomplished with Gadget, David. Thanks for sharing your day with us! -ed]
---
Dear Rovers North,
I'm writing from Australia after finding Rovers North on YouTube. I wanted to share a few photos of my "old tank," which I bought in 1979. I've put it around the clock 12 times (odometer reading), and worn out 5 engines. I build the same engine each time, and an expert gearbox rebuilder keeps the transmission in good nick. With upgrades, she can now carry 210 liters of fuel and 39 liters of fresh water. I run an extra large battery, twin oil coolers, have lifted it and installed an 8,000 pound winch. I've enjoyed numerous trips to Fraser Island, which is beautiful. The vehicle in the rubbish dump, located on private property some 100 km off a main road, has provided extra parts when needed. Thanks for reading this letter!
Rod from Australia
[We admire your Land Rover enthusiasm, Rod, and your impressive roo bars! Thanks for sharing your experiences with us. -ed.]
---
Dear Rovers North,
I have been reading thru the latest issue of Rovers Magazine and you once again knocked it out of the park. Fantastic, well-written and relevant content. Really well done.
As a side note, just recently, my 15 ½ yr old neighbor purchased one of my old '95 Range Rover Classic LWB trucks from the lad I sold it to 6 years ago. It is now the first car for a second time to a fantastic young man. Its great to see all of his friends come over and hang out as he works on sorting Rangie to be his own.
Thanks again for all the hard work and efforts to put out the magazine.
Kraig Mackett
Perrysburg, OH 
[Kraig, it seems as though a prerequisite to an Ohio driver's license in your town is the purchase of one of your Land Rovers! -ed.]
---
I kook forward to every edition of Rovers Magazine. You all do a fantastic job!
Dan LeVan
Boxford, MA 
[Thanks for kind words, Dan. We're delighted to share stories from Land Rover enthusiasts with other enthusiasts such as you. -ed.]