I grew up with parents whose idea of interior decorating meant commemorative Coronation plates on the wall and a library of books on the House of Windsor. Few Royal birthdays, visits or weddings escaped their enthralled attention, with escapades, divorces and scandals receiving hearty tsk-tsks during teatimes. The death of Prince Philip would have saddened my parents immensely.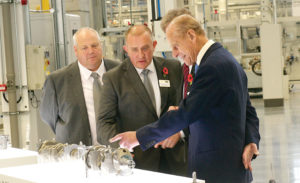 Prince Philip's 99 years include an extraordinary set of accomplishments. A nephew of Lord Mountbatten of WWII fame, he achieved his own storied military career with the Royal Navy during the war, taking part in sinking Axis warships and participating in the Allied invasion of Sicily. He was aboard the USS Missouri to witness the Japanese surrender to the Allied forces in 1945. He married Princess Elizabeth in 1947 and assumed his title as Prince Philip.
Prince Philip became a staunch supporter of the British automotive industry and began a long relationship with Land Rover. He rode in specially-designed Series Is during his first tours of the Commonwealth countries and undoubtedly influenced the decision to populate the Royal Family's estates and holdings with Land Rover vehicles. Queen Elizabeth and the Duke of Edinburgh visited the 1959 Chicago World's Fair British auto exhibit, joined Vice-President Nixon at the 1960 New York British Auto Show, celebrated British cars at a 1966 visit to Los Angeles, stopped in New York City to honor British cars at the 1976 Bicentennial celebrations and opened the Castle Bromwich factory in 1998.
Reports in UK media stated that the Prince played an active role in designing the Land Rover that would become his funeral hearse. Foley Services in the UK has built up Defenders for expedition use for decades. Stuart Foley told Rovers Magazine, "We did indeed hand-build a 130" Defender Gun Bus for Prince Philip, and he did have a hand in the design. It is a 2005 Td5 Defender vehicle that we totally rebuilt onto a new galvanized chassis (powder-coated black). It was built and delivered to Sandringham by us in 2016."
Thierry Bollare, the new CEO of Jaguar Land Rover, said that "We are deeply privileged to have enjoyed a very long and happy association with the Duke of Edinburgh over many decades. The Duke was a tremendous champion for design, engineering and technology. During his visits to our sites he engaged with hundreds of employees and demonstrated his impressive knowledge and deep interest in vehicle design, engineering and manufacturing."
Clearly the Prince lived a life that was "Fabulously British."