It's Spring in Northern New England, which means the s-l-o-w growth of flora, the dissolving of dirt roads into mud, the end of Spring skiing, and the resurgence of biting insects. As we go to press in May, we still need a wood stove at night, but at least we can look forward to the promise of warmer weather. That has clearly put all Sighters, regardless of where they live, in great moods, as we've seen a resurgence of Sightings.
As always, it's useful to novice Sighters and veterans alike to review the rules of the contest:
Rule # 1 – All Sightings receive recognition and our appreciation, but not necessarily a mug. We reward only those Sightings that capture the unique qualities of Land Rovers and display them in a distinctive way.
Rule #2 – If your Sighting doesn't really surprise you, it won't surprise us, either – thus we can't award you a mug. We're delighted, but not surprised, that Land Rovers appear in British television programs, British publications, films with British themes and shows about African safaris. You shouldn't be surprised, either, and should consider looking for other ways to get a coffee mug.
Rule #3 – At an ever-changing date before publication, we close off the Sightings; for this issue it was April 30, 2021. If we've mentioned the Sighting in an earlier issue, we might not mention it again. If you're new to the family of Land Rover enthusiasts, you may not have seen your Sighting in an earlier issue.
Rule #4 – We're not outfitting your kitchen. If you qualify, one mug per Sighting per issue. No more than two coveted mugs will be awarded to the same person per year.
Rule #5 – Sightings that are Land Rover references in books go to our Literary Land Rover editor for mention, but only when space permits.
Rule #6 – Psst… Email submissions – remember we can't send a mug by e-mail. Send us your real name and shipping address too.
Rule #7 – Grudgingly, very grudgingly, the Editor admits he might have made an error. Let us know if you think you've been jobbed, but all decisions of the Editor are final.
Television programs know that they'll draw viewers if they include Land Rovers in their episodes. The British series Wheeler Dealers featured a Series Land Rover, noted Brenton Lane, Saco, ME. Robbie Goodall, Henrico, VA, noted that the producers of the Spanish program Money Heist have "good taste in vehicles" – meaning Defenders.
Advertisers adore putting Land Rover's iconic designs in their ads. Paul Kennington, La Grande, OR, spotted the outline of a Range Rover Classic in an Autotrader online promotion for the Super Bowl. Adam Setliff, Flower Mound, TX, wrote that he explained the reason for the presence of multiple issues of Rovers Magazine on his coffee table to his new girlfriend. She told him of her favorited store, Anthropologie, and – low and behold – there's a Defender on the cover of their catalogue. Derek Leith, St. Louis, MO; Sherry Block, Hadlyme, CT; Bo Prillaman, Richmond, VA; and Robert Alley, Marietta, GA, enjoyed the Defender 110's prominence in a Principal Financial Services television commercial. Derek wrote, "Principal must know that Land Rovers are valuable, and well worth it!" Derek and John Bufton, Galveston, TX, also noted that the 2021 Arkansas Travel Guide features an RoW Defender on the front and rear covers. Chuck Breiner, Troy, NY, enjoyed seeing a Defender 110 online on a Broteboard surfboard site. Chuck and Adam Setliff, Flower Mound, TX, also noted the use of Defenders online for Blundstone and the Australian firm, R. M.Williams. Milton Milner, Hendersonville, MC, and Jason Sheehy, Mt. Sterling, OH, spotted the Defender 110 in the Baschierei & Pellagri ad for shotgun shells in Sporting Classics magazine. Jason Sheehy also enjoyed seeing a Verizon ad online via Yahoo with a model in the rear of a Series Land Rover. Brian Jones, Raleigh, NC, spotted a Stance sock ad online with the model standing atop a rear door spare tire on a Defender.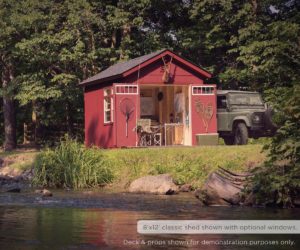 Here's an unusual, but much-appreciated Sighting. David Russ, Lyme, NH, spotted a shout-out to Les Parker and Rovers North in the March issue of Land Rover Owner International. Keith Comess, Portland, OR, wrote that he doesn't want another mug, but he shared a contentious online debate about tequila production that featured a nice photo of a Series III. Terry Imm, Kelowna, BC, noted that Michelin now runs television ads featuring Defenders – a first for that tire company. Jeremy Swanson, Brier, WA, appreciated seeing an RHD Defender 110 in a Snowpeak online ad.
This magazine's brilliant Creative Director, Thompson Smith, spotted a new Defender 110 in a Thule roof box ad. When he should have being paying attention to traffic between S. Lake Tahoe, CA, and Reno, NV, he shared a photo of a PartsVia.com trailer truck with a Defender on the rear door. Lastly, while eyeballing a potential outdoor shed purchase, Thompson spotted a Heartland Shed website with a Land Rover 110 beside it.

George Hughes, Flemington, NJ, enjoyed an internet report that included a Land Rover 109 at work in a South African mine back in 1972. Rob Gatnik, Milton, MA, spotted a Harvey Traveler Series III doing pop-up store duty in Boston's Seaport. Keith Comess, Portland, OR, called the Sighting of Miley Cyrus seated on the hood of an RHD, British-plate Series III in Vogue, the "Sighting of the Century!" Fun Sighting on a British vehicle, but the article celebrates the return of the mesh trucker's cap – a dubious honor. Jesse McCoy, Richmond, VA, was surprised to see a Defender front and rear in the catalog for the Theodore Roosevelt Conservation Partnership. Rob Daino [see Rule #6] wandered around the Peterson Museum in Los Angeles and enjoyed spotting a handsome Dormobile. Brian Liang, Pasadena, CA, spotted an online ad for Consumer Reports that used a photo of an RoW commercial Defender 110 to warn against buying a car without consulting their magazine/website. Humbug, we say! The Discoverer Blog features a Land Rover 110 on its headline, which does draw your attention, noted Rob Marsh, Vass, NC. Jeremy Vimislik, Seattle, WA, noted that Eddie Bauer now has a t-shirt featuring a Defender 90. P T Schrader, Churubusco, IN, reported that the trade magazine The Shop has a cover with a Defender and a discussion of LS installations in Land Rovers.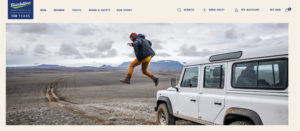 We've mentioned these Sightings before, but we thank Sighters for sharing them with us again. Brenton Lane, Saco, ME, and Jay Martin, Vallejo, CA, spotted a Land Rover in a Huckberry online promotion. Everett Stiles (see Rule #6) enjoyed seeing a clip from The Gods Must Be Crazy on Facebook. The British clothing firm, Boden, has returned a Defender to their catalogs, noted Hattie Buck, Birmingham, AL; Saylor Schimikowski, Westborough, MA; Eric Brumwell, Bainbridge Island, WA; Marco Zambezi, Lebanon, NJ; Brian Jones, Raleigh, NC; and Cole Atkinson, Williamstown, NJ. Cole and Patrick Holder, Atlanta, GA, and Greyson Schimikowski, Westborough, MA, enjoyed seeing the Puma Defender on the front cover of a Vineyard Vines catalog. Jessica Jackson, Lewiston, MT; Keith Comess, Portland, OR; Richard Betts, Holly Ridge, NC; and Saskia Comess, Portland, OR, enjoyed seeing the Defender in the PrAna catalog. Gregg Pollack, Camdenton, MO, noted that a local tire dealer in Missouri ran a Cooper Tire co-op ad that featured a Defender – an unusual but delightful choice, he thought. Scott Copeland, Summerville, GA, spotted a topless Series I in a Marriott Bonvoy promotion. Benjamin Boerum, Washington, DC, spotted a Shorland armored Land Rover at work – sadly – in Northern Ireland with the resumption of civil unrest there. Bo Prillaman, Richmond, VA, spotted the black Defender that appears in Wayne Carini's Chasing Classic Cars garage every so often. Michael Lendvoyi, Washougal, WA, and Kraig Mackett, Perrysburg, OH, enjoyed seeing a Defender 90 decal in a Yeti promotional magazine.
Winners:
Brian Jones Raleigh, NC
Terry Imm Kelowna, BC
Sherry Block Hadlyme, CT
Bo Prillaman Richmond, VA
Jeremy Vimislik Seattle, WA
Jason Sheehy Mount Sterling, OH
Jesse McCoy Richmond, VA
Milton Milner Hendersonville, NC
John Bufton Galveston, TX
Robbie Goodall Henrico, VA
Rob Gatnik Milton, MA
Chuck Breiner Troy, NY
Adam Setliff Flower Mound, TX
Paul Kennington La Grande, OR