Land Rover enthusiasts never do boring things. For Rovers North's Calef Letorney, "recreation" involves strapping himself into 30 pounds of a fabric wing and harness, then launching off a mountain and riding thermal currents at elevations from 1,000–13,000 feet for hours on end. As a professional instructor and founder of Paraglide New England, he's flown with some of the best paragliders in the nation.
That's how he met Eduardo Garza, Manchester, NH, an extraordinarily gifted paraglider who returned to international competition in the biennial Red Bull X-Alps [See Spring 2021 issue -ed]. In recognition of his talent, and commitment and New England connection, Rovers North sponsored his entry into this top-seed event. Rovers North also networked with JLR North America, JLR France and JLR UK in an effort to secure Land Rovers as chase and support vehicles for the competitors. In the end, JLR UK came through and providing new Defenders for some teams and becoming the Race Primary Partner of the event.
Traditionally, the Red Bull X-Alps began in June in Salzburg and finished in Monaco. In recognition of pandemic travel issues, the 10th edition of the the international competition featured an out-and-back route over the Alps that crossed remote mountain chains, valleys, passes, famous resorts and peaks. Thirty-three athletes from 17 countries battled their way for almost two weeks through the skies from Salzburg, Austria to Mt. Blanc at the France-Italy border, and then to Zell am See. They flew over or landed at 12 different turnpoints, spanning five countries; some turnpoints encompassed a wide area and could be flown over and recorded from the air — others required the athletes to land and sign in. These turnpoints attracted thousands of fans to watch the action; in the nations surrounding the Alps, this event draws enormous attention. At 1,238km (770 miles), the 2021 race was the longest in the event's history.
Athletes raced from 5am – 10:30pm, but they could only fly during daylight hours (6am – 9pm). The event enforced overnight mandatory rest periods that bound the competitors to their location for the night. However, each athlete was permitted one "Night Pass," which allowed them a one-time curfew break, tempting the athelete to balance the potential strategic advantage against its physical cost. Greater pressure arose beginning on Day 4, after which, every 48 hours, the last-place athlete would be eliminated from the event.
Competing in the X-Alps demands significant training and preparation time. In order for the X-Alps to accept an entry, the competitor must be a licensed, experienced paraglider and mountaineer in excellent physical condition, with financial resources and sponsorships to support a chase vehicle, strategists and drivers, and the requisite camping, clothing, food and repair gear.
Eduardo Garza grew up in Monterrey, Mexico, where he graduated from the Monterrey Institute of Technology with degrees in Mechanical Engineering (he's since added a Masters in Business and Masters in Science degrees). In 2006, he took his first professional position as a mechanical engineer for Hitachi, and eventually worked his way up to become the Director of Engineering for Hitachi Cable in New Hampshire.
What brought him to paragliding? In an interview, he recalled, "In 2010 my mother, Maria del Socorro, came up for a visit, and I wanted to give her a new experience. While searching out a hot air balloon ride, I found the Morningside Flight Park, Charlestown, NH, which offered both hang gliding and paragliding lessons. Soon afterwards, I took hang gliding lessons – which I really enjoyed – but found hang gliders very onerous to transport. I wanted to take my wings with me. I saw a person with a paraglider in a small car and watched him fly, pack and then drive away. That hooked me!"
As an engineer, Eduardo noted, "I deal with challenges. Paragliding has its own set of challenges. You're looking for clouds, signs of winds and heat on the mountainside. If you can get from your launch to your 'Point B,' it's quite a sense of achievement. If you succeed, it's a dopamine rush. If you have to land because your plan wasn't correct, you're still learning something for your next glide. It's a win-win situation, even if initially you don't succeed in accomplishing your goal."
Eduardo competed in the 2019 X-Alps on behalf of his home nation of Mexico, "where the event is very popular," and did so again in this 2021 event. His team this time included strategists following him remotely: paragliding champion Bianca Heinrich, Chelsea, MA, and Paul Van Liew, Hamburg, Germany. Chasing him daily in Europe were Jason Wallace, Salt Lake City, UT, Anton Zalutsky, Saugus, MA and Peter Greis of Switzerland. Collectively, they assessed conditions, communicated strategy and followed Eduardo's every kilometer remotely or on the ground. "All are paragliders, and without them, I could not have competed. Although Red Bull focuses on the individual, this race is a team event," noted Eduardo.
The months of flight training and physical fitness demands were all worth it, thanks to Eduardo's "genuine love of the mountains, especially the Alps. Flying from Austria to Germany opens up a completely different set of mountains; the Swiss Alps compound the challenge, and then comes Mt. Blanc in France, and again, it all looks different. The Italian side of Mt. Blanc features its own kind of turbulence. I had to travel fast in the race, but I took some deviations to see the multiple blues of the glaciers."
    The X-Alps is "the pinnacle of paragliding". There are other challenging adventure races — some are 24 hrs straight, but the aspect that separates this event from others is the combination of a dangerous activity in the form of flying, and long periods of high physical exertion, i.e. hiking distances of 50km with elevation gains of 10,000-15,000 ft. every day for 12 straight days, which would be the equivalent of hiking Mount Everest 3-4 times! And, of course, we have to fly, and we need to cover the most amount of distance, whatever the weather and valley conditions. I had only a two-week window of trying to get acquainted with the course, as well as the psychological impact of the height of those peaks. The highs can be as high as they can get, but so can the lows."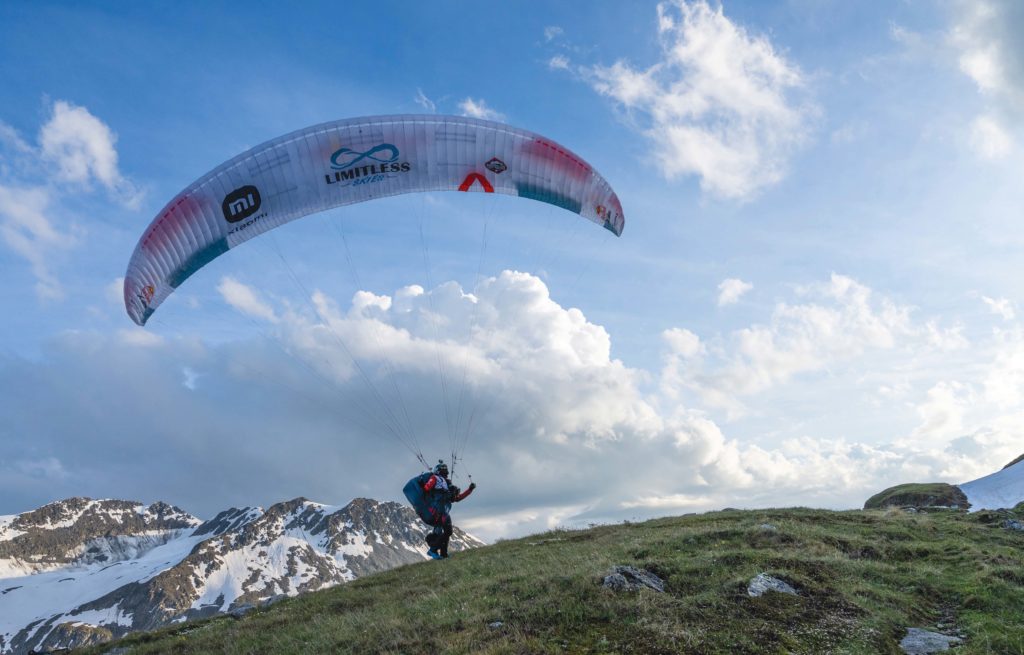 Eduardo had finished in 16th place in the 2019 race and hoped to improve his standing in 2021. This year, he said, he experienced "way different flying conditions – not just me, but according to all the teams. We confronted extreme turbulence: strong thermals from temperature differential; strong winds of 20-30 mph with the paraglider speed at around 23 mph… some days were terrifying!"
            Eduardo finished 14th in this year's event, which was won by reigning champion Christian Maurer of Switzerland. Reflecting on his love of paragliding, Eduardo mused, "paragliding demands that you be present in that moment, 100% of the time. It's the same feeling and mental process involved in meditation. You have to be present as things can change from really good to really, really bad in a very short time. Not paying complete attention is very dangerous. Paragliding extracts you from your daily life. You can see the forest, mountain and desert from the air and it all looks so different." His reflections echo his thoughts on traveling and off-roading in a Land Rover, too!
A Really Remarkable Person
Considering that he competes under the Mexican flag, Rovers North's decision to sponsor Eduardo Garza in the Red Bull X-Alps might seem strange, so let me explain.
            Eduardo learned to fly in northern New Hampshire, thus represents New England pilots at the world's toughest paragliding competition. In the paragliding world, New England's reputation resembles that of our ski areas — small mountains, not that impressive — but Eduardo is a tactical genius at the "sky chess" required for the X-Alps. His accomplishments on the world stage of paragliding have won him well-deserved praise. More than that, Eduardo is a really remarkable person and a great friend: hard-working, kind, and incredibly humble.
I fly with Eduardo most weekends, but one flight stands out.
            This past May, Eduardo, Andrew Kuznetsov [also a champion skydiver], and Dr. Bianca Heinrich [four-time US Women's Paragliding Champion], and I launched our paragliders from 1,400-foot Grampa's Knob near West Rutland, VT, and soared due East. We flew over the Green Mountains, clear across New Hampshire and into Maine. It was tight "team flying" the whole way, working cooperatively on the 6.5-hour flight that saw us reach heights of 13,000' — all without a motor! As we approached the fabled 100-mile mark, we had long since surpassed the New England paragliding distance record. With four of us still in the air and sunset fast approaching, our successful team-flying strategy gave way to a familiar competition amongst friends. Who was going to ultimately go the furthest and claim the new record? Last time it was me, but this time Andrey was starting the final glide with a 2,000' height advantage. Just then, we flew into the "sea breeze" and a wall of 20 mph headwind all but ended our Eastward progress. As the three of us pushed futilely into the headwind, striving for the record before retreating to a safe landing zone, Eduardo turned North. This direction made no sense to me as it would hardly add to our total distance which was West to East, but Eduardo had recognized the "convergence"- Perpendicular to the two colliding air masses, an invisible line of air was squeezed upwards by the opposing winds and along with this convergence, Eduardo flew straight for a great distance without losing any altitude. This masterful strategy added 10 miles to Eduardo's total point-to-point distance, setting the new record at 110.2 miles.
            Shortly after landing, our chase driver Sarah Robinson showed up in my Defender 110 300 Tdi. We tied the gliders to the roof rack, piled into the Defender, and started the 4.5-hour drive back to our launch spot near West Rutland. We finally arrived home in Westford at 2am, closing out an epic day of flying that will not soon be forgotten.
[Rovers Magazine asked Therese-Marie Becker, St. Simon, France, to share a European perspective on the Red Bull X-Alps -ed.]
Thirty-three competitors paragliding and hiking a total of 1,238 kilometers, in all weather, across five countries. This is not the latest James Bond movie but the world's most incredible endurance race – the Red Bull X-Alps.
While the world was catching its breath from the most implausible situation – a race against viruses in 2020–21, the globe's hardest endurance race – now in its 10th edition – came as a breeze of fresh air lighting up our spirits and lifting our moods.
The Red Bull X-Alps matters greatly to those nations that sit within the Alps: Austria, Germany, Switzerland, France and Italy. The race started its new route on a very hot June 21. Can you imagine – 1,238 kilometers in the Alps at extraordinary altitudes on just a paragliding harness and a wing? What an exhilarating and unforgettable experience, even to me as a follower!
The first few days of the race challenged everyone. The weather conditions made the athlete's lives difficult with extreme temperatures and powerful winds. If you are new to the world of paragliding competition, know that wind and high temperatures before takeoff can be compared to having to fix your Land Rover in battering rain and wind. It's not impossible, just extremely difficult and requiring significant concentration and commitment. (At least, your Land Rover repair is less likely to result in a calamitous fall!)
Over the course of the nearly two weeks of competition, athletes flew, landed, packed up gear, hiked, planned routes, and found brief moments for sleeping and eating – repeating the grueling routine daily. The French fought for the leader's position against the Swiss, whilst the novice participants, new to the Alpine terrain, tackled a quick learning curve of predicting localized weather conditions, reading the thermals and adapting to an in-air orientation.
Once the athletes made it to Mont Blanc in France, they turned back toward Austria to the finish line at Zell am See. For the unlucky ones who could not find the right thermals, their premature landings meant they had to hike, which transformed their days into long marches, carrying their equipment whilst fighting their way through high elevation terrain. One competitor, caught in the rain, had to hike for 170 km with more than 7,500m of elevation gain and a mere two hours of sleep in order to make certain he reached the finish line before a time disqualification.
This year's winner was the very talented Swiss competitor, Christian Maurer, who finished the race in 8 days and 6 hours. Second place went to another Swiss, Patrick von Känel (9 days, 2 hours, 7 min) and in third place was Austrian Simon Oberrauner (9 days, 2 hours, 18 min). 
Mexican competitor Eduardo Garza, sponsored by Rovers North, took the 14th position, followed closely by my Belgian compatriot Tom de Dorlodot in 15th position (his 8th time entering the race). American Gavin McClurg came in 17th, and received the Salewa Trophy for his extraordinary comradeship during the race, and in recognition of his international efforts at raising awareness of the sport.
I was pleased to collaborate with Rovers North from my home in France in efforts to secure Land Rover's assistance in providing vehicles for the competitors. In the end, Land Rover signed a partnership with Red Bull for the X-Alps and provided race officials and some athletes with new Defenders – no surprise to me, as both entities are synonymous with adventure, endurance and resilience.