Living in South Lake Tahoe, CA, opens the opportunity to visit the National Parks located at higher altitudes. One of the newest, Great Basin National Park, lies at the far eastern end of Nevada. Donna, my wife, and I adore our National Parks — we've spent many vacations filling our National Park Passport Book with stamps proving our visits. She loves to plan our routes, and for this trip in June, she selected Hwy 50, labeled by the creative marketers of the State of Nevada as "the loneliest highway in the world." They enticed her with visions of long desert drives, visits to eight historic mining towns, the chance to meet up with fascinating denizens and experience delightful local restaurants.
I looked at her incredulously. "You want us to do what? Drive all the way across the desert just to get our 'Passport Book' stamped?" My mind was racing. What could possibly go wrong with driving a 14-year-old Range Rover Sport 900 miles in the scorching desert heat? Thoughts of maxing out a AAA tow flew through my mind, but poring over the promotional material with Donna calmed and convinced me that this could be an exciting and entertaining adventure.
I didn't want to find out what could go wrong in the field, so I made certain to fully sort and service our Range Rover Sport — cooling system, brakes, new tires, oils, spare fluids and anything else it needed — before driving across the barren Nevada desert.
About three weeks before our trip, our Sport decided to leave a very large pool of ATF on the garage floor. I decided to have Land Rover Reno tackle this issue with new Genuine parts — fluid, filter, new pan and the leaking culprit, the mechatronic sleeve seal. Land Rover official service intervals for the 2006-2009 L320 Range Rover Sport call for changing out the automatic transmission fluid/filter and differential gear oils every 10 years. They also recommend transfer case gear oil renewal at 75,000 and 105,000 mile intervals; our service records indicated this was done, but I noted that the differential oils had not been done. I replaced those fluids in my garage using 75w-90 full synthetic gear oil; Rhino ramps and the off-road height setting made short work of this task. Differential oils changed, tools loaded, IID scan tool in the glovebox, spare coolant, fluids packed, air pressure checked — the Sport was good to go.
We learned to our chagrin that the popularity of National Parks meant we should have attempted to book our campsites at least one year in advance; we could only secure a reservation for one night at the Upper Lehman Campground of the Great Basin National Park. The remainder of the camping locations along the 411-mile eastbound Hwy 50 were Nevada State Parks with first-come, first-serve camping only. We wondered… if we ran into full campsites, would we drive another 100-150 miles to the next State Park location or wing it in the boondocks? To cover our bases, we planned on four nights of desert camping — Gila monsters, horny toads, rattlesnakes, blazing sun, dirt and tumbleweeds.
In between, these were the places we enjoyed.
Carson City, NV
On our way here in a typical western summer heatwave, we stopped at the Humbolt-Toiyabe National Forest Ranger Station for a lunch of steamed artichokes (California's finest edible flower). Next came the Nevada State Museum, literally a gem of a museum. Geologists can rock out over the exhibits of dolomite, gold in quartz, barite, local silver, copper and ore-mining history. Next door, we found the original, 150-year old State Mint building, which still mints coins using the original Press No. 1 every Saturday from 11:00 AM to 3:00 PM. Drop down into the cool basement of the original mint building and another surprise awaits — a full mine on display! The Woolly Mammoth remains alone are worth the entrance fee of $8.00 per person. Plan to spend at least an hour and half to take it all in. [https://www.carsonnvmuseum.org–ed.]
Silver Springs, NV
For our first night on June 2, we camped at Fort Churchill Historic State Park, 40 miles to the east of Carson City. It was hot, dry and windy with cottonwood seeds floating all over the place, lots of red ants and lizards seemingly doing push-ups on the rocks. As soon as the sun set, the winds kicked up. I haven't seen quail in many years and they remain a treat to see; the doves, on the other hand, were too loud. We enjoyed pondering the remains of the fort built during the 1860s to help guard the overland trail. [http://parks.nv.gov/parks/fort-churchill–ed.]
Fallon, NV
We got off to a late start the following morning due to the wind and heat. Another 40-minute drive away, a quick look at the list of recommended lunch restaurants brought us to Azteca Grill and Bakery. This was a great idea; I'm captivated by authentic Mexican food. [https://www.aztecagrillfallon.com–ed.]
Grimes Point / Hidden Cave Archaeological site
On Bureau of Land Management (BLM) property east of Fallon, we marveled at this archaeological wonder, featuring unique rocks inscribed by Native Americans at least 8,000 years ago. [https://www.blm.gov/visit/grimes-pointhidden-cave-archaeological-site–ed.]
Austin, NV
As we ventured on, 100 miles east of Grimes Point, we stopped next in Austin, NV. Driving this section of desert puts things in perspective — minimal cell service (one bar at best), combined with zero services or stops definitely makes it feel like you are driving on Mars. As we approached Austin, I spotted snow-capped peaks and huge summer clouds. Time to fill up with petrol and ice. We stopped at Stoke's Castle for a beautiful overlook of the desert. The Range Rover Sport ran great, lapping up its expensive premium-grade petrol refill and raring for more miles. Nothing gets a driver more adjusted to vehicle characteristics than spending quality seat-time running miles through the desert.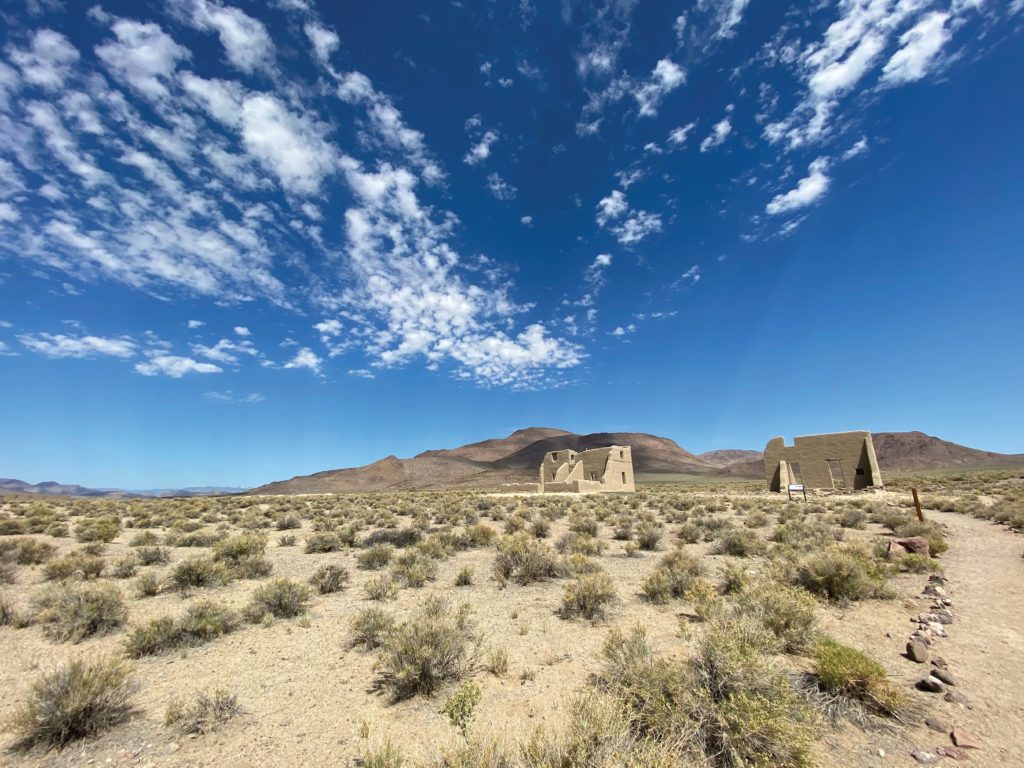 Eureka, NV
After dropping down in elevation from Austin, 70 miles east across more desert, we stopped at Eureka, NV for a leg stretch and to see the 1879 Eureka County Seat Court House and Eureka Opera House. Except for the pavement, modern cars and fancy electric signs, the town looks right out of the 1860s. [https://travelnevada.com/cities/eureka/–ed.]
Cave Lake State Park
Just 7.5 miles southeast of Ely, on Hwy 50, lies Cave Lake State Park, with first-come, first-serve sites at the Lakeview Campground. We hoped to camp here for two nights. Keeping our fingers crossed, we ventured up the red-paved road to the lake and scoped out all the campsites. Thank goodness it was only Thursday night and not the weekend — we scored the one available site! We seemed to have driven far enough east to be out of the heatwave in the Sierras and the desert. Sitting at 7,400 ft elevation in a pinyon-juniper forest, the campsite welcomed us with crisp, clean mountain air; we looked forward to the predicted thunderstorms. [http://parks.nv.gov/parks/cave-lake–ed.]
Ward Charcoal Ovens State Park
The next day Donna had a trick up her sleeve — 14 miles of rally-style dirt road for the Range Rover Sport. We drove about 10 miles southeast on Hwy 50 from Cave Lake, then ventured 7 miles southwest on dirt to visit the Ward Charcoal Ovens State Park. Six beehive-shaped ovens were built in 1876 to burn 35 cords of pinyon-juniper wood into coal for melting iron ore. Each oven held 6 acres of trees (35 cords) that burned for 12 days! Crazy thunderstorms, ghostly virga and lightning meant we could only stay for a quick stop. [http://parks.nv.gov/parks/ward-charcoal-ovens–ed.]
Ely, NV
Venturing back to Ely, Margarita's Mexican restaurant at Prospector Hotel provided a great lunch, sizzling fajitas and brain-freezing margaritas; combined, they made for some good times. The Nevada Northern Railway Museum, harkening back to the pre-Civil War era, provided a post-lunch treat. The train yard looks exactly like it did back in the day — everything is in period. Scale-model train purists will eat this up. The museum has a 1909 American Locomotive steam train in operating condition; while interesting, the coal smoke coming from the locomotive was too acrid for us. Filled with a 7,500 gal water supply, and who knows how much coal, the locomotive can return only 50 miles of travel (I felt better about getting 18 mpg in the Sport). Being remote in the desert calls for the capacity to repair and machine everything on-site, so another treat was the hands-on, smelly mechanics shop, complete with vintage trains, tools, working belt-driven lathes and a couple of scruffy celebrity shop cats, "Dirt" and sidekick "DJ," who certainly livened up the place. [https://www.nnry.com–ed.]
Great Basin National Park
The morning drive from Ely to Great Basin featured 67 miles over several mountain passes. Everything out here felt grand — the views, the mountains, the desert, the big sky and the breathtaking distances. Stopping at Lehman Caves National Park headquarters for a sweet coffee mug and other gifts seemed obligatory. (Cave tours required reservations, oops, missed that one.) The epic drive up to Wheeler Campground to check out the views was on narrow roads, sans guard rails, with an 8% grade up to 10,000 ft elevation (Wheeler Peak campground is closed for renovations in 2021). Mt. Wheeler itself rises to 13,063 ft elevation with snow, glacier and thin air. A couple of observation telescopes let you see hikers willing to risk the climb to the summit. The winds and clouds were howling, with gusts over 60 mph. The drive up and back down in the Range Rover Sport required command shift mode in second gear; good thing I had serviced the transmission fluid! Our campsite was at 8,028 ft, nestled right next to rushing Lehman Creek — complete with small brook trout — a great place to set up for the night. We arrived early, had a mondo veggie avocado salad lunch and took a nap near the creek, setting up the tent later. Huge clouds billowed over us all day; minutes after setting up the tent, it decided to rain. We plopped our gear into the tent and broke out the chess set in the Range Rover Sport while the rain passed. A spring alpine rainfall refreshes everything. Our last night of camping proved very restful, and we were ready to tackle the desert drive back home. [https://www.nps.gov/grba/index.htm–ed.]
The next day, we decided to drive straight back to South Lake Tahoe, via Hwy 50. Is it just me, or when traveling the same exact route backwards, does the drive seems to go by faster? Driving home 7.5 hours was a breeze — refreshingly, South Lake Tahoe temperatures dropped back down to the 60s, too.
The Range Rover Sport provided the main element that made this desert excursion successful, stress- free and fun. It performed flawlessly and did everything we asked of it for 907.1 miles, as if it were almost brand new. The Sport's features include Sport Mode, which let me flip the command shift to the left in sport mode (not cycling up or down the gears) when going up and down mountain passes. This tightens up the shift points, increases engine braking and really brings out the best of the 4.2L supercharged V8. Need to slow down faster for a couple of tight turns? While in sport mode, lift off the throttle, flip the gear box down a gear, smoothly tap the brakes to settle the chassis — the gearbox stays in place for additional engine braking and sits right in the sweet spot for accelerating out of turns.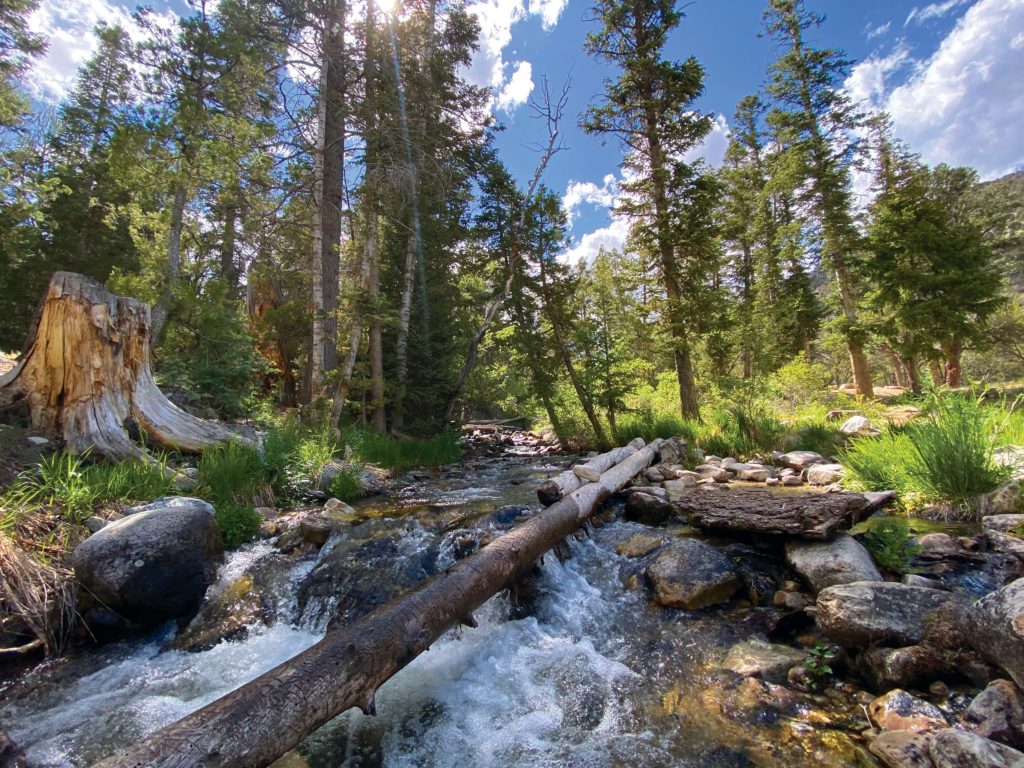 Thanks to the Range Rover Sport, we made it across the loneliest highway in Nevada, scored some great new stamps for our 'Passport Book' and created some awesome memories along the way. You can tackle long, hot drives like this; just keep your old Land Rover serviced well and keep up that enthusiast's perspective to discover new places.
[For more information see https://loneliestroad.us–ed.]