Our Spring Issue demonstrated that Land Rovers continue to appeal to movie producers, advertising executives, music video impresarios, catalog designers, fashionistas – the list felt endless after Covid-19 limitations on normal commercial activities began to lift! Sightings slowed down this summer in terms of numbers, but not in terms of enthusiasm from our intrepid Sighters.
As always, it's useful to novice Sighters and veterans to review the rules of the contest:
Rule # 1 – All Sightings receive recognition and our appreciation, but not necessarily a mug. We reward only those Sightings that capture the unique qualities of Land Rovers and display them in a distinctive way.
Rule #2 – If your Sighting doesn't really surprise you, it won't surprise us, either – thus, we can't award you a mug. We're delighted, but not surprised, that Land Rovers appear in British television programs, British publications, films with British themes, and shows about African safaris. You shouldn't be surprised either and should consider looking for other ways to get a coffee mug.
Rule #3 – At an ever-changing date before publication, we close off the Sightings; for this issue, it was August 7, 2021. If we've mentioned the Sighting in an earlier issue, we might not mention it again. If you're new to the family of Land Rover enthusiasts, you may not have seen your Sighting in an earlier issue.
Rule #4 – If you qualify, one mug per Sighting, per issue. No more than two Coveted Mugs will be awarded to the same person per year.
Rule #5 – Sightings that are Land Rover references in books go to our Literary Land Rover editor for the mention, but only when space permits.
Rule #6 – Psst… Email submissions – remember we can't send a mug by email. Send us your real name and shipping address, too.
Rule #7 – Snail mail Sightings must be sent to Editor, Rovers Magazine, P.O. Box 90, Vinalhaven, ME, 04863.
Rule #8 – Grudgingly, very grudgingly, the Editor admits he might have made an error. Let us know if you think you've been jobbed, but all decisions of the Editor are final.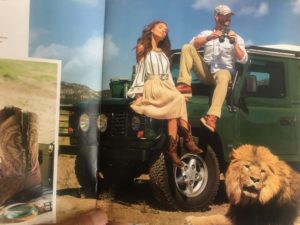 Television ad producers love to include Land Rovers. John Lane, N. Yarmouth, ME; John Bufton, Galveston, TX; Brad Meers, Mountain Brook, AL; Oliver Schmittenberg, Perrysburg, OH; Tom Martin, Chardon, OH; John Pumphrey, Berthoud, CO; Rob Marsh, Vass, NC and Cherie Emmons, Somerset, KY spotted the Land Rover cartoon figure in the Michelin tire commercial. There are fewer movies premiering right now, but Eduardo Cintron, Corozal, PR, enjoyed seeing a Series III in Disney's The Princess Protection Program. Television producers love Rovers too: they feature a Defender 110 in an Israeli program called Hit & Run, noted James Hutchinson, Cambridge, MA [see Rule #6]. Brian Jones, Raleigh, NC, enjoyed seeing a Defender 110 pickup on an episode of the British cartoon series Archer.
How to draw attention to your magazine? Put a Defender on the cover, as Thompson Smith, our Creative Director, noted in the May issue of Sunset. How to capture attention in your store? Run a loop of a Defender crossing a stream on an LG television in Costco, reported Barry Herrin, Cumming, GA. Jim Hutchinson, Cambridge, MA, enjoyed a Hemmings article on a 1972 expedition involving Land Rovers and Land Cruisers, especially as it featured a link to a 45-minute video.
We applaud local businesses that actually use Land Rovers in their advertising. Jason Sheehy, Mt. Sterling, OH, spotted a Defender in an Ohio Farmer magazine ad for Bane-Weller, an International Harvester equipment dealer. The Salishan Coastal Lodge in Oregon placed an ad in United Airlines' Hemisphere magazine, and the Series III in the background caught the eye of Frank Cardamone, Aidie, VA.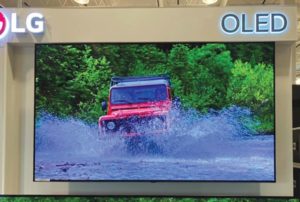 Jeremy Swanson, Brier, WA, received an online promotion for Tanner Leather Goods that prominently featured a Discovery II. David Rock, Providence Forge, VA, noted the presence of a Defender 110 in Front Runner's online promotion. John Bussen, St. Louis, MO, found a Defender capturing attention for Vitberg Boot's online promotion. John Dillingham, Canton, GA, noted that when Met Life wants to promote safe driving in their online ads, they choose a Defender 110 to accompany the assumed safe driver. Hans Van Lancker, Milton, MA, sent in several Sightings at once. A website on SmugMug, Johnnyvacay, had two photos of Land Rovers in beach scenes. Lisa Monish, Pensacola, FL, spotted a Backpacker online ad for a rooftop tent aboard a new Defender 110. Aubrey Taylor III, Raleigh, NC, was pleased to discern a Range Rover Classic in an online HEST promotion.
David Russ, Lynne, NH, read a New York Times Book Review feature on the double agent Phillip Agee, featured in the article behind the wheel of a Series Land Rover. When Respoke wanted to promote converting your favorite auto photo into an art print, they chose an '82 Land Rover 90 [misidentified as a "Defender"], noted Jason Sheehy, Mt. Sterling, OH. Omar and Zeeshan Faruqi, Beaverton, OR, noted a fine drawing of a Land Rover in an African scene in a Wall St. Journal Magazine column. Rob Marsh [see Rule #6] noted a Defender ambulance in use as an overland vehicle on the Expedition Portal. Christopher FitzMorris, Center Harbor, NH, sent a photo of a Land Rover 110 pickup like his in front of the British-based Craighopper store in N. Conway, NH. Rob Marsh, Vass, NC, noted the use of a Series Land Rover in an American Rifleman article on Remingtons on safari.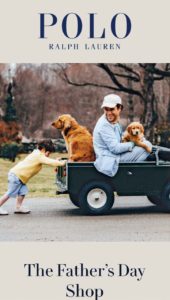 We've mentioned these Sightings before, but kudos to Sighters for keeping us in the loop. David Rock, Providence Forge, VA; Rick Sunderland, Golden, CO; James Chang, Round Rock, TX; Sherry Block, Hadlyme, CT and Kraig Mackett, Perrysburg, OH, spotted the use of Land Rovers in a Yeti ad campaign. Ken Gummerson, Baltimore, MD, and David Russ, Lyme, NH, enjoyed seeing the Land Rover return to the Principal Insurance ads. Garden and Gun are back to featuring Land Rovers on its covers, noted Mike Roediger, Yakima, WA; Robert Fleming, Dallas, TX; Tim Stovall, Chesapeake, VA; Steve Greene, Goldsboro, NC; Cherie Emmons, Somerset, KY; Jon Everett, Redington Beach, FL; Rick Sunderland, Golden, CO; Erin Finnegan, Wyndmoor, PA and Ryan Easterling, Fairhope, AL. Scott Just, Berkley, MI, noted the Ralph Lauren Father's Day promotion using a "mini-Defender." Daniel Smith, East Greenwich, RI, caught the Series Land Rover on the Marriott Bonvoy online campaign. Cherie Emmons, Somerset, KY, noted the brief presence of a Land Rover in a Firestone commercial during the Indianapolis 500 coverage. Ken Gummerson, Baltimore, MD, spotted a poster for a Thule roof rack mounted on a Defender at an REI store. Hans Van Lancker, Milton, MA, noted the Deus ex Machina and Uncrate online ads with Land Rovers featured in them.
Winners:
Aubrey Taylor III Raleigh, NC
Lisa Monish Pensacola, FL
Ken Gummerson Baltimore, MD
Rob Marsh Vass, NC
John Dillingham Canton, GA
John Pumphrey Berthoud, CO
Tom Martin Chardon, OH
Eduardo Cintron Corozal, PR
John Bussen Saint Louis, MO
David Rock Providence Forge, VA
Jeremy Swanson Brier, WA
Cherie Emmons Somerset, KY
Oliver Schmittenberg Perrysburg, OH
Brad Meers Mountain Brook, AL
John Bufton Galveston, TX
Frank Cardamone Aidie, VA
John Lane N. Yarmouth, ME
Jason T. Sheehy Mount Sterling, OH
Simon Shepherd Moseley, VA