There are 23 acres in Blairstown, NJ, where Land Rovers thrive and flourish. Enthusiasts Bill and Patty Cooper own the land that houses a comprehensive representation of every Land Rover model.
Bill is a cheerful, happy-go-lucky example of the Land Rover owner/enthusiast. A current tally reveals that he has 17 Land Rovers housed in and around four garages on his bucolic property in Northern New Jersey – not including the vehicles of his fleet that are currently out at various shops for work he can't manage himself. That's not to say Bill fears getting his hands dirty; witness the '51 Series I in one garage with its head removed to diagnose excessive oil loss.
Like many long-time enthusiasts, Land Rovers entered Bill's life when, as a child, he watched Mutual of Omaha's Wild Kingdom and saw Series Land Rovers on safari in Africa and exploring other remote regions of the world. Then came the shiny issues of National Geographic, showcasing other gorgeous Rovers in similarly exciting locations. Collectively, they left the distinct impression that Land Rovers are made for adventure. Sure, he knew about Jeeps, but those were weekend playthings. If anyone wanted to go on a real adventure, they needed a Land Rover. As Bill said, "I'd grown up around all kinds of driving and off-roading. Jeeps and Broncos are fun, but for adventures, Land Rovers seemed the best choice."
After owning a Jeep CJ7, a Toyota FJ40 and a Ford Bronco, in 1984, Bill finally got his hands on a '66 Series IIA 88" – one he still owns today. In its days as his daily driver, he took it on countless trips all across the US and Canada, visiting friends and family, as well as the occasional off-roading adventure with the R.O.V.E.R.S Club of Pennsylvania. All this helps explain why the Series IIA is on its second engine, second chassis and third time around the odometer.
Fast forward nearly 20 years to Bill's current fleet of Land Rovers – which reads like the discography of a '70s band that you'd really enjoy seeing play live at a summer festival – with names like "King Bob," "Huxley the FrankenRover," "Solomon's Yacht Yard" and "The Pink Panther," just to name a few. To say it's a treat to poke around Bill's immaculate lot is an understatement.
Enter Huxley the FrankenRover, officially a '57 Station Wagon, now heavily modified. Bill bought Huxley from enthusiast Peter Vollers. At first glance, it's clear that something is different about this Series vehicle. It's powered by a 3.5L Mazda turbo-diesel. It sits on deep-dish 16" wheels that carry 40" tires. From the bulkhead forward, it's a 109", but the remainder of the Land Rover is the original 107". As we walk around the vehicle and look inside to see the mixture of new and old gauges, I can't help but smile at the absurdity of it all – it really is an erector set come to life – the kind where you take all the best bits from a few different sets.
Bill reflects, "I don't know what I admire most about the Series I's, but the lines and engineering simplicity really captured my attention." His first was an ex-MoD 1955 Series I (with a chassis number very close to that of the Oxford and Cambridge Land Rovers). His affection for Series I's has not abated; he now owns six of them; two '51 North American spec vehicles, a '55 and a '56 '86-inch and a rare '57 107" Station Wagon. Equally rare in the US is a '58 88" Series I in yellow, the color used by the George Wimpey Construction Company in the UK. "Back when the Rootes Corporation distributed Land Rovers in the North American market, they sent a batch of these uniquely painted vehicles through Canada and the Pacific Northwest," Bill explained. "While common sights in the UK, they're very unusual here."
One example you read about but "never see in person" is Bill's RHD 1967 Forward Control Series II-B. This model represented Land Rover's effort to meet customer demand for a greater payload (3,360 pounds) on a 109" (plus an extra inch for the cab) wheelbase, accomplished by moving the entire cabin to the front of the vehicle. To accommodate the extra payload, the FC Series II-B came with a 2.6L six-cylinder engine.
Another rare and interesting example is his "Pink Panther." Often referred to as "the Pinkie," this vehicle started life as a '68 Series IIA 109", and was modified as per British SAS specifications. Of the 72 originally built, only about 20 are known to have survived; of those, only four are in North America. After purchasing the vehicle from Jim Pappas via the Dunsfold Collection, Bill then set about hunting down and purchasing all of the accoutrements that would have originally been included with the vehicle: machine guns, smoke grenades, shovels, jerry cans and the like. Its one-ton axles absorb the extra weight of the kit, and its 9 x 16 tires (which resemble 36" tires) improve the ride over the usual sand tires, a "nightmare on pavement above 30 mph." The "pink" in its name comes from the muted pinkish paint, said to camouflage the vehicle in desert conditions. A vehicle this heavy must carry a staggering 100 gallons of fuel between its main tank, three auxiliary tanks and eight Jerry cans! Fully loaded with its military kit and crew of three, it clearly taxed its 2.5L engine.
Bill likes to work on his own Land Rovers as much as he can, undertaking repairs and maintenance restorations on everything that doesn't require a lift. Sometimes the results are faithful and sympathetic refurbishments, as demonstrated in the work he did on the Pinkie; at other times, they produce a "Frankenrover" like "Huxley." And by the way, when he's not enjoying his Land Rovers, Bill has worked with his company specializing in software for database design and marketing since the late '70s. His wife, Patty, works in human services; together, they're raising their Land Rover-loving daughter, Annie.
It's hard to play favorites, but Bill noted "Of all my Rovers, a few are my go-to's. One is my totally stock[.1] , patina-blue, '51 Series I. The other is my 86" Series I, named Huxley. Then there's my Series III, of which I've shared ownership with other NJ and PA enthusiasts over the years. The chassis is full of welds and steel plates, but I love it."
While Bill does own many Series Land Rovers, he's not only a "Series Guy." Just as one might say that the Land Rover brand has aged gracefully, starting out as a brilliant vehicle eager to bash through the woods and explore uncharted territory, then maturing in terms of comfort and refinement, that evolution is true of Bill. He's grown with the marque and has enjoyed a Discovery I, Discovery II, LR3, LR4, Range Rover, Range Rover Sport Diesel, Range Rover Evoque and, at the time of this interview, a 2020 Defender 110.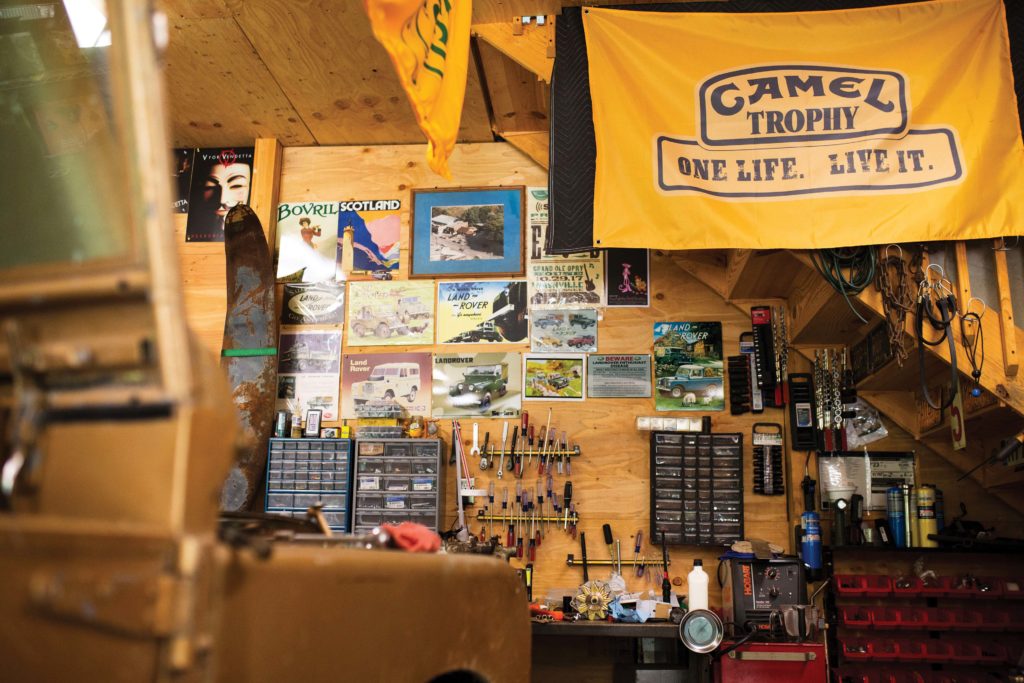 When discussing the wide range of Land Rover vehicles under his ownership both in terms of age and style, Bill sees a place for them all. He has tremendous respect and adoration for the old ones, but he also clearly appreciates modern Land Rovers for their comfort, refinement and ability to eat up the miles on a long journey across America's highways. When asked about which vehicle he'd take on a trip across Africa, without a moment's hesitation, Bill eagerly claimed he'd take a Series truck purely for its lack of complex electronics and his own ability to repair most anything in the field with a small set of tools. But in the same breath, he speaks highly of his new Defender as a daily driver and its significant off-road capabilities. That really sums up what Bill is all about: respect and love for all the vehicles in the Land Rover marque, from 1955 to 2021.