As we prepare for the holidays, the Rocky Mountain states have already received their first snow. Here in northern New England, the sun sets earlier and rises later; red, orange and yellow leaves fall off trees and descend onto our lawns and loud, obvious hints of what's desired for holiday gifts ring out along with Christmas carols and pop songs. It's a most wonderful time of the year.
The many Sightings received demonstrate that despite the distractions of the season, enthusiasts nationally and from Canada still search out Land Rovers in advertisements, commercials, movies, and online sites. We're thankful for their effort and energy.
It's always helpful for veteran and novice Sighters alike to review the rules that govern when we award a Coveted Mug:
Rule # 1: All Sightings receive recognition and our appreciation, but not necessarily a mug. We reward only those Sightings that capture the unique qualities of Land Rovers and their owners and display them in a distinctive way.
Rule #2: If your Sighting doesn't really surprise you, it won't surprise us, either – thus we can't award you a mug. We're delighted, but not surprised, that Land Rovers appear in British television programs, British publications, films with British themes, and media covering African safaris. You shouldn't be surprised, either, and should consider another way to get a coffee mug.
Rule #3:- At an ever-changing date before publication, we close off the Sightings; for this issue, it was October 1, 2021. If we've mentioned the Sighting in an earlier issue, we might not mention it again. If you're new to the family of Land Rover enthusiasts, you may not have seen your Sighting in an earlier issue.
Rule #4: We're not outfitting your kitchen. If you qualify, one mug per Sighting, per issue.
Rule #5: Sightings that are Land Rover references in books go to our Literary Land Rover editor for the mention, but only when space permits.
Rule #6: Psst… Email submissions – remember we can't send a mug by e-mail. Send us your real name and shipping address, too. (To assure your privacy, the magazine does not have access to Rovers North customer information.)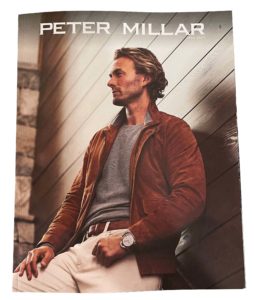 Rule #7: Grudgingly, very grudgingly, the Editor admits he might have made an error. Let us know if you think you've been jobbed, but all decisions of the Editor are final.
Movie and television producers know that Land Rovers glue viewers to screens – just ask James Bond! Fred Behrens, Powhatan, VA, enjoyed Transcendence but complained that "they did not treat the Series Land Rover as they should have." Benjamin Boerum, Washington, DC, couldn't miss the Range Rover Classic police vehicle in an episode of Sex Education. Mary Fabro, Herndon, VA, spotted an LR3 in The Sterling.
To entice customers, advertisers love to use Land Rovers in their ads. Colin Johnson, Mt. Pleasant, SC; Greg King, Mountain Lake, GA; Frank Adcock, Memphis, TN; and Scott Pinarchick, Hingham, MA, found the Defender 110 in the 2021 Peter Millar catalog. Ken Gummerson, Baltimore, MD, spotted the Series Land Rover in the Flaherty clothing catalog. Frank Adcock, Memphis, TN, enjoyed seeing the late Series IIA in the Johnnie-O clothing catalog.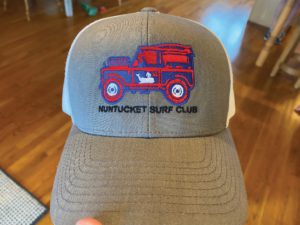 The classic Defender silhouette really appeals to consumers. Why else would the Nantucket Surf Club place it on their hats? That convinced Eric Lowe, Bozeman, MT, to buy one. Stephen Lister, Utica, OH, also sent in that Sighting. Mike Freddie, Waterford, CT, found a Barbour ad on the Nordstrom Rack website. "Not an unusual sighting given it's a Barbour advertisement, but the Land Rover lifestyle is immediately appreciated, and the model – not the man or the dog but the Defender 110 – captures hearts and minds even with only a quarter of the vehicle shown." Walker Buck, Birmingham, AL, spotted a NAS Defender 90 used in a video promoting Gatlinburg, TN. Chuck Breiner, Troy, NY, [see Rule #6] spotted a Gas Bike website that featured a Defender 110 pickup. In the Spanish series Money Heist, Stephen Lister, Utica, OH, also found a Defender pickup.
Phil Hartnady, Bowling Green, KY, enjoyed seeing a classic Remington 721 rifle being used by a sportsman beside a Land Rover Series IIA on safari in a recent issue of American Rifleman. The visual connection was obvious! Garry Dalgliesh, Millville, NJ, spotted a Marine Blue Series 88" pickup in a recent issue of Country Living magazine, sitting in front of the Brick Store Museum [which as a Mainer, I know to be in Kennebunk, ME. -ed.]; it's the same as the SWB he owns. Rick Prudhomme, Hendersonville, NC, noted that Huckberry has an online journal in which they're repairing a Discovery's front end, urging readers to "do it yourself." Dan Duncan, American Fork, UT, enjoyed seeing the Defender 90 on duty in a 5.11 Tactical web ad.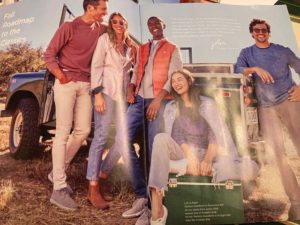 It's an unusual promotion, but the Florida National Park Association wants you to support the new "Florida Bay" license plate by placing one on a Land Rover 110 – so wrote Lisa Monish, Pensacola, FL. Eleven-year-old Margot Ruggieri, Southport, CT, who identifies herself as "a VERY big Rover fan," spotted a pink topless Defender in the British Netflix show, The Big Flower Fight, but she prefers her Defender in Beluga Black.
We've mentioned these before, but we always want to credit avid Sighters. Erin Finnegan, Wyndmoor, PA, spotted the Series Rover in the Free Fly online ad. Scott Preston, Southwest Harbor, ME, noted that Thule racks continue their long practice of including Land Rover models in their ads; the latest includes a new Range Rover. Chris Sand, Lebanon, NJ, was pleased to see a Series Land Rover in the Ritz-Carlton online ad. Joseph Mazzarella, Phoenix, AZ, watched the Italian Grand Prix at Monza and – once again – there was a Discovery II working as a safety vehicle. Eric Brumwell, Bainbridge Island, WA, was pleased to see the return of a Series Rovers in a Bloomingdale's ad in the New York Times. Steve Stricker, Oxford, MS, and David Rock, Providence Rock, VA, caught the return of the Principal financial services commercial.
Winners:
Dan Duncan American Fork, UT
Rick Prudhomme Hendersonville, NC
Gary Dalgleish Millville, NJ
Frank Adcock Memphis, TN
Greg King Mountain Brook, AL
Chuck Pinarchick Hingham, MA
Lisa Monish Pensacola, FL
Colin Johnson Mount Pleasant, SC
Eric Lowe Bozeman, MT
Walker Buck Birmingham, AL