It's December, 1978, and you're rocking to the Sex Pistols and Van Halen, getting ready to play Atari's Breakout video game, or watch television programs like SNL's Blues Brothers or WKRP in Cincinnati. Meanwhile, over 170 cars, trucks and motorcycles have lined up on the Place de Trocadéro in Paris for the start of the first "Rallye Paris Dakar" – 6,213 miles later, after driving through France, crossing by ferry to Algiers, then driving through the deserts of Algeria, Niger, Mali and Upper Volta, the competitors would finish in Dakar, Senegal.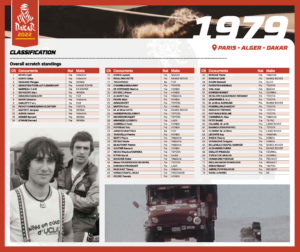 Ruggedness and durability would prove essential in this and every subsequent Dakar. Competitors drove in rough, extreme conditions for a distance similar to a round trip from New York to Los Angeles. A combination of terrain and speed meant fewer than half of the vehicles would finish, and serious injuries – even deaths – would be all too common. Over the two weeks of competition, competitors enjoyed exactly one "recovery" day. In the first year, the 74 finishers included six Range Rovers – one of which was the first car/truck category to cross the finish line – and two Land Rover Series III 109s.
Over the decades, the routes have changed due to political issues or international dangers. Security concerns in 2008 forced the move of the event to South American countries, and then in 2020 to Saudi Arabia, where the latest edition is underway as we go to press. This 44th running of the Dakar includes a "Classic" category, which created a race focused more on navigation and timing than flat-out speed. Any vehicle built before 2000 that ran the Dakar was eligible, and that enticed seven Range Rover Classics, three Series IIAs and one Defender 90 to run this year.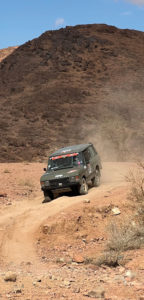 The father-daughter team of Rebecca Busi and Roberto Musi [Team #724] from Italy ran in their '92 Range Rover Classic; it was Rebecca's first off-road competition. Diego Ballester and Enrique Conti Penina [#747] from Spain entered an '80 Range Rover Classic, a tribute to the Range Rovers that won years 1 and 3 of the Dakar. Javier Basagoiti and Alfonso Masoliver [#748] of Spain ran a rare '83 Range Rover Vogue.
Miguel Angel Boet and Alex Cabarraques Guillem [#776] of Spain entered an '85 Range Rover Classic that paid homage to the same vehicle that placed 15th overall in the 1985 Dakar. Gilles Espinoza of the Land Rover Experience France [#781] took an '85 Range Rover that paid tribute to the 1981 winner of the Dakar. Lionel Guy and Isabelle Masse [#789] entered his '86 Range Rover "instead of my Bowler, as Isabelle is not a fan of extreme speed." Phillipe Maréchal and Jean-Francois Baud [#802] of Switzerland took an '84 Range Rover "that had sat for many years" and prepped it for the Dakar. Tommaso Castellazzi and Stefano Dalla Valle [#760] of Italy entered the only Defender 90, a '94 with an Iveco engine.
Our total admiration goes out to the Czech Republic teams of Vintage Racing in Prague. They entered three teams of Series II and IIAs, ranging from 1960–1964. There were two father-son teams – Dusan Randysek and his son Frantisek, Petr Fiala and his son, Tomas – and a third team of friends Albert Pance and Stepan Pance. Other than adding fuel tanks, their vehicles remained stock, right down to the 2.25L engines.
Once the Rally has ended, we'll be eager to connect with the Classic teams to share their stories.