You don't think of social media sites like Instagram as "bringing people together," but that's what happened when Cooper Murray, Riverside, CT, started following Matt Hare, Upper Arlington, OH.
You may recognize Cooper Murray and his friends, Chris Fotta and Chloe Benoit, as the creators of the Vineyard Series event held last July on Martha's Vineyard [see Summer/Fall 2021 issue -ed]. Cooper knew of Matt through family connections, but his interest grew deeper when he began to follow Matt on Instagram.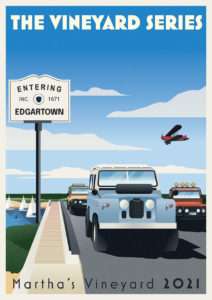 Matt's wife, Kate, gave birth to their son, Callahan, in April 2021. Callahan was born with Acute Lymphoblastic Leukemia, very rare in newborns. Matt, a cancer survivor himself, stated, "We had to start aggressive treatment immediately; he finally came home last December. It's an honor for us to be his parents, and a delight for his older sister, Campbell."
"Callahan has taught us so much in the 9 months he's been in our family. We've watched him push through and persevere." That's why the family created the Callahan Murphy Hare Foundation to fund pediatric cancer research at Columbus' Nationwide Children's Hospital as well as other major research centers.
Cooper, Chris and Chloe wanted the Vineyard Series "to give back" and support the Hare's foundation, so when Cooper designed a poster commemorating the 2021 event, they decided that all the proceeds from the sale of the poster will go to the Callahan Murphy Hare Foundation.
We found the poster compelling; ours is on order already. The decision of the Vineyard Series organizers to share their success with the Foundation elevates it to Fabulously British.
[To purchase a poster, visit www.thevineyardseries.com. Learn more about the Callahan Murphy Hare Foundation at www.donorbox.org/CMB-foundation-fund. Follow Callahan's progress on Instagram @thecmhfdn, and the Vineyard Series, @vineyardseries or on Facebook]