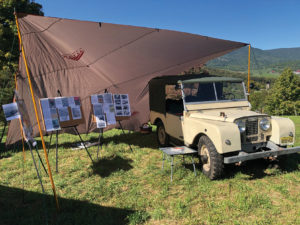 These past two years have seen a remarkable increase in long-distance travel by enthusiasts in their Land Rovers. Social media has boomed with posts about families departing for the far reaches of the continent. We shared one example when our Creative Director, Thompson Smith, and his wife, Donna Renaud, tackled a desert adventure on "The Loneliest Road in America," US Route 50 in Nevada, named for its hundreds of miles of sagebrush and high desert sand and rock [see Summer-Fall 2021 issue -ed]. Thompson and Donna undertook their 900-mile trek in the comfort of a 14-year old Range Rover Sport – but we tip our cap to enthusiasts like Ben Smith, Flemington, NJ, who has driven his Series Land Rovers "7 or 8 times" between California, Ontario and the East Coast.
In that spirit, we celebrate Bill and Patty Cooper, Blairstown, NJ, who will start an over 4,000-mile adventure across the USA this Spring in their 71-year-old Series I. This trip will follow the transcontinental route first created by British adventurer Barbara Toy, who included the US portion as part of her across-the-world trek in her Series I, named "Pollyanna."
In 1957, Barbara Toy shipped Pollyanna from Asia to San Francisco. Beginning in November, she drove – solo – on a route that took her through Los Angeles, Las Vegas, Albuquerque, Houston, Jacksonville and then up the East Coast to New York, arriving around Christmastime.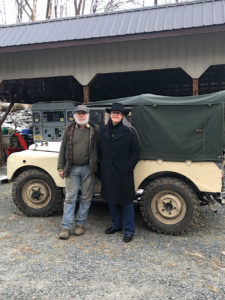 The Coopers first presented their idea publicly at the 2021 Mid-Atlantic Rally last October. Their pale yellow '51 Series I 80" looked quite small to carry the couple and all their gear on a three-week, two-lane road journey. In preparation for the trek, Bill converted the electrics from positive to negative earth (allowing the use of brighter LED bulbs) and added a new Fairey overdrive. He "tightened up everything" and rebuilt the brake, clutch and fuel systems. The 1.6 liter engine received only a new carburetor and a tune-up.
This April, Bill and Patty will reverse Barbara Toy's route and begin the journey from their New Jersey home. First stop with be the Rover Owners of Virginia's (ROAV) Wintergreen event, April 22–24. They invite other Series and other Land Rover enthusiasts to join them on any part of their adventure.
Whatever its vintage or model, your Land Rover awaits your adventure, near or far. Decades ago, Queen performed "I'm in Love With My Car," a song that should be sung by every Land Rover enthusiast. Show your love by letting your Land Rover take you "Above and Beyond."
Jeffrey Aronson
Editor, Rovers Magazine