Last year, Jennifer Sarkassian, Summit, NJ, spoiled her husband, Alexis, with a '93 Defender 90 2.5L diesel imported from Italy. To Alexis, "It's a beautiful car, one I would draw if I were an artist. I'm living proof of the love for Land Rovers. Our Land Rovers have become as much a part of our lives as our children Sacha [23], Clara [21] and Leon [14]."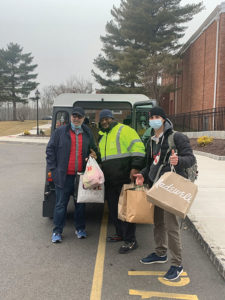 Leon, a 9th grader, attends Newark Academy, Livingston, NJ, a private school of 600 middle and high school students founded in 1774. The school encourages students to create community-based projects; having volunteered with his family in food kitchen programs, Leon created the "1774 Initiative." Recognizing that homelessness and food insecurity is a major concern in the community, the goal is to make 1,774 lunch bags of sandwiches and drinks over the course of the school year, and deliver them to families and individuals through St. John's Roman Catholic Church in Newark. The church has operated its food program for over 40 years, and has expanded its efforts to provide other services and necessities for families and individuals.
Despite pandemic restrictions, Leon recruited over 150 students to make sandwiches and pack lunches, which he delivers to the church in the family's Defender. "The sandwiches warm the hearts of many," Leon said in an interview. "We feed the physical hunger as well as the emotional hunger for friendship. To me, it harkens back to the spirit and the words of President John F. Kennedy."
As we go to press, Leon and his volunteers have managed to make and serve over 1,000 lunches. Packing the Defender full of meals to share with others "is a way for the comfortable to give back and not ride on our privilege," Leon noted.
Worldwide, Defenders have been pressed into humanitarian service in cities, towns and remote regions across the globe. We think that Leon's initiative is Fabulously British, and we wish him every success in future years.