With apologies to actor/children's book author Max Greenfield, "I Don't Want…" a 13-inch screen on my dashboard with a menu of options I didn't request and a propensity to cease functioning when I might actually need it. I do not want to select "modes" for different driving conditions. I want levers, knobs or buttons, not touch points.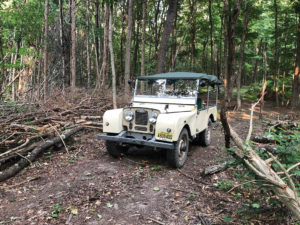 At least, that's what I thought. Then I peered inside Bill Cooper's '51 Series I – the most analog vehicle imaginable – and spotted an EZ Pass electronic reader, a cellphone mount, a Garmin GPS, Garmin Maps and a digital cylinder head temperature reader. Hmmm, maybe he's onto something. He is, after all, driving it cross-country for the Barbara Toy Tribute Run. It might seem incongruous, but why not let digital gear help with our analog Land Rovers?
This support becomes even more important in daily driving. Simple digital devices would let enthusiasts retain the tactile, direct connection with our heritage vehicles while improving safety in today's conditions. Long gone are the days you could pull over and spread out a paper map, confident that other drivers were paying attention. Today, while distracted motorists tap, text, eat or take phone calls, you might wind up as a traffic statistic while scouring a map.
There's every reason to let your Google/Apple Maps or Waze app announce your route. Or you might want a rear-view camera when you're backing up to connect a trailer or avoid a tree when on a trail. Why not use a camera mounted to your wing or door mirrors to help guide you over difficult terrain?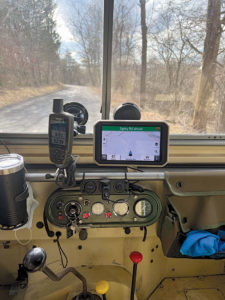 You might also appreciate the ease with which digital instrumentation can help with your Land Rover. Mark Kellgren, Charlotte, NC, wrote to express his delight with the addition of a Rovers North digital speedometer in his RoW Defender 110:
"My Defender 110 had the standard factory cable-driven speedometer that read in kilometers. After switching to a different tire size, I knew I wanted a programmable speedometer so I could have accurate mileage and odometer readings. I didn't want to lose the odometer reading, as I am sure many do with restorations. Switching from a mechanical to digital speedometer offered me the luxuries that come with a digital upgrade without the complicated ECU integration to the powertrain that so many of us loath in modern vehicles."
"For a daily driver and overland vehicle, reliability and simplicity are paramount to me. The digital speedometer allows me to easily calibrate to different tire sizes while maintaining the accuracy of my speed, as well as keeping to a proactive, odometer-driven maintenance schedule. Plus, the Rover's North kit was turnkey, including well-documented instructions." (Rovers North has also created a digital gauge cluster with voltage, temperature and fuel readings [RNSKIT3].)
I prefer an analog Land Rover with digital aids over a digitized Land Rover any day.
Jeffrey Aronson
Editor