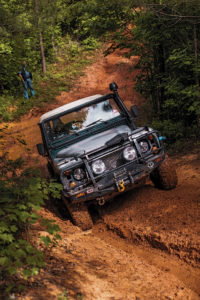 Every May, I make a trip to North Carolina to spend time with my father. Happily for our relationship, he lives only 45 minutes away from the Uwharrie National Forest area. That's where the annual Uwharrie Safari, organized by the Carolina Rover Owners Club (CROC), takes place. I've attended most of them; this year's event was held from May 12–15.
            In Vermont, we like to believe that our state corners the East Coast market for scenic vistas, but I'm quite taken by the beautiful topography of the Uwharrie National Forest region. CROC uses the National Forest trails for intermediate trail rides and takes advantage
of the privately owned Big Creek and Grand Overland terrain for beginner/advanced trail rides and overnight camping.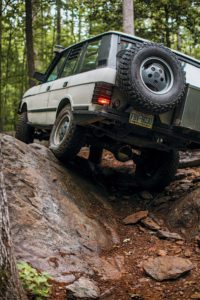 David Terifay, Statesville, NC, has served as the organizer and currently serves as Steward of the Trails for the club. He's also a director of the Friends of Uwharrie and a conservation director for the Southern Four Wheel Drive Club. David wears these multiple hats with ease: "I try to direct enthusiasts to benefit either group," he said. "I'm also working with Grand Overland on a grant to help them keep their trails. We have to help private lands so they can remain open for off-road and outdoor activities." When David has a moment, he's the Engineering Supervisor for North American Kitchen Solutions, based in Elyria, OH (Yes, he spends a lot of time on the road!).
"I did a lot of street racing in my younger days," David mused. "My wife suggested that I should try something safer. My '95 LWB Range Rover Classic lets me have a V8 again. This time, I'm going very slow though the woods – although at times I'm not certain it's really safer!"
Trail leaders Jason Bayer, Larry Beckler and Jason Aston did a terrific job of guiding and instructing. The "Honorary Land Rover Announcer", Rick Nowoc, played a variety of roles – "thrower of t-shirts, bearer of gifts, head heckler" – entertaining us all as we enjoyed Texaline Smokehouse's on-site barbeque. CROC also appreciated Chris Cagle for allowing the use of his land for camping and event coordination.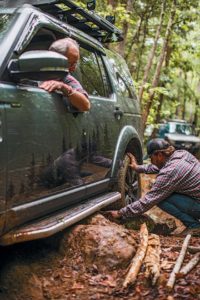 I enjoyed seeing a wide range of Land Rover vehicles on the trails, from David's '95 Range Rover Classic to new Defenders. Since I had driven to the event in a rental car, some attendees drew the short straw and had to chauffeur me around – big thanks to Sean Roe and Graham Baucom for their Land Rover hospitality. With a weekend of rain predicted, I still saw 50–60 Land Rovers there. More enthusiasts had registered, but given the forecast, some chose to stay home. (Of course, it hardly rained at all.)
CROC has 82 members, many of whom also belong to the Old North State Rover Club. "We're open to any enthusiast," David said, "and our clubs do things together." The next CROC event is "Summit to the Shore," which starts in Asheville, heads east to Statesville and winds up four days later on the Outer Banks, enjoying distillery and cigar rolling stops while teaming up with Toys for Tots. [For more information, check the club Facebook Page -ed.]
The first Uwharrie Safari took place in 2012 and the event has become firmly
cemented into my calendar. I recommend it highly as the perfect Spring Break.