Outside of automotive design, it's not often that Rovers Magazine covers the fine art world, but we know great art when we see it, and this painting confirmed our intuition and good taste.
Harbour, a painting by Canadian master Alex Colville, commanded $1.88 million at the Heffel Fine Art Auction in Toronto last fall. The winning bid was nearly three times the usual cost of a Colville painting, which we attribute to the use of a Series Land Rover in this majestic
work of art. Born in Toronto, Colville wound up in Nova Scotia, his home until his death in 2013.
Mark Cheetham, Professor of Art History at the University of Toronto, called Harbour, "A response to everyday experiences—being intrigued by the freighter he saw in Halifax in 1975, and wanting to paint his own Land Rover, ('something that I have been wanting to do since I bought the car,'") he reported. "The work is not content to have us rest on the precisely rendered surfaces that we are invited to contemplate… But Colville is always a rigorous editor, showing us just enough to create questions in our minds. For example, while the family dog Shasta's coat is rendered in full and loving detail, we cannot read the gauges on the Land Rover's dash. Colville loved cars. He provides full detail about this one's exterior."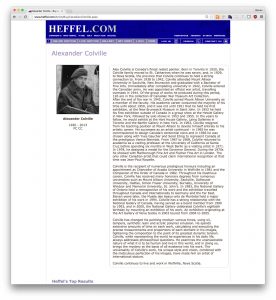 We tracked down David Heffel, the president of the auction company, and asked for his thoughts. He said, "Alex Colville was an incredible artist, born in Canada and admired and collected around the world. It was an honour for Heffel to have had the opportunity to offer this quintessential Colville work, a self-portrait of the much-loved painter, and share it with the public before it made its way into new hands. Colville was a very meticulous artist and details were thoughtfully placed. The Land Rover included in this work would have been no coincidence— he was a car enthusiast and drove a Land Rover himself." So art majors everywhere, the secret to artistic success is talent, commitment, vision, and of course, a Land Rover.
Jeff Aronson
Editor, Rovers Magazine