It's a different take on Spring Break. Instead of overrunning southern party towns with raucous music, questionable substances and a lot of liquor, you head for Morocco and spend 10 days with little sleep competing in an off-road rally in the desert.
That's the Rallye Aïcha des Gazelles, the 26th edition of which ran from March 18-April 2. You don't hear much about this event in the US. The teams depart from Nice, France, then cross the Mediterranean for the Moroccan hills and desert. Yet, this year 330 women from Europe, Asia and North America formed 162 teams and competed 4×4's, quads/motorcycles, and "crossovers."
Unlike many rallies all the competition took place off-road, split into six legs (two of which ran two days each). The team that covered the shortest distance while finding each checkpoint won the event. Competitors cannot use GPS, tracking systems or familiar navigational electronics; instead the "Gazelles" relied on a compass, a pencil, a ruler and paper maps to chart their courses.
Each evening competitors received the coordinates for the first checkpoint the next day, one of several they had to find daily. And this went on for the next 10 days. Each night the teams camped at a tent village and moved daily in nomadic style, following the charted courses. Satellite technology tracked the entrants for medical emergencies, but competitors were on their own for the 1,000 miles of competition. Oh, and if you got stuck or broke down, recovery and repair were on you until you returned to camp.
This year, seven of the two-woman teams chose Land Rovers: Defender 90s and 110s, Discovery 2 and LR4s and a Range Rover Classic. Three of the nine US-based teams fielded Land Rovers, and they captured 3rd and 5th overall.
Jo Hannah and Susanah Hoehn have entered the Rallye twice previously in a Range Rover Sport and LR4 [see Spring 2015 issue —ed.] Jo Hannah serves as the General Manager for Land Rover Carlsbad (CA) while her younger sister works at the family's Honda dealership. Emily Miller, an off-road rally veteran and instructor, called them "the real deal, fabulous athletes and very committed to succeed." Their 3rd place finish was a remarkable testament to the power of family.
To follow how Team Hoehn won 3rd place, you have to follow the novice Team 181 of Karen Hoehn and Maureen Gibbons. Karen Hoehn has led an interesting life. Her father was a minister in the Middle East, so when she got a bit bored as a flight attendant she took a leave of absence and through family connections, wound up as a disk jockey at a radio station on the Lebanon-Israel border. "I had the night shift, from 11 pm-3 am," she recounted, "just three months after the 1984 Beirut bombing." Back in California, she met her husband, Bob Hoehn, whose family had been in the automobile business since the 1920s. While taking her daughter Jo Hannah to kindergarten, she found a kindred spirit in Maureen Gibbons, another mum of a kindergarten student, and they've remained close friends since then.
Karen said, "About six weeks before I had to send in my entry, I contacted Maureen and told her that I wanted to run the Rallye as a 60th birthday present to myself. I knew she'd want to do this. She's my newest heroine for her willingness to jump in to something completely new. We did some desert driving training with Emily Miller (an off-road competition veteran) in Southern California. This will be my first time driving in the desert, and Maureen's first time as a navigator, so we'll be completely out of our normal realm. We'll be driving the LR4 that Team Hoehn prepared and ran last year, but with a body wrap uniquely our own."
Maureen Gibbons, who now lives in San Diego with her husband, Richard, was born in Santiago, Chile, after her family emigrated from Argentina. She recalled, "I had just started a Landscape Architecture course the very day that Karen called. Once she told me about it (and I knew her daughters had run the event in the past) I signed up. I had some trepidation about safety, but if the three Hoehn women were going, I knew it would be fine. As for learning to plot coordinates, well, I found it completely different once the Rallye began. It was sort of like reading about having a baby, and actually having one—the reality was very different."
"The event felt very collaborative, a seductive adventure. After all the days we spent together in the LR4, we never actually had a chat.
It was amazing how quickly the hours went by; I'd never experienced anything like that. The 4 am wakeup call at the bivouac, stumbling in the dark, grabbing some food, gathering up all the navigation gear, stumbling to find that one pencil that rolled under the seat. Thankfully Karen is a joyful person and was wonderful to travel with."
For the two Hoehn teams their fates converged on Day 6. Jo Hannah Hoehn explained, "The suspension's air compressor failed as we were coming out of a giant crater. As terrible as it was, it was really the only place during the rally when we could continue and not bleed significant kilometers, because shortly after the crater, everyone had to be funneled onto paved roads, and the final two checkpoints of the day (along those roads) were opened later than normal. It took us about 2.5 hours to get out of the crater without a working air suspension. It should have taken 20 minutes, but we had to take the two highest lines we could find so that we could clear obstacles.
As Maureen remembered, "It had been a long day and we were heading back to camp after reaching six of the nine checkpoints that day. We were running in 75th place. Suddenly in the pitch-blackness we came across Jo Hanna and Susanah's LR4. The Rover was hobbling along on its bump stops. I was blown away by their insistence on keeping going. Their grit and determination to make every checkpoint was amazing. We could not swap out vehicles, but we found that we could loan them the air compressor.
Jo Hannah recounted, "That night the mechanics were able to put my Mom's compressor in ours, a process which was only completed 5 minutes before our starting line the next day. (I wish we had taken the compressor back with us [to the dealership] so that our techs could diagnose the problem. I'm wondering if we just overworked the system, or if the extended suspension or extreme heat generated from having all the skid plates on had anything to do with it.) Our mom has given us so much our entire lifes. I thought that this event would finally be about her, and it ended up being about us."
For Karen and Maureen, it meant they had to forgo the rally checkpoints and stick to roads. Jo Hannah noted, "Our compressor in my Mom's car lifted it enough so that she could drive it on paved roads and travel to the next bivouac. A new compressor for her car, sourced in Marrakech, arrived the next day in the town near the bivouac—a 10-hour drive away from Marrakech. Someone in Marrakech stuck it on a public bus; unbelievable what can happen in that country if you have friends to call (as our mechanic did.) I keep joking that that was faster than we can get a lot of parts to our dealerships!" Maureen also marveled at the rapid delivery. "It's a country of ancient traders—friendly, intelligent people who know organization. I was very impressed."
The 5th place overall team, "The Indiana Joans," their '07 Defender 110 came achingly close to finishing right behind Team Hoehn. When not working as an editor for CNET's Roadshow, driver Emme Hall autocrosses in her '04 Mazdaspeed Miata and competes in off-road rallies like the Mexico 1000 in her 1600 cc VW-powered sand rail. She first met navigator Sabrina Howells in 2013. "We met one month before the Rallye, talked for an hour and decided we'd be a great fit. I took a course on using a compass at REI to get ready. Sabs had never been in an off-road race car before, and of course, we'd just met, but she jumped in my sand rail, ready for adventure—that was perfect for me, especially since I nearly flipped it twice!" Since then, Emme has run the Rallye three times.
Emme found the perfect competition vehicle in the Defender. "Emily Miller helped me find a company in France that rents kittedout Land Rovers for off-road events like this one. I wanted to conquer the Rallye in a vehicle that was built to conquer the world." The chipped 200 Tdi (2495 cc) had 268 ft lbs of torque [up from the standard 195 —ed.] "While the rental cost for the event was reasonable, it was still a major financial commitment and we really thank our sponsors. After driving it in the Rallye, I want a Defender, legally or illegally!"
When she's not navigating through North Africa, Sabrina Howells is a singer/songwriter and actress. "My LA friends think I am absolutely crazy. I'd never been part of the off-road world. All of my friends are writers, actors or performers—no one has anything to do with racing world. They look at me like a crazy weird woman. I know enough about cars to help Emme in recovering the vehicle and changing tires; otherwise, it's really sad how little I know about them."
For Sabrina, the 4th Rallye was the charm. She said "the first time you go to experience it, the second year you get better, and by the third year you're really competing. I remember that my second year as navigator my team rented a prepped Isuzu pickup. The rental company picked me up, they walked me out to the truck and tried to give me instructions on how to drive it—in French. I didn't understand much and tried to say, 'I don't know how to drive this car yet!' One of the other workers had to drive it back for me."
"Another year I navigated in the Expert Class, which is ridiculously crazy and no one should ever do it. The checkpoints are more numerous, 7-8 a day compared with our 6, on more difficult terrain. I ran it last year because my driver wanted to; only afterwards did I find out that we had the least years of experience—two less than anyone entering the Expert Class."
"This year, it was crazy how close we were to 4th place. Our batteries became the problem. The car wouldn't start three times and I had to run a kilometer to get a jump pack. Then the batteries started to leak and the Defender smelled of battery acid." After covering over 1,000 miles in 10 days, they wound up only 1.1 miles behind the 4th place team.
The American teams continue to work hard to recruit women off-roaders into this international event. As Sabrina Howells said, "During the rally you're asking yourself, 'Why are we doing this?' Then it's over and all you can think about is coming back the next year." The 27th year of the Rallye des Gazelles will run from March 22-April 1, 2017. Start making your plans now.
French Team #112 Interview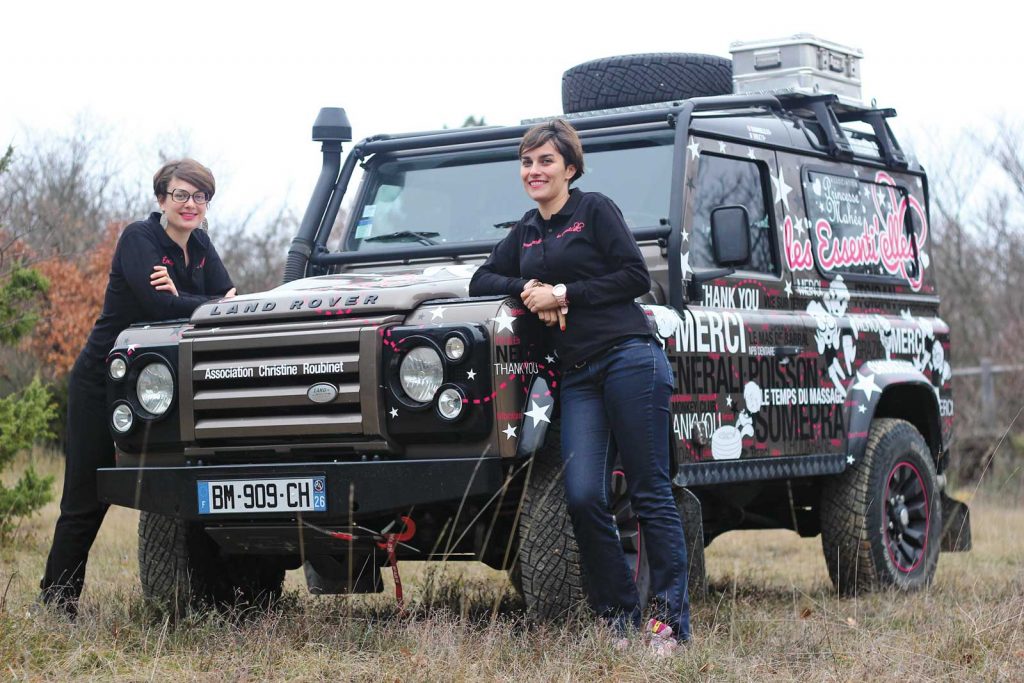 Emilie Tremblay, 32, entered her first des Gazelles this year as the navigator for Team #112, "Les Essenti'Elles." The team raised funds to help combat pediatric cancer. As her driver Emmanuelle Roubinet, 35, was on school vacation with her two children, I asked Emilie to speak for the team about her experience.
When you daydream about France, you think of Provence, and Emilie lives there, in Montelimar, with her husband Omar, and their family. A speech therapist, Emilie works with children and adults in her practice.
The Rallye has been "a dream I've had since I was a student," said Emilie. "On Christmas 2014, I had a dream that I entered the Rallye with Emmanulle, my best friend. When I told her about it, she agreed that we had to form a team." In January, 2015, we began the search for sponsors and we were able to enter this year."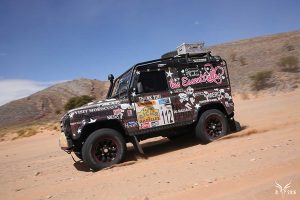 "Emmanuelle found our Defender 90 for us, prepared by a specialty company named Technic Auto. The owner is a friend of hers and a real Land Rover Defender enthusiast. He was eager for us to rent it for the event and I adored it. I've always been a big fan of Land Rovers. This one never let us down in the desert or the countryside. And now I want a Defender!"
"My husband was born in Morocco and I very much wanted to visit it and experience it this way. I found the people extraordinary and my time with other participants very fulfilling. I also really enjoyed the challenge of navigating and competing with Emmanuelle. I miss it very much!"
[For more photos of the event see www.nicoledreon.com —ed]
Story By Jeffrey Aronson,
Photography by Nicole Dreon