Mortimer, NC, once provided the home for a town of 800 people and a cotton mill. Abandoned and flooded over, it's now one of the ghost towns of Appalachia, tucked away in the northwestern
corner of the state. For three days at the end of January, it became the home of 60 Land Rovers and over 100 enthusiasts who attended the 7th annual Blue Ridge Winter Safari.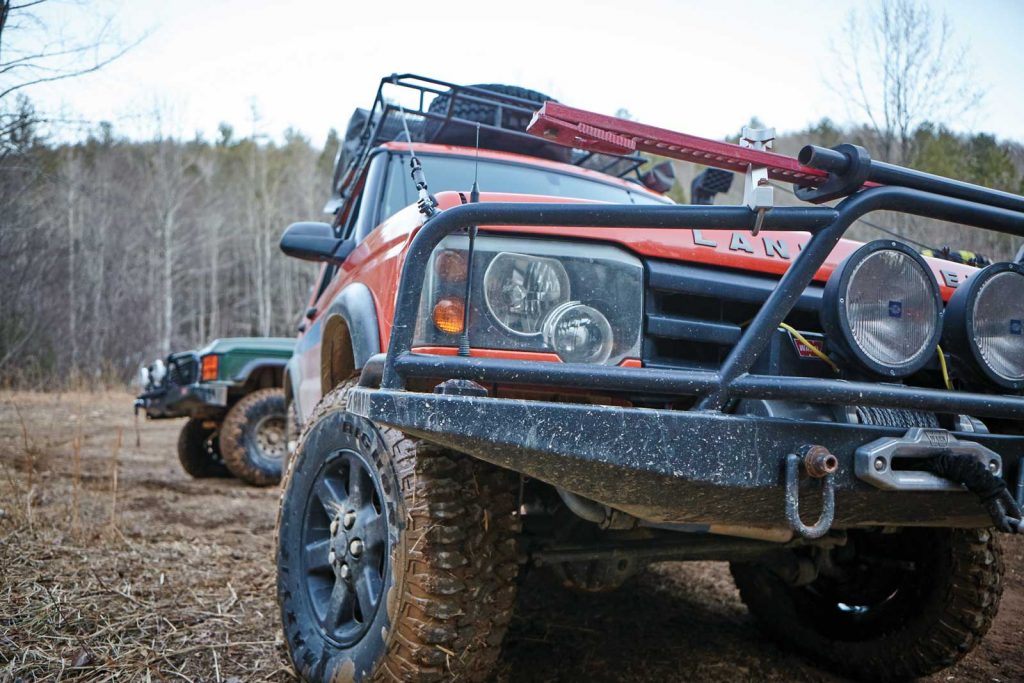 Steeped in history, Mortimer's mixed hardwoods and rushing rivers hide a landscape dotted with a forgotten railroad system and the remnants of old forestry service work camps. It is an ideal place to explore and provided a stunning backdrop for the event. The nearby Brown Mountain OHV trail system remains closed in the winter, but fortunately we had access to private tacks and old forestry roads that branched off from our encampment deep in the Pisgah National Forest.
Our group included a wide range of participants and states: North Carolina, Tennessee, South Carolina, Georgia, Alabama, Ohio and Florida. The experience levels also ranged from never been off-road to the overlanding professional, vehicles from bone stock to heavily modified rigs with 35 in tires, dual shocks, front and rear locking differentials, and more. Land Rovers, in all their glory and prestige, made up about half of the vehicles, while the rest were a mixed bag of Toyotas and Jeeps. The enormous variety provided a perfect platform for our instructional techniques.
Blue Ridge Expeditions runs the Winter Safari every year as a break from our private and corporate training activities and shares our knowledge with the off-road enthusiast and weekend warrior. The Winter Safari differs from most other off-road events because of its educational components. Topics covered include: 4×4 driving techniques, winch operator safety, vehicle recovery, trail etiquette and environmental responsibility. We strive to have everyone understand common off-road techniques and procedures, and come away with a better understanding of what it takes to venture off-road in their vehicles.
With over 100 people and 60 vehicles attending this year, our task of getting everyone safely through the trails was a challenge in itself. Late nights, vehicle breakdowns, howling winds and cold temperatures became the status quo. would become the status quo. Teamwork on a large scale can be difficult, If not nonexistent—however, the well-prepared group did not let me down!
With social media and websites full of off-road driving videos, the off-road driving world has shifted away from blasting through trails blindly in an ill-prepared vehicle, with no idea of what to do or what lies ahead. Welcome the "Overlander", a different type of adventurer-super prepared, highly trained, and ready for anything thrown at them. No sardines in a can as dinner for these guys—try a five-star meal prepared with the very latest in outdoor cooking gadgetry. These folks would dominate the safari this year.
At the Winter Safari, we focused on trail leadership. Before we began any trail riding, the trail leaders would discuss which trails to use based on the driver's experience and current conditions. I would assign a lead vehicle, a mid-convoy support vehicle and another to bring up the rear—each with a comprehensive recovery kit on board. Vehicle placement within each convoy would be vital to a successful and timely trip.
We arranged the vehicles in each convoy based on experience level; the drivers with the least amount of experience would be directly behind one of our crew and the more experienced drivers would be placed in key locations throughout as to be able to assist others. Due to the large number of participants, we elected to divide the group into two, avoiding trail congestion. Staggering the departure times also helped reduce clogging on the trails.
After a first night, meet-and-greet pot luck dinner, we held a drivers meeting to discuss safety, convoy rules, trail etiquette and the challenges on a night run. A twenty-vehicle convoy lined up on the dirt road anxious to hit the trail.
We checked communications, aired down tires, and embarked on what would be a four-hour tour on snow-packed trails, strewn with rocks, frozen mud, and deep ruts. Our late night adventure would double as an impromptu lesson on tree removal and trail repairs. Dale Jackson of Clinton, TN, in his 1963 109" Station Wagon, encountered brake line troubles and George Gonsalves-Raleigh, NC, in a Discovery II, suffered a water pump failure.
The radio buzzed frequently with chatter with what must have sounded like a full-blown space mission to outside ears. Then all these transmissions arrived at once:
"Marshall, there is a large tree blocking the trail."
"Marshall, I'm hearing a loud grinding sound from the front
of my engine."
"Marshall, I lost all my brakes—hold up!"
While the chainsaw hummed at the front of the trail, midway back Dale tackled his brake line issues, and near the end of the convoy, George gathered his gear and jumped into another vehicle for the remainder of the trail. We made it to the top, then turned around and headed back down, picking up the wounded Discovery for a tow back to camp.
After breakfast on Saturday, we held a discussion on the Tread Lightly principles. While some would make the long trip to the nearest auto parts store in an attempt to repair their rigs, the rest would gear up and head out. Saturday's trail was full of steep rocky climbs, deep mud, and water crossings. By this time, the sun was peeking through the clouds and warming us up nicely for a beautiful day on the trail.
By Saturday night, we were ready for a campfire and group dinner, with lots of fireside reflections on the days' rides. The cold gusty winds made wrenching hard, but the weather was taken in stride as hot coffee and cold beverages flowed into thankful off-roaders. The camp was alive with camaraderie and the stories of the past couple of days. People who lived as far away as 1,000 miles apart were no longer strangers; the event had created a brotherhood among those who had attended this weekend.
After a raffle full of awesome goodies from our sponsors (thank you, Rovers North), the group could take the lessons learned on the trails and explore on their own. It was a great and successful event this year with lots of new faces joining many from the years past. ARB USA General Manager Michael Tomsczyk and Steve Springs of Southeast Overland helped answer technical questions of off-road kit. Thanks, too, to the crew and the dedicated volunteers: Robert Smith, Michael Mashburn, Kenneth Chester, Allen Bradley, Clark Guard and George Gonsalves.
So next winter, when you're wondering what to do on a weekend, keep your eyes out for the 8th Winter Safari. We can promise you a good time in your Land Rover.
Story By Marshall Grant
Photography James Morgan
[Marshall Grant, Marion, NC, operates Blue Ridge Expeditions (www.breoffroad.com), which has shared the excitement and enjoyment of off-road adventures with enthusiasts for a decade. His company offers professional off-road training to businesses and agencies, and annually he's organized this fun event in North Carolina. Here's his story of this year's Safari —ed.]