1987 Land Rover County 110
In 1989, Land Rover expanded its lineup to include the new Discovery to accompany its Land Rover 90/110 and Range Rover. With the Discovery poised to enter the US market, Land Rover sought a way to distinguish its new stylish, comfortable model from the public's perception of the utilitarian Land Rovers or premium Range Rover. Thus, in 1990, it created the Defender nameplate.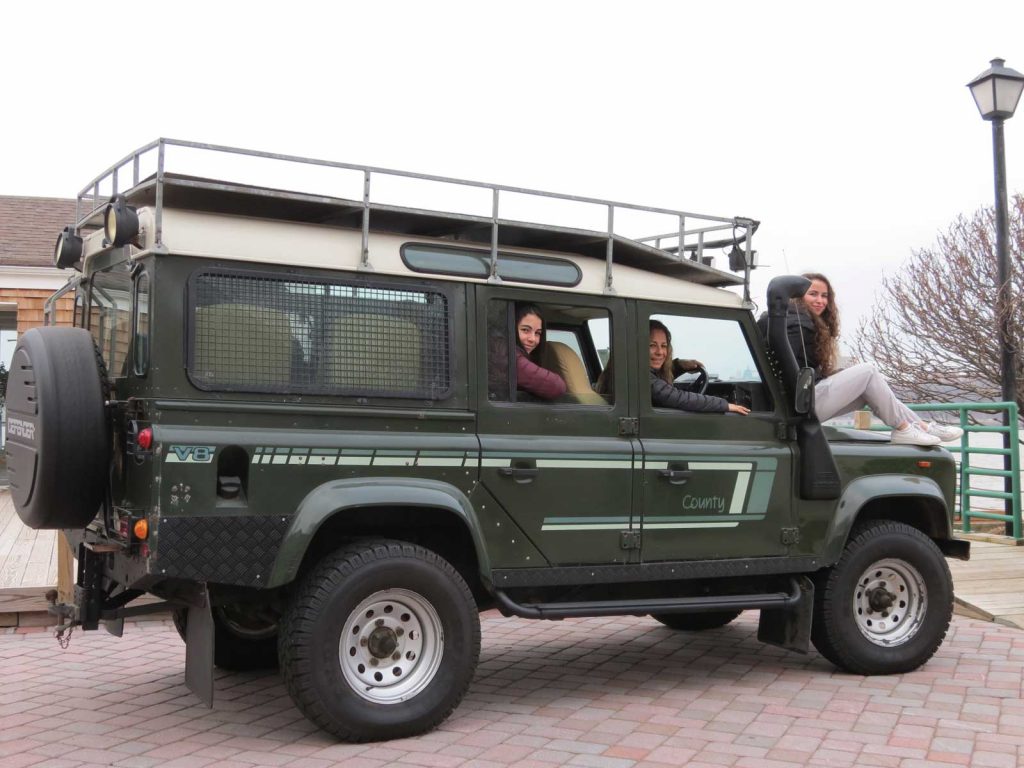 In the UK, Land Rover uses the name "Defender" and assigns it to its ancestral Series I-Series III, 90/110/127/130 models, too. You see this in all of their publicity around the end of Defender production. So it's not surprising that more recent Land Rover enthusiasts use the name "Defender" in the same way. Regardless of what they call it, it's the classic Land Rover we know and love—as you will see in these stories.
Stuart Schorr, Jaguar Land Rover North America's Vice President of Communications, contacted me last fall with an amazing story of Land Rover enthusiasm. It came through, "my daughter's best friend," and as promised, it's quite a story.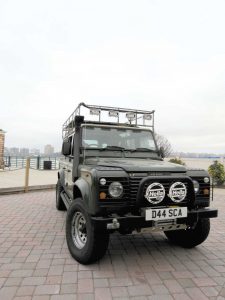 As a child in Iran, Fereidoon Ameri remembered the hunting and off-roading adventures he shared with his father in their 2-door Range Rover. Fereidoon brought that love of the outdoors with him when he immigrated to the US at age 16, to live with his uncle. He married his wife, Shadi, in 1993, and began a long career with Burberry in New York City.
The life-long Anglophile began looking at Land Rovers and bought his first one, a Discovery I, in 1997. Shadi remembers taking their daughters Shaya, age 16, and Darya, age 13, to "Wheels" events when they were toddlers. "Everyone at the event wondered how we could take babies to an off-road event, but they loved it. I remember one event we attended; it was scary crossing ditches and tilting sideways, but the instructors really helped guide us." As for her husband, "he said that off-roading was the best hobby he had outside of soccer."
"He loved the ruggedness of the Discovery and its equipment, and in comparison, its replacement, the LR3, looked like a minivan to him! For a while we retreated and leased a Honda, but we were so unhappy that we bought an LR2. We loved the extra room and vowed that we would never own anything else but a Land Rover."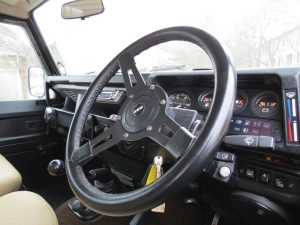 Tragedy struck in 2013, with a diagnosis of cancer and six months of critical care before he could return home for convalescence. Shadi remembers him as, "strong and strong-willed. 'I'm going to find a Defender,'" he said, because he now looked at life differently. I admit I was against it because of his precarious health, but he said 'This is what I have to look forward to,' and I said, 'Go for it!' "
Fereidoon spent "hours and hours online checking out different Land Rovers." He wanted a Land Rover 110 with a V-8 and in the '80s green." "He watched auto shows like Top Gear, and connected with journalist Phil Berg [see Winter, 2015 issue —ed.], who in turn helped him find UK contacts. The one he found online was at a dealer in Cuckfield, Sussex. Before importation to the US, he had the dealer add Exmoor seats, a roof rack, rear step, lamp and window guards and driving lights.
In late January 2014, the family received word that their "Defender" was on a ship bound for Newark, NJ. Fereidoon passed away on February 24, about a week before their Land Rover made it to the USA. It now resides at their home in New Jersey, a vivid reminder of his spirit of adventure. His daughters told their mother, "It's really nice, it's really good! Please don't sell the car. We want to keep it in our father's memory." Shadi admits she's torn. "Searching it out was his therapy. As a single mother with daughters going off the college it doesn't make much sense, but it's very sentimental to us."
1985 Land Rover 110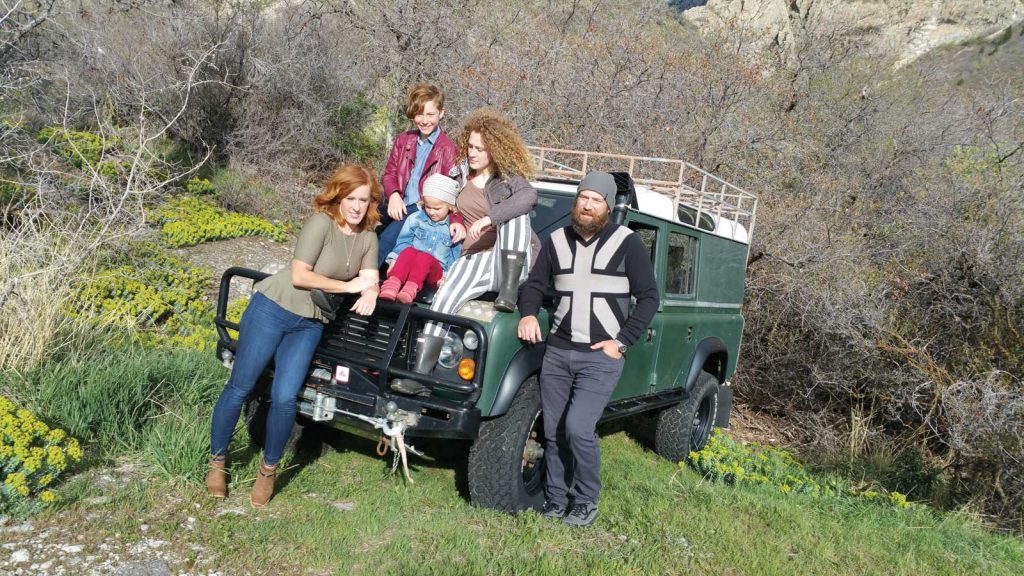 To paraphrase Liam Neeson in Taken, Justin Hill has a "unique set of skills." He established his own company to burnish concrete, using a proprietary chemical, special tools and skills so the finished surface resembles marble. In fact, he's so good at it that the chemical company, Ashford Formula, hired him to manufacture the "densifiy" the concrete.
From his home base in Provo, UT, he would leave his wife Ashley and children Vivian, Aydra and Magnus, and travel the Great Plains on concrete polishing assignments. "In 2014, I was traveling with my crew from North Dakota on my way to Laramie, WY. That's when I saw my first 'Defender,' a 1985 Land Rover 110. I was blown away. While working in Wyoming I would see the occasional Discovery or Range Rover, but to see a Defender, well, that was too much. I couldn't wait to find an excuse to leave the crew and find the owner of that Land Rover."
"I asked around and found the owner, an ex-pat named Dan Morgan, a week and a half later. Over the phone he said that he didn't use it very much so I asked him about selling it. He wanted too much money for my budget, and I was heartbroken. I kept his phone number in my truck, hoping that things might change."
"Then, in January 2015, the 'Coca Cola of the industry' called me and asked me to step into their family-run business. So I sold my polishing equipment and trucks and whoa, I had some equity. I called Dan Morgan to discuss his 110. He's a big, rugged dude, a tall burly guy. He had come to Wyoming to attend a technical school and he used his talents and knowledge to rebuild the drivetrain and suspension. It has a 200Tdi, which came out of a Discovery. The speedometer
cable had broken, but it had at least 165,000 miles accumulated all over the world, from Europe through North Africa.
I already had a 1996 Discovery, kitted-out with a lift kit and lockers, which I ran at Moab often. But the 110 would be a dream for me. We dickered about the price, but even though he was heartbroken to sell, he accepted my offer. It took almost 8 hours to make the trip back to Provo, but I loved every minute."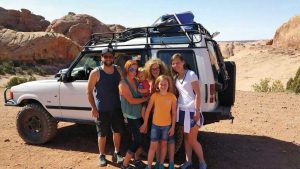 Ashley Hill admitted she wasn't thrilled when Justin said he wanted to buy the 110. "We already had a Discovery and another truck. It's his love, not as much mine. I knew the second he told me about it that he would buy it and bring it home, kind of like a kid finding a dog on the side of the road. We have loved our '95 Discovery. I hope to go off roading as a family with the Defender, as living in Utah, it's easy for us to go up to places like Moab. I knew this was his dream car and Justin told me that wherever he drives it, it puts smiles on peoples' faces and how could he deny the world of that? And it really does. Wherever he goes, whether it be to Sundance Ski Resort, driving around town or having it just parked, people come and ask him questions about it. And when he saw photos of Defenders in Rovers Magazine, he said we should send some in on a whim."
"My photographer buddy Aaron Brimhall asked me to be a part of a photo shoot for an Australian clothing company specializing in motorcycle wear. Our Defender was to be a prop in the background, but after five minutes of me taking them around in the Defender and splashing the mud, he decided that the Rover should be the center of attention!"
If you want to win a bar bet, use the correct nomenclature (remember that the term "Series One" was assigned only when Land Rover created the "Series Two" in 1958). If you just want to have a good time, jump into your "Defender" and smile.
By Jeffrey Aronson