Months in advance, we painstakingly planned our summer vacation to celebrate the 100th anniversary of the US National Parks. My wife Donna is a national parks enthusiast and eager to validate visits with a cancellation stamp in her (national parks) passport. As frequent visitors of national parks and monuments, we've watched and read about historic lodges and had already visited the Ahwahnee in Yosemite, Old Faithful Inn at Yellowstone and El Tovar at the Grand Canyon. How cool would it be to tour, visit and stay in some of Oregon's lodges!
Although Donna had never visited Oregon, 20 years ago I drove up the coast from Northern California to Port Angeles, WA, then south through the Cascades. Growing up in California, I frequently drove across the USA with my family, and backpacked throughout the National Forests of the West. We travelled many highway miles, creating fond memories. With this western trip on the horizon, my desire to drive could not be contained.
Looking to rent something in which to tour and camp in the state, to my delight I found Road Trip Oregon, a rental company specializing in VW Eurovan campers and Land Rovers with rooftop tents! (Camping was always a fun experience in our old Westfalia and a '94 Defender 90 NAS). I emailed the owner, Christopher Emerick, inquiring about the Range Rover HSE L322 in the photos; he promptly replied and we rented it for two weeks. The ability to go anywhere in commanding driving comfort would enhance the trip, especially since we had wanted to stay at some B&Bs, too.
Portland
We flew into Portland and stayed four nights in a Laurelhurst Airbnb; we utilized public transportation and sampled the local restaurants, parks, gardens and farmers market. A few of our favorite eateries were the Swedish, Café Broder, and the retro-styled Byways Café for breakfast, Shigezo Japanese Grill & Bar, and the local favorite, Luc Lac Vietnamese Kitchen for dinner.
Excited to pick up the Range Rover, we arrived early at Portland's White House, the current office of Road Trip Oregon. Chris oriented us to the 121,000 mile, 2003 Range Rover, which came kitted-out with all the camping gear an enthusiast—or even Sasquatch—would ever need. The ARB powered refrigerator would become, literally, the coolest thing ever. The stealthy all-black Range Rover made us feel like SAS agents on a mission and the roof top tent was sure to turn heads.
Oregon Coast
Heading out of Portland on Hwy 30, we drove towards Astoria when a gully-washer rainstorm signaled our locale as the Pacific Northwest. Surprisingly, this was our only encounter with rain, one the Range Rover handled with ease—the command driving position was definitely a plus. First stop, Astoria Column with breathtaking views of the Columbia River all the way to Washington. Next, a stamp at Lewis and Clark National Historic Park, where we watched a Ranger fire off a muzzle-loader—totally cool. We spent the night near Cannon Beach and enjoyed the photo-op of low tide at Haystack Rock the next day.
Driving south, we stumbled upon a Costco right in the middle of nowhere. Immediately upon entering this Warranton, OR store I had a total X-Files moment. The layout was a mirror image of our local Colchester, VT store – how fitting! We wandered over to the fish section and Donna found Dungeness Crabs, a bottle of wine, baguettes and Brie—perfectly complementing our status as Range Rover drivers. Trekking down the cool coast, we couldn't help but notice the abundance of wild blackberries everywhere. Of course, a proper Range Rover tailgate teatime required local berries for dessert. That evening in Newport, we enjoyed a delicious dinner at Local Ocean Seafoods, at the commercial fishing port harbor providing us with a stellar sunset.
Along the way down the Oregon coast, we stopped at Horsfall Beach and tested the Range Rover in some soft sand. Old Bark Road OHV Staging Area provided an engaging deep sand blast—what a hoot! The Range Rover did everything asked of it very well in all conditions, but as it served as our vacation home and rental, I kept out of the hard-core situations. In order to venture off-road into the Oregon National Dunes a sand flag, proper Oregon OHV permit and mounted fire extinguisher are all required; we had none of that. So we satisfied ourselves with just a taste of sandy off-roading.
We cancelled two lodging reservations along the coast to get in additional camping. Winging it, our preferred destination, the Jedediah Smith Redwoods State Park in California, had no space available and the ranger recommended the Panther Flat or Grassy Flat National Forest Campgrounds. We reached them via Highway 199, a twisty road that followed the Smith River. This road must get gnarly in spring runoff—in some locations the road had been reduced to one lane due to washouts. We both thought our 2006 MINI Cooper S would be better suited for this canyon-carving task. Fortunately, the Range Rover worked well at everything; while carving turns wasn't its specialty, I learned to set the weight prior to the turn, and the air suspension did the rest. As an autocrosser of many years, I was really impressed by the Range Rover.
As dusk approached, we pulled into Grassy Flat Campground and unfurled the rooftop tent in a matter of a few minutes. Unstrap, unzip, pull the ladder down, done. Moments after setting it up, a NorCal Sheriff drove through the campground, passed our site and then… stopped. Reverse lights came on (I'm thinking, 'WTH did I do? All black SAS Range Rover with a tent, Oregon license plate, scruffy-looking Vermonter?') He backed up and remarked, "That is the coolest tent I've ever seen! Where did you get that?" The Sheriff (clearly a gearhead) and I chatted a bit, and I mentioned, "Cascadia Vehicle Tents in Bend, OR and it's a king size!" He was impressed.
Rogue River Valley
Up early the next morning, we drove north, back into Oregon, passing through Cave Junction. Donna had something clever up her sleeve for another national park stamp. After refueling with petrol, Dutch Bros. java and a tailgating breakfast, we headed to the Oregon Caves National Monument. If we thought carving alongside through Smith River was exciting, the Range Rover pulled out its Mini Cooper-lineage and really put it to the tarmac. Dropping it in sport mode manual, climbing up a 5,480 ft. elevation, narrow, switchback road, was no sweat. The Oregon Caves would be my first spelunking experience. At the entrance, a Ranger-guided tour prepped us for constant 44 deg temps and low climbing. The caves led us through passages originally limestone that metamorphosed into marble during the geologic processes. This created the Klamath Mountains some 190 million years ago. Afterwards we treated ourselves to scrumptious milkshakes in the 1930's-era Historic Chateau Lodge diner.
This trip gave me the chance to experience the new and relive the old. Who better to reignite my skateboarding, vintage motocross racing and RC car interests than my old friends Sam and Phillip. Sam lives near Grants Pass, OR, with his girlfriend Patty, and Phillip, a master ex-Pro motocross racer since 1976, was flying in from Hawaii. We spent the next several days with Sam, reminiscing while prepping his moto van and race bike, a rare vintage 1974 CZ 250cc, to go flat out at Washougal MX Park where we would meet up the next weekend with Phillip. The first night there we heard the scream of a Mountain Lion. Yup, the next morning confirmed our suspicions. With scat identifications and markings on a large Madrone tree, we decided to stay in during the nights. Located in a beautiful forest setting, with plenty of black tail deer roaming around in the morning, we really enjoyed this region. However, ultra-dry conditions and super-low humidity combined to create a significant fire danger—a very different scenario than Vermont. The buzz of the helicopters taking off with fire buckets dangling below kept us on edge when they flew by. Hard work, lots of sweat and determination made for short work prepping the moto van and race bike. We stayed up every night until midnight gabbing away; it was great to catch up after all these years and we said our goodbyes to the super hosts and headed off to our next exploration.
Cascade Mountain Range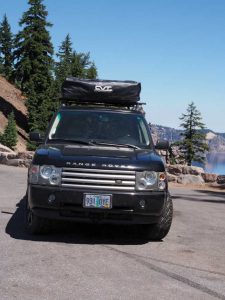 Driving up to Crater Lake, AC set on low, the Range Rover's supple leather seats provided a comfy relaxing experience. This was a much-needed respite after the binge-wrenching session of the prior four days. We lucked out on securing a reservation at Crater Lake Lodge, as it's most often booked a year in advance during peak season. From our lake-view room we enjoyed a magnificent view of the deepest blue lake we've ever seen. Donna and I know blue lakes—we used to live at Lake Tahoe. Crater Lake is just an amazing crown jewel in our great country. With its steep cliffs and limited access, it's wonderful to think that it will remain unspoiled and be protected. Crater Lake Lodge was equally beautiful, a gem of a vintage historic lodge. Located at 7,100 ft elevation, the dusty trails and 20-ft. high snow stakes reminded me of high altitude winters. The local squirrels and chipmunks were full of pep and eager for photos.
The next night found us in another high-altitude location, Paulina Lake, east of La Pine, OR. Located at 6,364 ft., this area features Rainbow Trout and Kokanee Salmon fishing. We camped in a National Forest Service site right at the lake; that evening I filmed a friendly little mink at the water's edge. While we were kicking back and watching the sunset, a fellow camper strolled by and proclaimed, "Look at you guys , living the 'Life of Riley!'" Moments later I spotted another forest fire that mushroomed into a full-blown conflagration. That night, an on-edge feeling of the forest fire, smoke and a full moon, kept us up tossing and turning. We woke to a crisp, 46-degree morning, and no big forest fire cloud, thank goodness. Continuing our trek northward, we needed to be in Bend, OR, that night. On the way, we had a full breakfast at Café Sintra in Sunriver.
I loaded up with coffee and a scrumptious crepé-wrapped omelet and fruit bowl—highly recommended local spot! We spent the next three hours enjoying the High Desert Museum, which we loved. Venturing into Bend, with dry mouths and 98-degree heat, we cooled off with samples of beer at Deschutes Factory Brewery—I have a soft spot for the Black Butte Porter. We continued sampling local brews when we met up with my niece at the Bend Brewfest later that night. The third and final historic lodge on our trip was lunch at Timberline Lodge on Mt. Hood ski resort. Sporting my vintage style of skiing, this National Historic Landmark was another must see spot. There were guys still booting up in the parking lot to ski Palmer glacier. It was definitely different climbing up a volcano in the Range Rover, even if on tarmac. Our buffet lunch in the Cascade room, with the roast pork and pear bacon demi-glace, was the tastiest meal on the tour.
Ship's Mechanical Services, Portland OR
On our last day, before our red-eye out of PDX, we paid a visit to Ship's Mechanical Services. We couldn't leave the PacNW without meeting Doug Shipman and his son Neal who operate this storied Land Rover shop. Clearly a Land Rover enthusiast to the max, his shop had rare parts everywhere. We discussed the Land Rover community, off-road competition and the wide variety of the service work on site. Neal was working on a Discovery II, carefully replacing the camshaft on the 4.0 liter V8. I spotted an early 2-Door Range Rover outside and we chatted about the complete line up of other Range Rover Classics. Several Series Land Rovers also caught my eye, including his personal Series hybrid, a coil sprung, 3.9 Litre V8 aptly named "Old Blue". Doug shared an article about "The Lock-Less Monster", extolling how well his open differential Series Land Rover handled the famous Golden Crack at Moab.
Doug Shipman offered us a ride in a Range Rover to the Grotto with its famous gardens and grounds. I smiled and said, "It would be nice to catch a ride in your Series". He immediately agreed and off we went for a proper send off in a Land Rover back to Vermont.
Washougal MX Park – 2016 NW Challenge vintage motocross race
Our vacation included a reunion at Washougal MX Park for the NW Challenge Vintage Motocross races. Call me nuts, but I love the smell and sounds of two-stroke motocross bikes. It was certainly entertaining to watch and photograph Phillip jumping the CZ and blasting the berms earning him a place on the podium! More guts than glory, vintage motocross racing is for the guys that have been in it for the long haul. Entered in 250cc Vintage Expert, Phillip finished second overall on Saturday and third overall Sunday.
Our two weeks were up and we reluctantly had to return the Range Rover. Longtime Land Rover enthusiasts might pitch a fit, but our ride for two weeks never skipped a beat. From wild desert highway heat to twisty canyon curves, the L322 excelled in all situations. Our last evening at Portland's White House B&B, was a fitting end to a royal tour of Oregon in the Range Rover.
[To rent a Land Rover in Oregon visit www.roadtriporegon.com —ed.]
Additional Images:
Story and photography by
Thompson Smith and Donna Renaud