Land Rover enthusiasts mourn the loss of the Defender, the spiritual heir of the Series I–III and the Land Rover 90/110 and its variants. The lack of required safety features forced its exit from the US market with the '97 models, and more recently, stricter emissions and safety standards did the same in the UK and Europe. The "new" Defender will have to meet not only safety and emissions regulations and statutes, but also changing driver expectations.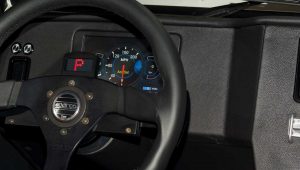 Driving the last NAS version of a Defender reminds you that a vehicle designed in the 1940s and "updated" in the 1980s might not be ready for prime time in the 21st century. Even the cheapest grocery-getter incorporates modern communication technology. The now-standard back up cameras, lane detection systems, adaptive cruise control, fascia screens, connectivity and entertainment systems — all these features of contemporary vehicles must be weatherproof and off-road proof on a Defender.
As is often the case, the way forward is being led by enthusiasts; in this case, an anonymous owner and Steve Valenti of Valenti Classics, Franklin, WI. His quarter-century of classic car experience finally included a Defender when the owner challenged Steve and his team to upgrade his '97 NAS Defender.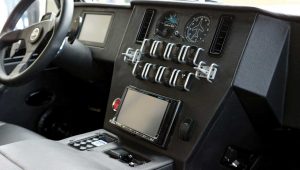 The customer agreed to a phone interview. Born and raised in Wisconsin (a devoted Green Bay Packers fan), he and his wife enjoyed raising three children and now, enjoy time with their grandchildren [who will undoubtedly fight over this Defender -ed.] He's a car guy, familiar with Land Rovers through his ownership of multiple Range Rovers, and also a Porsche and Audi fan. "The Defender is the only off-road vehicle I own," he told me. "I really appreciate the technology inherent in contemporary cars and wondered as to whether it could be incorporated into my Defender."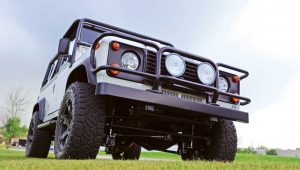 Why a Defender? "The true answer is because I already owned it. I bought it in 2008, after looking at ICON 4x4s and classic Ford Broncos, as I wanted a vehicle with a special look. As a Range Rover enthusiast, I appreciated Land Rovers. The Defender came stock with the 4.0L engine and the automatic transmission. I removed the hardtop and purchased a Bimini top, but I found it slow for highway driving and wondered about whether it could be engineered for contemporary driving."
"I've bought enough new cars to really enjoy the modern conveniences — entertainment, connectivity, GPS, navigation. The '97 was basic; I wanted something safer and more comfortable, with a better ride, upgraded heat and air conditioning — and no leaks! I wanted the interior to resemble an airplane cockpit. The engine didn't have the punch I wanted for highway driving. I liked the idea of these upgrades, but I wanted the end result to look like it came that way from the factory."
"Valenti Classics was referred to me by a friend. They had a great reputation of modifying cars for speed and handling, which is what I wanted for the Defender. I also preferred to be able to see the car, so I chose a more local shop."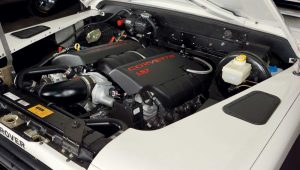 Steve Valenti accepted the challenge, which between engineering, execution and builds, took about one and a half years. His company employs 14 people, and nearly everyone had a hand, but he credits Matt White, Falcon Castel (electronics) and Jeremy Aiken (fabrication) with key skills. "We lucked out in that the body and frame were in great shape. We could concentrate on engineering and designing the custom work so it would look like a factory build."
Out came the original engine, replaced by a 480 hp LS3 Corvette engine, a GM Performance "Connect and Cruise" package. They mated it to a GM 6L80E 6-speed automatic transmission, with Zero Gravity transfer case and paddle shifters. Power gets delivered through Currie Enterprises axle housings and differentials, which also allow for even better off-road articulation.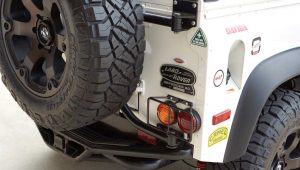 Handling that much power safely demanded a custom four-link rear suspension and the used of Super Shop adjustable coil-over shocks and front/rear torsion bar sway bars. Equally importantly, stopping the Defender called for larger brakes, in this case Wilwood disc brakes all around. It rides on 18-inch wheels with Nitto Ridge Grappler tires.
The interior received numerous upgrades, requiring a custom wiring harness. Features include a kill switch, push button start, LED lighting inside and high intensity headlights outside, a custom entertainment setup with Bluetooth integration, and a full security system. A Sparco steering wheel adds a flourish and a modern climate control system will make it more comfortable. The top grain leather interior incorporates a one-off dash with avionic instrumentation, console, custom door panels, reupholstered seats that once graced a BMW — even power operated cowl vents!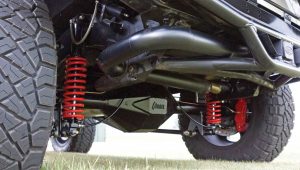 Steve noted, "We built to appear as though it was a factory build. Hand-building this Defender allowed us to fine-tune it. Once it was completed, I got to test everything out. We were tweaking as we went, and I got to road test everything. I really enjoyed the behind the wheel time."
The owner sounded equally pleased with the experience. "The staff Steve had working at his shop were brilliant in explaining the basis for the engineering decisions to me. I'm not a mechanical guy, but they made certain I understood all their design work. I am very excited with the result and look forward to enjoying driving it for many years to come!"
By Jeffrey Aronson