[David Short, Sterling, VA, is a Fire Department Captain and an emergency management consultant. A Rovers Magazine contributor and avid enthusiast, David also serves the Rover Owners of Virginia as coordinator of their Mid Atlantic Rally -ed.]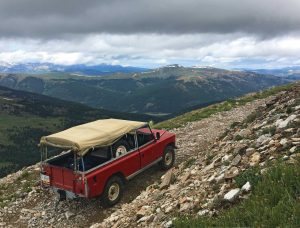 Nothing about owning an old Land Rover is easy, so why should getting to the Solihull Society's National Rally last July be different?
I believe every Land Rover story must begin with an epic road trip. I live in Northern Virginia, amidst an active Land Rover community (Rover Owners of Virginia), rich with colorful personalities and miles of scenic, challenging trails. Still, a few friends and I determined that we should expand our Land Rover horizons and try out this "National Rally thing" we've heard so much about.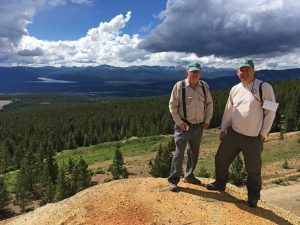 I blame all of this on Mike Boggs, a stalwart fixture in the Virginia Land Rover community for over two decades. Over the past few years, good fortune smiled and allowed him to build a second home near Ouray, CO. He has been slowly constructing his house and enjoying the off-road adventures high up in the Rocky Mountains. During return trips to Virginia, he would entertain us flat-landers with enthralling stories and amazing photographs.
This past July, two of us took the bait and decided to join him out in Colorado for the 2017 National Rally. Bob Steele started his trip in Richmond, VA. He loaded up his '95 Range Rover Classic on a trailer and headed west. His plan was to meet family and friends in Denver and bring them along to the rally. My trip started in Sterling, VA, just outside of Washington, DC. I specialize in complicating life, so my trip began with borrowing a car trailer from a friend and then towing the empty trailer behind my '80 Series III 109" V8 Stage One 230 miles to Roanoke to meet my dad and his full-size pickup truck. Together, we would leave from Roanoke with my Land Rover now on the trailer — about one half day behind Bob — and begin our 1,700-mile journey to Leadville, CO, the site of this year's National Rally.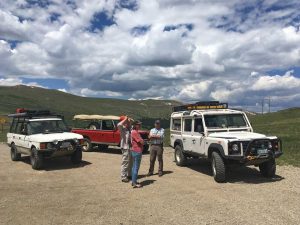 We arrived three days and 425 miles of Kansas driving later. Mike Boggs had already enjoyed the high mountain back roads on his journey from Ouray to Leadville. Mike's 1993 Defender 110 completed our three-Land Rover caravan and we all headed to the registration site at Colorado Mountain College.
The Land Rover National Rally started in 1989, the brainchild of Bill Davis, Salt Lake City, UT. The event consisted of two Rovers and two attendees. From this modest beginning, the event grew quickly and reached 70 Land Rovers in 1990. That year, Rovers North started its long sponsorship of this event; Mark Letorney remembers bringing his family, two employees and two Land Rovers from Vermont to enjoy the event.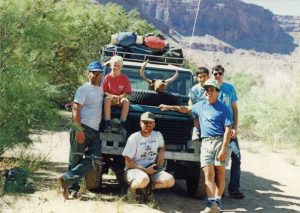 In 1992, Bill Davis turned over the management of the Rally to the Solihull Society to coincide with the introduction of the NAS Defender 110 to the North American market. This first Solihull Society National Land Rover Rally was held in Ouray and Telluride, CO; since then, the rally location has alternated between Moab, UT and various locations in CO, such as Breckenridge, Montrose and Grand Junction.
The attendees reinforced the "national" nature of a National Rally. The 106 enthusiasts registered included states as far-flung as California and Alabama, Washington to North Carolina (even from the UK!) Diehards drove their Series Land Rovers and I enjoyed the nice turnout of Defender 90s and 110s. Discovery 1s – LR4s predominated and a handful of Range Rovers tackled the trails.
This year's venue of Leadville, CO felt ideal, especially for those of us that live a lot closer to sea level. The high mountain vistas and cool weather provided a refreshing change from the sweltering heat of midsummer in Virginia. I would say it was a "breath of fresh air" — but it wasn't enough.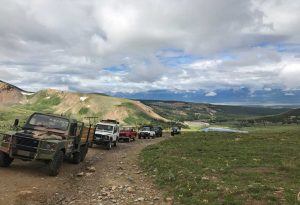 The thin air, starting at 10,000 feet, required a few days of acclimation for us sea-level folks, as well as some of our Land Rovers. Modern Land Rovers, with their computer-controlled fuel injection, complained a bit, but not as much as my Stone Age 3.5 liter V8, with its 4 barrel Edelbrock carburetor. I came prepared though and brought every carburetor tool, jet, and needle I could scrounge from my garage. In the end, I decided not to make any adjustments. Even though my truck started a little harder and was significantly down on power, I was still able to drive everywhere that everyone else did. Ah, the places we would drive…
Most of the trails associated with the Leadville venue started as old mining roads that crisscross the mountainous landscape. Many started off as dirt or gravel roads, but deteriorated to narrow tracks as they progressed higher up in the mountain. The greater elevations also brought large rocks, tight switch backs, and even patches of snow, but they rewarded me with some of the most dramatic views I have seen.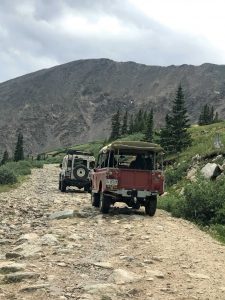 Playing in the snow in late July is an amusing marvel unto itself, but the snow we found presented us with a serious challenge. On Mosquito Pass, just over the 13,000-foot peak, lay a lazy switchback nestled up in a shady nook of the mountain. The winter snows had still not retreated, leaving a two-hundred-foot section of trail blocked by a few feet of snow — with the added gulp-factor of a significant downslope camber.
Our group of rally participants decided we would all pitch in to shovel a track through this patch of snow and open the road back up. I had shoveled enough snow from winter storms in Virginia to recognize the potential amount of work. When added in the lack of oxygen at this altitude, the struggle turned almost comical. Each of us could shovel just a few minutes before we felt completely winded. We would pass the shovel off to the next person in line and they would give it a go. One of Bob's family members had purchased a can of oxygen from one of the tourist shops in town and quickly drained it. Despite our pathetic labors, we did manage to clear a set of tracks.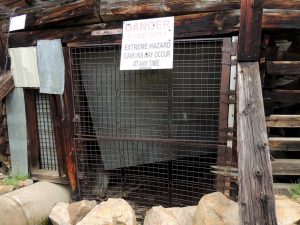 Our trail leader was the first to attempt the pass. His truck was an ex-MOD Australian Perentie 6×6. Not surprisingly, he made it through without much trouble at all. The next few trucks, Range Rovers and Defenders stayed in the tracks through driving skill, inherent vehicle capabilities and careful spotting. Bored with things going so well, I stepped up and had my turn.
My Stage One has similar axles to the Series Land Rover. That means that they track a little bit narrower than the newer coil sprung models. As such, I could get one tire down low in the track while the other made its own way on top of the deep snow. My 109" also has the benefit of a Detroit locking differential in the rear. The slope of my Rover half in the cleared track and half out, the slope of the trail, and the bit of side-slip that a locked rear end gives you on off camber snow really elevated the excitement level.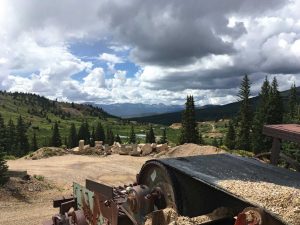 This little adventure differed from most of my experiences running trails in the thick forests and brush of Virginia. There, if I encounter a traction problem, a stalwart tree will surely put a stop to any runaway truck. Here, high above the tree line at the top of Mosquito Pass, there was not anything higher or stronger than a blade of grass. Added to that were the spectacular views provided by dramatic nearly thousand-foot drops. The more my little Rover side-slipped toward the edge of the trail, the more I knew this was about to get more serious than I bargained for. It was time to get a rope.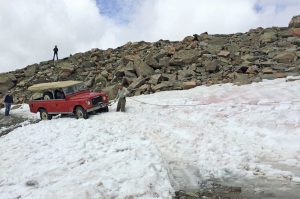 Our recovery setup involved a Pull Pal buried in the snow, a change of direction pulley, and another truck with a winch firmly blocked in place, with rocks around the tires. I could slowly make my way across the snowy patch as the winch rope steadily captured my progress. It took a few minutes, but it worked out well in the end and all our trucks were back to trails in no time.
As a small footnote to this recovery, we were met by a lone traveler who happened upon our stalled party at the snowy pass. He was in a modified Jeep. He made his attempt to pass through the snow immediately after I did and he too found himself in need of a little help from our rope. It is always nice for a Rover to recover a Jeep and I did not feel so bad about my truck after that, either.

The week in Leadville helped create a memorable week. Although its mining fame diminished, the topography rewarded us with cool summer temperatures and spectacular views high above the tree line. Located at the head of the Arkansas River, Leadville is surrounded by several mountains with peaks stretching up past 14,000 feet in elevation. These mountains remain crisscrossed with dirt roads and old mining trails, making them perfect destinations for a Land Rover owner.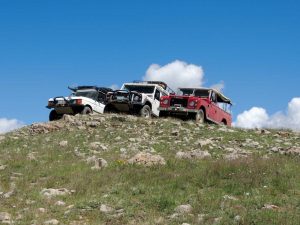 We met the Mayor and learned a lot about pioneer mining boom towns. The Solihull Society created a vendor day that exposed us to some of the latest gadgets and camping accessories and learned a lot about Colorado's "Stay the Trail" initiative (www.staythetrail.org). The Solihull Society's National Rally should be on every enthusiast's calendar; I commend the officers and organizers whose volunteer efforts created another terrific event. We traveled countless miles across breathtaking mountain passes and past abandoned silver mines. We also met a bunch of nice like-minded Rover enthusiasts who lived half a country apart, but were essentially just like us — they could just breath better at altitude.
By David Short