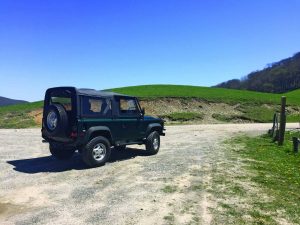 Thanks to reader Bill Johnson, Macomb, IL, we discovered that automotive journalist Ezra Dyer [Automobile, Car and Driver, Popular Mechanics] found himself in a Defender 90 unplugged, using paper maps and requesting directions, instead of a GPS or app. He noted that his navigation skills made a 558-mile trip from Louisville, KY, to Southern Pines, NC, into a 657-mile excursion, but he loved the experience. We had to know more, so we tracked him down for an interview.
To our delight, Ezra grew up in Jefferson, ME, and while a student at Colby College [Class of '99], ran the very trails still used in the Maine Winter Romp.  His new home town ["No more Maine winters for me!"] houses many Land Rovers. "I find Land Rover owners to be funny about reliability. They have different standards," he noted wryly.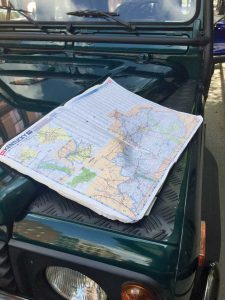 For this adventure, his '97 Defender came courtesy of friend Bryan Rood, the founder of Classic Broncos, Powell, OH. When the planned loaner Bronco wasn't ready, Bryan offered his 25,000-mile, '97 Defender instead. For Dyer, who owns a '93 Bronco with a 7.3L diesel and a 5-speed, the experience in the Defender was joyful.
"This Defender was flawless," Dyer said, "but with the sliding windows and canvas top, it felt like it was from a different era than my Bronco. The ride and handling — such as it was — wasn't bad or awkward. I did notice that while the engine made the right V8 noises, and the transmission shift points were perfect, it still felt similar to my 4.0L Cherokee in its day. The Defender was a great place in which to spend hours lost. Everywhere I went it was an ice-breaker. People loved seeing it."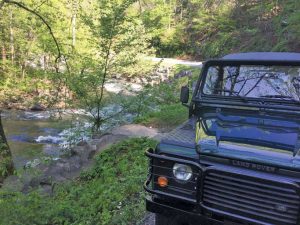 In a weird twist, Bryan Rood, a premier restorer of 1966-77 Ford Broncos, happens to be an avid Land Rover enthusiast. "When I was in college at Miami University [OH], my buddy and I set up a taxi service using '97-'99 Discoverys. My first new car was an '04 Discovery II, a sweet, sweet ride!" Bryan found his Defender at a Pennsylvania auto auction, one that a dealer took in trade. It's the right year and color, and even has its original Tickford top and the optional fiberglass hardtop.
His wife, Debbie, who's "not a car person," loves her '15 Range Rover Supercharged, adores driving the Defender and "wants one to drive for the rest of her life."
Enjoy Ezra Dyer's adventure at: http://www.popularmechanics.com/cars/a27372/road-trip-no-gps
See Bryan Rood's company at: http://www.classicfordbroncos.com