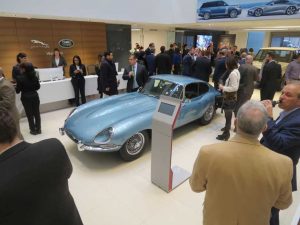 The press days of the New York International Auto Show provided Jaguar Land Rover the perfect opportunity to debut not only their newest Range Rover, the SV Coupe, but also their new US headquarters building in Mahwah, NJ.
I don't live or work around large office buildings, so it's quite possible this new structure would elicit only a yawn from those readers who enter a monolith and toil there daily. After all, when you've seen one office building, you've seen them all. However, how many feature an '88 Range Rover Classic and a Series I Jaguar XKE Coupe in the lobby?
Jaguar Land Rover had occupied their previous building in Mahwah, NJ, in 1989. Construction began on renovating and customizing this new headquarters in 2016. The new, larger, 144,000-square foot building includes product research, training and development centers, as well as substantially more space for daily toil than their previous headquarters. Appropriately, the new address of the 12-acre parcel is 100 Jaguar Land Rover Way.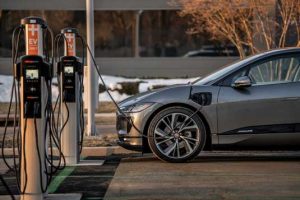 From the exterior, the building carries forward the ARCH Concept theme that JRL requires of its dealerships. One glass-fronted wing features the current model line up of Land Rovers and Jaguars, as well as room for more heritage vehicles. This wing is easily visible to commuters and travelers progressing to and from New York City on I-287.
Hundreds of JLR executives, journalists from all media, area dealer principals and brand loyalists joined in the unveiling of the new premises during the press days of the New York Auto Show. Presentations of the new Range Rover SV Coupe and the new Jaguar I-PACE took place with the appropriate ceremony, and then came a building tour. The next morning, I had to opportunity to speak with JLR executives about the evolution of the marque.
Land Rover still extols the three families of vehicles — Range Rover, Discovery and Defender — that comprise the marque. Over the past decade, we've seen the creation of the Range Rover Evoque, Velar, and a variety of full size Range Rovers. We've also watched the growth of the Discovery lineup between the Sport and the New Discovery. As automakers are in the business of, well, selling vehicles, Land Rover sales have increased annually at a healthy clip.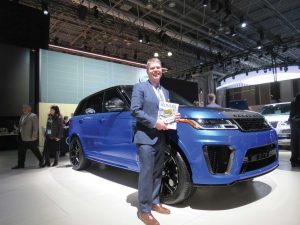 Enthusiasts keep pining for the third family member, the Defender. Dave Larsen, JLR's Planning Project Director, insisted that Land Rover has not abandoned its "brand commitment to 'above and beyond'". No surprise that he remained quiet when prodded for details. Dave stated, "We care absolutely about the Land Rover enthusiast. We are going to bring a new model that will offer everything the previous Defender did, but with a modern interpretation." Nathan Hoyt, JLR Product Communications Manager, said, "We want enthusiasts to know that the fact that the Defender is coming to the US market is a tribute to their passion."
Dave Larsen believes, "If I can get anyone into a New Discovery, a newcomer to the Discovery or a died-in-the-wool enthusiast, behind the wheel off-road, they will bleed green. It carries the brand values in a vehicle meant for families and their adventures."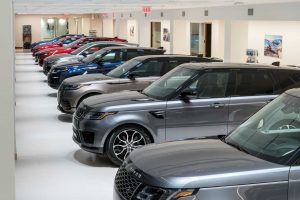 He paused for a moment when I asked him to name his favorite Land Rover, and responded, "It's the Range Rover Sport. I'm partial to V-8's. I went up to the Windham Mountain Ski Resort, after a 24-30-inch nor'easter. I raised the air suspension and then drove uphill to our house with its 200-foot long driveway. The snow had drifted, but I was blown away by the way it conquered that drive. The snow flying out of the wheel wells, the V-8 roar, the performance and refinement — it's my all-star choice.
Ex-pat Simon Turner, JLRNA's Land Rover Product Manager, a genuine enthusiast, reflected, "We're trying to be true to the nature of the brand — not deviate from its overall mission, where it originated from, in a very modern way. For many Land Rover owners, they're buying into the confidence that the equipment will have the capabilities to help them accomplish their goals."
The new headquarters will host 70th anniversary events that will celebrate Land Rover's heritage. We're counting on the enthusiasts who work at JLR to keep the marque true to its marque values.
Land Rover Fairfield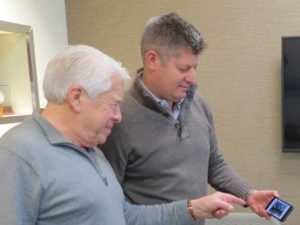 Ryan Ambrifi, Westport, CT, a principal and General Manager of Land Rover Fairfield, should win Father of The Year. As his children prepare to take their drivers license tests, he's bought them a '79 Alfa Romeo Spider as their project car.
He's already prepped them for the automotive life by owning a '94 Coniston Green Defender 90 [#499], and a '97 Defender 110, as well as a '95 Avalon Blue Range Rover LWB. I wanted him to adopt me on the spot. He felt it necessary to apologize for "thinning out his fleet." Each vehicle had a terrific story behind its purchase, and he made it clear that parting with other Land Rovers was not sweet sorrow.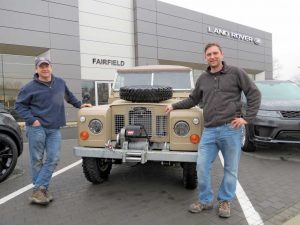 Ryan began his work in the automotive world in 1999 with a position in Jaguar's corporate marketing department. By 2004 he moved to the Land Rover dealership then in Milford, CT, and now, in its new ARCH concept building in Fairfield.
What's fortunate for enthusiasts is that Ryan and his team really know their Land Rovers and feel strongly about the marque. Land Rover Fairfield just made the move from Milford to Fairfield with the completion of the building, and Ryan sounded apologetic about the delay in creating an off road day for new and previous customers.He's working on preparing the location and the instructor/marshals for the event.
That affection for the Green Oval emanated from ex-pat General Manager Ted Pawlina, Operations Director Moya Singh, Service Foreman Ted Orazieti, Sale Managaer Chris Kinney, and Sales Guide Emily Zerbst, an absolute auto enthusiast who first drew my attention to the dealership. I knew already that Connecticut has a phalanx of enthusiasts, but it takes a real anorak like Ryan to know about the state's former Land Rover clubs!