Like a proper debutante, the Range Rover SV Coupe was presented at two posh events — one, the housewarming at the new Jaguar Land Rover North America headquarters building in Mahwah, New Jersey, and next, at the Land Rover exhibit at the New York International Auto Show, both last March.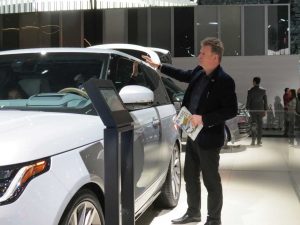 The SV Coupe returns the Range Rover to its beginnings as a two-door, although I don't think you can order rubber mats for the interior. However, as befits a bespoke, handcrafted vehicle, you can order up cabin accoutrements in a vast array of leathers, wood trims (including one created especially for the Coupe), interior color and texture choices, and custom exterior "Liquescense", or a wide range of more unique or conventional finishes. Given all the options available to the customer, it's unlikely that you'll see one just like yours. Should you have the $295,000 required to order one, you'll have to get in line as Special Vehicle Operations will produce only 999 for the 169 Land Rover markets worldwide. The teams at the Special Vehicles Operations Technical Center will design and build each SV Coupe to the customer's specifications.
I don't think we'll see many at off-road events, but the SV Coupe will arrive at the event faster than any existing Land Rover. It's the fastest-ever Range Rover, with a 5.0 liter, 557 hp, 516 ft. lbs. torque engine, with a top speed of 165 mph and 0-60 in 5.0 seconds. Should you be towing a camper to the event, just keep its weight below the 7,716-lb. towing capacity. Off-road, it's still a Range Rover, with a 3-foot wading depth, extra ground clearance height when sensing an obstacle, 31-degree approach and 25-degree departure angles. It has the same 8-speed ZF transmission, 2-speed transfer case and Terrain Response 2 features for amazing off-road capabilities. The 22" or 23" wheel and tire combinations might not accommodate off-road needs very well, but they do set off the vehicle nicely.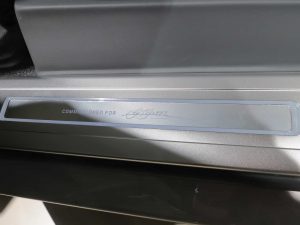 The SV Coupe shared the top billing at this year's New York International Auto Show with the all-electric Jaguar I-PACE. There, I met up with a member of the engineering team that created the Coupe, Andy Wheel. His impressive title — "Chief Designer, Production Exterior" — masked his very engaging nature.
"As a kid, around 1975-76, we moved as a family to Oman. At that time, the ruling Sheik had just opened up the country to the 20th century. My dad, a civil engineer, sent me to an English school in Muscat. We had a mint green Series III 109" station wagon, the 12-seater. It would get us from our housing compound to the school every day over a very rough road. On the Muslim weekends, Thursday-Friday, we would head off the interior in groups of two to three Land Rovers, for exploration and picnics. Someone owned a landing craft boat that would take us along the shoreline to different spots, pull up onto the beach, lower a ramp, and away we would go. That's where I learned to drive a Land Rover at age 8!"
Andy would return to England and graduate from Coventry University's Industrial Design Program and then attend the Royal College of Art's Design University "as a finishing school." Gerry McGovern engaged him to work on the second refresh of the MGF sports car, and then brought him to work at Land Rover. His first Land Rover assignment was the Freelander I body kit. Andy recounted, "Gerry McGovern got me into Land Rover and I found myself working on the Evoque. It really was a striking achievement as there were so many things working against it. It was a new segment of the market, and not just for Land Rover. We were planning and creating it during the unknowns of the financial market's turmoil in 2008-09, as well as coming into new corporate ownership. And while it had every capability of every Land Rover, it was driven by its design for a new urban market customer. Unusual for a new type of vehicle, its final design came very close to that of the prototypes."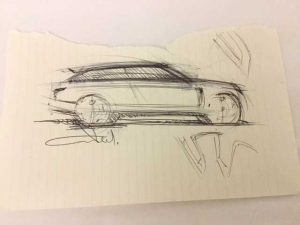 Andy led a team of 13 designers and engineers, part of a larger group of 25, which created the elegant and timeless appearance of the Coupe. You can tell instantly that it's a Range Rover, but the body shares only the bonnet and the lower tailgate in common with the full-sized Range Rover. The panel gaps that came standard with the first Range Rovers in 1970 have disappeared over the decades; on this one, the side body pressings extend nearly the entire length of the Coupe. Andy explained, "The monoside starts under the front fender and it runs the whole side of the car, granting us absolute precision and fit. With this model, the expectation for craftsmanship is that much higher. People have been customizing them for a long time — now it was out turn."
I asked Andy about his career to date with Land Rover. "I've been lucky that I've been involved with the mass production cars. It involves me and my smaller team with so many other teams doing remarkable things. I've been a part of so many new disciplines entering the industry. We work with software and gaming professionals, providing studio support for our engineers. They help us make our designs come to life much quicker and more effectively."
"Our challenge is always not to suffer 'death by a thousand cuts.' We're not asked to compromise, but to balance our preferences with those of other departments. No one loses this way — we're all pushing each other as we work together."
From interviewing Andy, I learned that designers do have a sense of humor as well as artistic skills. Andy demonstrated the former by letting me in on the nonsensical names they give to certain traits of each vehicle before the marketing team assigns it their name; for example, the front light pods on the Evoque were known as "The Two Ronnies", after the British comedy team's spectacles. As for artistic talent, the fact he could sketch the Coupe on a piece of notebook paper in the time it would take me to trace a quarter to represent the wheels — well, it was humbling.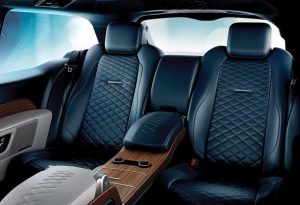 When asked to name his favorite Land Rover, Andy blurted out, "Oh, blimey! That's like asking me which kid I love the best. One would have to be the Range Rover Classic. The purity of its design and its modernist architecture carries forward to this day. But I also have a soft spot for the Discovery 3/LR3. It was the first project that I carried through from start to finish. A huge buzz for a designer is when you see your project on the road. In New York in 2004, I saw one at the Museum of Modern Art. Soon after, I drove in another Land Rover and got to see my LR3 on a drive around Central Park. It felt like unleashing a lion cub back into the wild."
Paul Owen, Design Communication Manager at JLR UK, joined us during the interview. He noted, "We have a clear understanding that the SV Coupe is not a 'flagship' for Range Rover, but an addition to the family. The SV Coupe fulfills a different role — exclusivity and bespoke design. You and I will likely never see one in person. Existing customers were telling us that there was a demand for a vehicle of this uniqueness. It complements the family rather than heads the family. Yes, we wanted it to be glamorous, but it retains a driver's focus. The two-door was unique for us. It's about emotion, but it's still a Range Rover, with all of its capability."