In the movie, Ferris Bueller needed a break from school, so he hijacked a '61 Ferrari GT350 California and took his friends on a joy ride. "It's your father's fault he didn't lock the garage," Bueller told his buddy.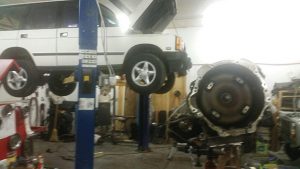 Harrison Preston, Hendersonville, TN, grew up in a Land Rover family and wanted a Range Rover Classic of his own. Rather than buy him one, his father, Scott Preston, told him to "start saving and let's build one." But not just any one — Harrison determined that his Range Rover Classic would have to be a '95 soft dash with a diesel engine (preferably a 300 Tdi) and a 5-speed transmission.
Four years ago, Harrison began squirreling away savings from summer jobs like lawn mowing, and with the help and guidance of his father, Scott, searching out donor vehicles. From Gerald Ruderman in Canada came a Range Rover with the requisite engine, but so crusty that his mother, Elly, named it "Tetanus." A Land Rover friend spotted a donor body at a junkyard in Cooksville, TN. Harrison and Scott started to sell off parts from their donor vehicles to secure the necessary funds and pieces to create this unique Range Rover. A Discovery I donated an R380 transmission, and they procured a LT 230 transfer case. Enthusiasts in the Land Rover community — Charlie Haigh, Eric Riston, Kelly Graham, Chris Robinson, and Dale Kneep, among others — helped with technical guidance, parts searches and hands-on training for Harrison.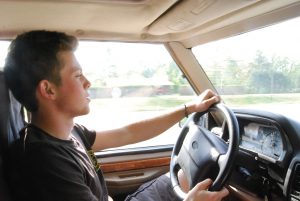 As Scott recounted, "Harrison had the opportunity to graduate early from high school. He aspires to be a mechanic and took an automotive internship at a Nashville German car performance shop. We knew that you couldn't just build the Land Rover, you needed to do something with it. A road trip seemed the perfect answer. After several talks, we figured that spring was the perfect time. But where to go?"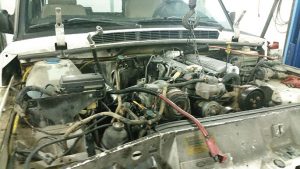 Although born and raised in New England, Scott often enjoyed his Land Rover adventures in the southwest and started to formulate an itinerary. Doug Lawyer, president of the Arizona Land Rover Club, enticed the Preston's with a planned trek last April through the red rocks of the Moab, UT region. With that adventure as their goal, Harrison upped his efforts to complete the Range Rover on time. It would successfully have to complete a two-week, eight-state and 4,000 mile off-road and highway journey.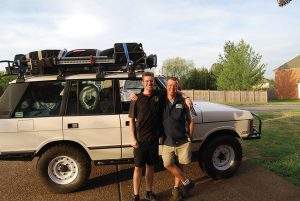 It started in April with a 9-hour, 600-mile drive from their home to Gilmer, TX, the site of the annual Texas Rovers SCARR event. Harrison picked up the story from there.
"Once we arrived at SCARR we were amazed at two things: how cold it was and how much swag we received when we registered —  a Yeti 32oz. container and a free case of Shell Rotella oil!! SCARR was a blast and we spent the next day exploring trails and giving the Range Rover its first real off-road shakedown. It was really crazy how well it drove off-road!"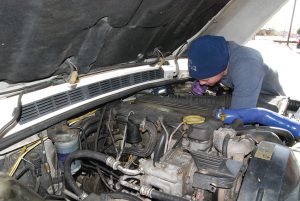 "After SCARR, my dad and I hit Twisted Root in Deep Ellum for some huge burgers. While in the Big D area he used Road Side America to get us to the Giant Bowler Hat, figuring it would be the perfect fit driving a Range Rover Classic. The next two days included more fun roadside attractions, like the famous Cadillac Ranch. Outside Albuquerque, NM, we saw 'tumblin' tumbleweeds' of at least four feet around blowing down the street!"
"About four hours outside of Moab, we started experiencing a power loss. We tried bleeding the fuel filter, but no luck; we could not get the motor to rev above 3000 RPM. We were pretty sure it was the lift pump. We thought about replacing it on the side of the road, but the 50 mph winds made us feel as if we were getting sandblasted. We opted to limp into Moab and replace it at the camp grounds. The next day we woke up and called Zack Griswold at Rovers North, replaced the pump and had the truck up and running in about an hour."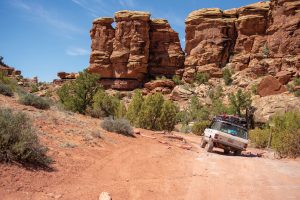 "My dad has been going to Moab for years and I never really understood what he was talking about until I saw it for myself. This part of the country is truly amazing! Our days with the Arizona Land Rover Club started at Moab Dinner and then off to Hells Revenge. This was my first time driving on slick rock; it's really a shock to pull up to a wall of rock and have the truck just climb over it without an issue. Doug led us up Elephant Hill, which requires you to back down because it's so narrow at the turns. There's a 40 ft. drop-off on one side! The day went well until I took a bad line on the last obstacle of the day and ripped off and bent my exhaust. Thankfully, it's Moab.  We took it into a shop the next day and got it fixed for $100."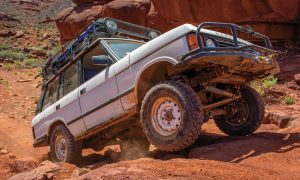 "One night we ate with the group at Moab's Sunset Grill. Originally the home of Charlie Steen, the 'Uranium King,' the restaurant with its killer views also had old Geiger counters and reminders that uranium once appeared as an ingredient in dishes and ladies' makeup. For the final day with the club, we tackled the Potash Trail and Schafer switchback before ending the trip at the Island in the Clouds Ranger Station."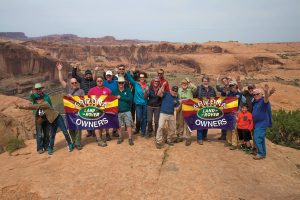 "Now came the second exciting part — a 3-day, off-road, off-the-grid trek with two other Range Rover Classics and a Discovery II, including AZRO club members Doug Lawyer, Pierre LeBlanc and Chad Manz. We began at Hurrah Canyon and headed to the Chicken Corner (yes, the names say it all). It got remote very quickly. Cell service disappeared and the trails became single track, intermixed with several challenging obstacles (I needed to be winched up the last 20 yards of the final stair step climb)."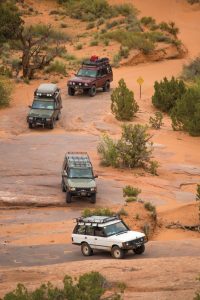 "The conditions were rough on my Range Rover, too. My right rear spring would pop out of the top perch any time we drove over obstacle that stretched the rear suspension to its max. We also did not notice the sharp rock that a tire rubbed against, tearing a three-inch gash in the sidewall.  Doug took it as a challenge to repair; after getting real familiar with the patch kit, we gave up. But I was quite proud of how well my Range Rover tackled the difficult terrain— and very excited to have driven it! The scenery and the friendships were equally amazing!"
The 1,160-mile trip home took them back through Oklahoma City and back to Tennessee. Living out of their Range Rover Classic — a short wheelbase one at that — for 13 of the 15 days demonstrated the capabilities of a Classic. "We were very happy with the 300 Tdi, 5-speed combination," said Scott. Harrison stated, "I like the Land Rover automatic but you can't beat the manual!" Scott has built several Land Rovers over the decades [there's a custom Defender underway now] and Harrison earned a graduation gift for the ages. To quote Ferris Bueller, "Life moves pretty fast. If you don't stop and look around once in a while, you could miss it."