Anna and Logan Gibson, Gadsden, AL, grew up in that very town, became high school sweethearts and soon after, wife and husband. Their family consists of three pugs [undoubtedly spoiled], Oliver, Winnie and Tobi, and a cat named Darcy.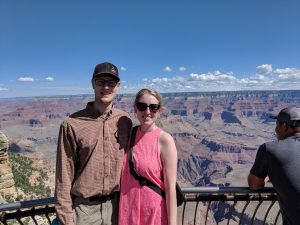 In February 2016, "The Millennium Falcon", a white, $500 '98 Discovery I joined the family, and thus began this adventure.
Logan, a system administrator for automotive supplier Stamped Products, Inc., spotted the Discovery on Craigslist and remembered it one night when they drove by it after dinner. While it had 200,000 miles on it, the Discovery came complete with Land Rover dealer service records that covered most of its life. The last previous owner had bought it only three months earlier; when it died on him at a nearby Applebee's, he had to towed home to sit on his driveway.
In a phone interview, Logan said, "It's my first Land Rover. I just love the look of the Discovery I, always have. I just never thought I could find one or afford one. I'd heard the horror stories, but my Isuzu Trooper was boring and it was time to replace it. I searched for two months. It's turned out to be my favorite car and my most reliable vehicle."
Anna, an elementary school counselor, understood and accepted Logan's behavior. "Cars are his thing," she said, "So I figured, 'Whatever!' He's done this sort of thing before, buying and selling cars. But what surprised me is that we kept this one and I love the Discovery!"
Logan remembers, "When I first got it, it needed some TLC. The first thing I realized was that the problem with the Discovery's starting was a failed alternator. Since it was under warranty, I swapped it out. As I examined it closely, I saw weeping at the head, so I replaced the head gasket, then the spark plugs and wires. I also swapped out the steering box, replaced the tie rods and all the rubber bushings in the suspension."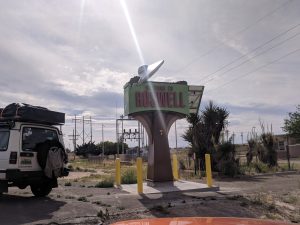 To Star Wars fan Anna, the Discovery's refurbishment felt much like Hans Solo's Millennium Falcon, a dubious vessel always in need of repair. Logan explains, "I try to keep everything low cost, even finding a parts car to help with the preparation for the trip. I gave it a 2-inch lift, Terra Firma shocks, and an ARB bumper. I lucked out finding a set of Cooper S-T MAXX tires at a discount store. I did install a dual battery system for our fridge and USB accessories, as finding a roof rack. I created a hot water system for our shower unit that uses a heat exchanger running off the Discovery's heater system." The Gibsons had never been to the Southwest, but for a shakedown cruise, they traveled the 300 miles of the Georgia Traverse — 200 miles of it on dirt roads — and the Discovery behaved perfectly.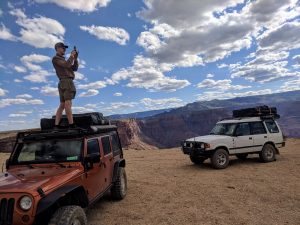 In 2017, they planned a Grand Canyon and American Southwest adventure with a convoy of friends, but when jobs and marriages got in the way, the trip became a 2018 duet with mate Lucas Saltz of Atlanta, in his 2011 Jeep Wrangler.
While Logan had carefully planned the trip since 2016, "We wound up winging it over this Memorial Day weekend. Our first stop was to have been Tyler [TX] State Park, but with no reservations on a holiday weekend, we wound up tenting in the parking lot of a Dallas motel. Thirty-five miles later, near Abilene, TX, my speed sensor failed. The Discovery topped out at 70, but it would always restart after stopping, and I didn't want to wait for an overnighted part, so I just continued. By maintaining the Discovery myself, I knew its systems and had confidence in its capabilities. It took about 700 miles of driving to get to real scenery." To Anna, "That trek through west Texas and eastern New Mexico was the most boring drive ever. I have highway narcolepsy — I'm always the one falling asleep, but even without it, I would have had troubles staying awake."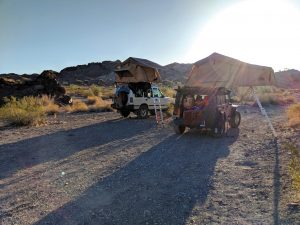 Once in New Mexico, the Gibson's took in "all the touristy things," such as the 23-ft long Giant Arrow sculpture in Tohoku, alien evidence in Roswell, the 18-ft high Cowboy Ruckus statues of Vaughn, and Cline's Corner shops along Rte. 66. After camping in the Cibola National Forest, they crossed the Continental Divide in New Mexico and headed for the extraordinary Petrified Forest.
Logan remembered heading into the Navajo Tribal Nation and after two hours of washboard dirt roads and avoiding herds of wild horses and cattle, arriving at the spectacular Horseshoe Bend. High winds forced them on further to the Lee's Ferry Campground, where they walked down to the Colorado River.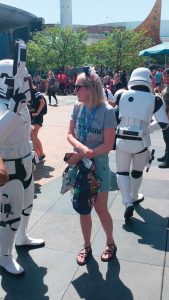 Anna said, "I dreaded the trip because I don't like long drives, but it was totally worth it. I fell in love with the desert. I'd never seen this surreal a scenery. Then, out of nowhere, comes the green forest of the North Rim on the Grand Canyon. We went off-roading, tackling ruts and vague trails. The Discovery had no problems at all."
Other than the speed sensor [replaced upon their return] their biggest problem was the bargain roof rack. The vibration, shaking and rattling finally caused some of the welds to fail, and that forced a slowdown on their way to the Hole in the Wall Campground. "A 10-mile trek down the recommended route, a washboard trail, was taken at 3 mph just to avoid further problems," Logan recounted. You can imagine his chagrin when they discovered there was a paved alternative route!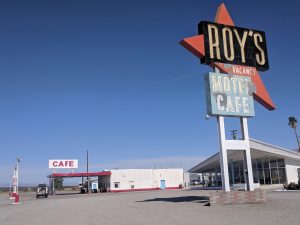 The roof rack's fragility continued to hamper their off-roading plans, so they decided to cross the Mohave Desert towards Las Vegas, where the 105°F temperatures never caused the Discovery's temperature gauge to move above ½. They met the Pacific Ocean at Huntington Beach and treated themselves to a "$70 hotel room instead of a $72 campsite."
In addition to her Star Wars affection, Anna is a "Disney fanatic", so a day at Disneyland preceded their drive back to Alabama. "We camped on BLM land around Lake Havasu City, AZ, and left at 5 the next morning," Logan said. "Throughout New Mexico, we sprinted ahead of enormous hailstorms and thunderstorms until Elk City, OK. Then came the longest drive via Memphis (with a one-hour delay due to a truck accident) to Gadsden at 11pm on a Monday night — exhausted!"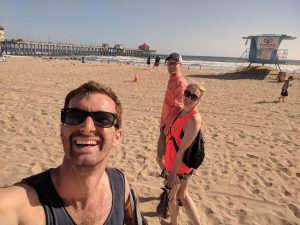 As Logan noted, "We had just done 4,800 miles in a Land Rover Discovery without a serious problem. I'm very pleased that it handled it that well and proud that all my hard work on maintenance paid off. Now I drive it to work daily, thinking up our next trip." He'd like to visit Alaska, but to get the most out of limited vacation time, might ship the Discovery part of the way.
Princess Leia took one look at Hans Solo's Millennium Falcon and said, "You came in that thing? You're braver than I thought!" Logan and Anna might feel the same pride as Hans Solo when he proclaimed his ship as, "My pride and joy. She belongs with me!" We think that this 20-year-old, $500 Discovery might remain with the Gibsons for a long time."