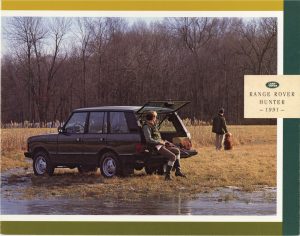 Dear Rovers North,
A question for you: I have a chance to buy a '91 Range Rover Classic Hunter Edition. The current owner is only the second, and the first was reputed to be a member of the Walton (Walmart) family. It's been a California truck for decades. The owner says the 209,000-mile engine leaks oil through the valve cover gasket and does not have a head gasket leak. The power steering and front brakes need attention. The interior is solid. There's no rust to report, but two very minor dings on the exterior.
Assuming I can get it for a reasonable price, is it a good one to pursue? Or am I crazy because it does have a blown head gasket and the engine is ready to go and the whole enterprise will cost me a lot more than the price of entry?
Your wisdom and insight here are greatly appreciated.
Jeff Glucker
Lake Forest, CA
[We're big fans of the Range Rover Classic, and especially appreciative of the rare Hunter Edition — only 400 were made. Look for coolant in the oil and have a compression test done, to check out the head gasket. Power steering pumps and brake work (no ABS on the Hunter) are DIY repairs. A rust-free body should be Waxoyled to halt future tinworm -ed.]
---
Dear Rovers North,
My wife Eleanor and I thought it only appropriate that our wedding vehicle should be our '94 NAS Defender 90, and we wanted to share it with you.
Christian Toth
Baltimore, MD
[Congratulations on your marriage. A Defender 90 made for a perfect send-off! -ed.]
---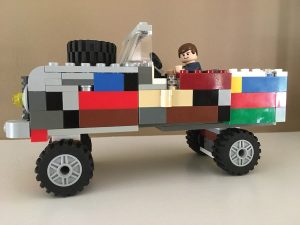 Dear Rovers North,
This Land Rover was built by my only son. He was probably about six or seven-years-old and Legos were his life. At the time, I owned a '63 Series IIA, which sadly, is gone now. However, this Land Rover lives on and will never be sold, restored or altered in any way. It's probably my most prized possession.
Mark Madden
Anderson, SC
[It's a brilliant topless Series Land Rover with a unique color scheme. No wonder its driver looks so happy -ed.]
---
Dear Rovers North,
I appreciate everything you guys do. You have great product lines and great service, too. I wish we were in the same country so the exchange rate and handling costs didn't sting so much.
Alex Heath
Wainwright, AL
Canada
[Thank you for letting Rovers North support your use of your Land Rover. Sadly, there's little we can do about the exchange rate or shipping costs -ed.]
---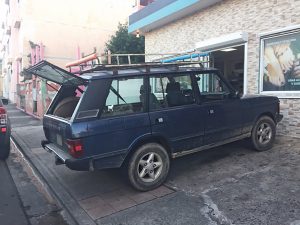 Dear Rovers North,
We're working madly on our Series III, but in the meantime, we always appreciate spotting other classic Land Rovers, like this Range Rover Classic we saw on the Caribbean island of Vieques.
Carri and Frank Lineberry
Lebanon, CT
[We're eager to see your Series III at an upcoming event -ed.]
---
Dear Rovers North,
I forwarded an Instagram ad for LG Tech where they use a Defender in the ad. Maybe at some point, a Range Rover Classic will be perceived as cool enough to show up in new advertisements. Thanks for all you do for the Land Rover community.
Jesse McCoy
Richmond, VA
[The Range Rover Classic is already cool, and likely too busy to appear in Instagram ads. Thanks for your kind words -ed.]
---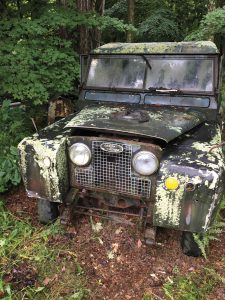 Dear Rovers North,
I was down in Connecticut and found this beauty in a farmer's field. There wasn't much left of her, so I let her go. I find the combination of patina and moss very pleasant to look at. Keep the good work!
Kevin McCall
Amherst, NH
[Kevin, we find that combination equally pleasing to the eye -ed.]
---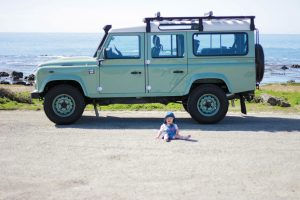 Dear Rovers North,
I always see cute pictures in your magazine of parents adorning their children in Rover clothing. And we are no exception. My husband is obsessed with all things Rover, so I wanted to surprise him with a new outfit for our daughter, Goldie.
Anneabel Gemmel
Crystal Lake, IL
[We can't think of a nicer gift for your daughter than that outfit — except her own Land Rover! -ed.]
---
Dear Rovers North,
I was visiting Waiheke Island in New Zealand and felt homesick from seeing these Land Rovers as my Series III is waiting for me at home.
Mike Walsh
Boston, MA
[We know the feeling — we miss our Land Rovers when we travel, too -ed.]