"How do you measure smiles per mile when you rescue another Discovery?"
That's the rhetorical question my Land Rover technician asked me recently, as I updated him on the 1,000-mile initial shakedown of another Discovery II rescue, undertaken by my wife Stacie and I. Rescuing Discoverys has become a passion of ours.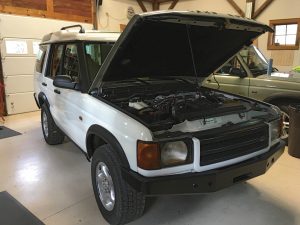 We found a non-salt belt '00, with all indications of good maintenance history, a solid frame and an apparently happy, 139,000 mile, 4.0 motor. It's the third Discovery II in our fleet, and ironically, the oldest and the one with the lowest mileage. Cosmetically, it came to us rougher than the others, with many broken or missing exterior trim moldings, a tired interior and non-functioning windows.
Upon arrival, it took two people to start it, due to frayed battery cable ends and improperly fitted connectors. One of us had to be under the hood jiggling cables while the other keyed the ignition. In our shop, this Discovery II quickly became known as "Project Underdog."
The "Make Underdog Great Again" movement started with the very basics: engine oil and filter, fresh differential fluids, a fill-up of premium gas, proper tire inflations, a new battery, and some lightbulbs. We even did a full-on tailgate refurbishment, as upon arrival it would not open and had a broken license plate light housing.
It might be psychological, but it's always amazing how a Discovery responds to TLC after sitting for sale and not being driven. We have to embrace those moments of immediate gratification. They go along way in offsetting the days filled with bloody knuckles and busted bolts.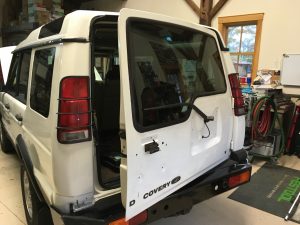 After initial maintenance, the '00 went off to a service tech for a pre-inspection visit, with a scan of stored OBD codes, and a full check of all things mechanical and functional. This created a preliminary list of needs for state inspection requirements (drag link, tie rods, steering damper, working lights).
Then, we compiled a longer-term priority list of bigger ticket items to be completed in phases over time (tires, brakes, exhaust, suspension). If the rig proves itself as an everyday driver, then maybe it receives more accessories down the road. You can easily pour $6,000 into a Discovery II in one round, so we consider it important to prioritize and do things sequentially.
The first priority for a new-to-you Discovery is to make it safe and legal, then to drive it, listen to it and get to know it. Discovery II's share many commonalities, but each will have its own quirks based on its history. For me, monitoring the essential fluids — coolant, engine oil, brake, and power steering fluids — increases my confidence in driving it. If fluids go down, they are either being used or leaking. Some consumption and minor leaking might be expected, while other types can be catastrophic.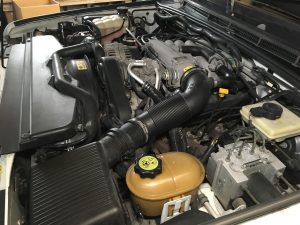 The '99-'04 years of Discovery IIs are generally in that 80,000-130,000-mile stage of life, where they might have been relegated to second vehicle status, characterized by reduced use and excess sitting. An aging Disco wants to be challenged to continue performing, and it takes an enthusiast to do that right. Vintage vehicles can quickly become cantankerous when not being started and run regularly.
Discoverys have a great life potential after the first 100,000 miles. Entering into a relationship with a 15-20-year-old Land Rover is like stewardship. And as Discovery IIs approach classic status, you might think of ownership as an act of preservation.
So as I updated my service tech on the watchlist items on our D2, I pointed out that I hadn't yet started measuring fuel mileage, but that this 4.0 is always thirsty at the pump. However, really poor fuel economy can be a useful measure of engine performance and overall health.
Any day that our Discovery IIs aren't overheating, there's a reason to smile on the road. Sure, the cabin can be drafty and occasionally, the sunroofs bring in a few drops of rain. Call it character and appreciate the small victories, like the windshield wipers working. And the lights. Smile because you aren't heading home with the "Sport Mode" warning lamp flashing, indicating possible transmission ECU work.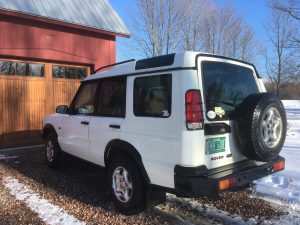 The driving experience makes it all worthwhile. How you measure your enjoyment of your Discovery may be based on the places it takes you, whether to work each day or to the middle of nowhere for recreation or vacation. I don't know about you, but I am convinced that the worse the driving conditions and weather are, the better a Discovery II runs. For example, even a tired power steering box with some play on dry pavement feels responsive and suddenly well centered on ice or slush.
There is a psychology to this, a sensory aspect that makes driving a Discovery II fun, regardless of the road or trail. The sound. The distinctive smell of an old school V8. The unique view from the cabin, with a stance high up over the road and prominent hood presence out the low windscreen. Lots of glass and natural light. Features and styling from decades past are a spartan reminder of how simplicity endures in well-thought-out vehicles.
The Discovery II resonates with something nostalgic within us. Whether yours has the solid frame and happy engine to be of service for another decade, or just one last inspection sticker – start it, run it and smile.
And of course, repeat daily!