The rescue story behind the '65 Series IIA 109 should warm the heart of every enthusiast — especially in my home state of Maine.
Robin Spencer, Manchester, ME, owns a family business technology company in Gardiner, ME. He's a genuine enthusiast, one who had the good fortune to find a '97 NAS Defender 90, but the misfortune of selling it ("I really regret it now," he said). He also has good taste in boats, as he enjoys a classic wooden Chris Craft outboard at a nearby lake.
"Series Land Rovers are 'primitive' in their own way, but very capable off-road. I loved the heritage — expeditions and explorations — of them. They can go anywhere in low range! I enjoy fishing at remote locales, and the idea of sleeping in the Land Rover made it seem perfect for me. I had a '97 Defender 90, absolutely loved the car. Ayers in Gardiner, so now I've turned my eye to a NAS Defender 110."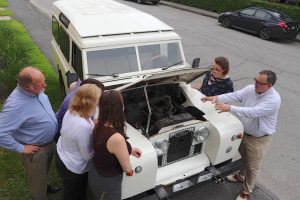 Five years ago, while driving to work, he couldn't help but notice a rather forlorn '65 Series IIA, gently decomposing at an auto dealership. He could see some front end damage, but otherwise, it looked like a perfect candidate for a new home. Over the following two years, he would check in with the dealer routinely to ask questions about the Land Rover, such as, whether it might be for sale. Finally, the dealer agreed to part with it and Robin found a shop in Benton, ME (also the home of the annual Maine Winter Romp) to perform deferred maintenance and repairs, as well as subcontract out body and interior work.
The 3-door 109 came with unusual custom touches. A previous owner clearly liked music; speakers reside hidden behind the seat backs, and quite visibly in the rear wheel arch boxes. There's a hole in the front seat box, under the left side driver's seat, where a radio and sound system once sat. The solid-side tropical top had aftermarket windows installed, along with relocated side benches. Under Robin's ownership, the entire square footage of floor, from the toe boards to the rear tub, was covered in a continuous swath of beige carpet: floorboards, seat box, and rear wheel boxes. New wider wheels and tires added a Defender touch to the Series IIA.
It demonstrated a need for additional brake work, too. Robin remembered a time when his 27-year-old niece Sarah came to visit. "Let's take the Land Rover out for a ride," she insisted. As they trundled down a dirt lane and approached a gate, Robin discovered the downside of a single circuit brake system. "When I realized I had a problem, Sarah thought I was joking. She realized I wasn't when we gently smacked into the gate." Replacing a leaky wheel cylinder restored its braking action.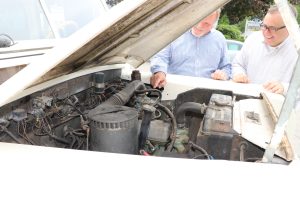 Robin enjoyed it for a couple of years, but sold it reluctantly to its next team of rescuers. TV shows like "LA Law" and "Boston Legal" taught us that lawyers operated with their hearts and emotions as much as with the cold logic of law. That became evident when the law firm of Stevens & Day, in Maine's capital city Augusta, decided that the company should make that very Series Land Rover the company car.
Dan Stevens, East Winthrop, ME and Avery Day, Yarmouth, ME, admitted that they knew nothing about the Land Rover and especially how to use any of the features. So I invited myself up to their offices to put legal battles on hold while we explored it together. Although a IIA, it must have a Series III transmission, for there was no reason to double-clutch when shifting. The Fairy overdrive worked quite nicely, as did the hand throttle. We adjusted the hand choke so it would work, but it will need a new speedometer cable, and possibly, a new brake switch. It has enjoyed a conversion to negative ground, with the improved generator-to-alternator swap. The Smith's "fig-stirrer" heater had been removed, but the unique metal demister tubes were still intact. The engine and drivetrain all looked clean and without major leaks. On a brief test drive, the 2.25 4-cylinder ran smoothly and without hiccups. From their enthusiasm on a very hot, muggy afternoon examining the new purchase, it seems they share Robin's feelings for the marque.
The company legal team were bemused by the presence of the "company car," but agreed to be photographed with it. Robin Spencer reminisced, "Every time I drove the car someone would compliment it." Judging from the "Nice car!" comments of passers-by during our photo shoot, nothing has changed. As we go to press, the 109 should be participating in the 54th annual Yarmouth Clam Festival parade.
---
This second rescue story occurred even closer to home, right on my island town. Our population triples in the summertime and I will often see more Land Rovers. A Sumatra Black LR3 with Vermont plates caught my eye and I left a request to meet up with its owner.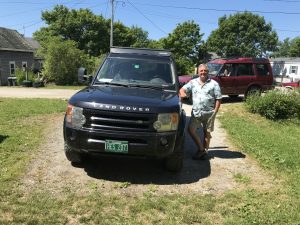 Seth Oatway hails from Randolph, VT, and the sign on his LR3 read "Inland Building Company, Fine Carpentry." He couldn't be happier with his purchase, made a few years ago when he rescued this one from a Mitsubishi dealer in Brooklyn, NY. A CarFax report indicated that it had been in a front-end accident, but that didn't deter Seth from buying this 65,000 mile example.
Since the purchase he's added another 37,000 miles, much of it towing trailers with his carpentry equipment. Seth stated, "It's perfect for towing a trailer with all my gear. And I can't ignore how wonderful it drives on the highway. It made the long drive from Vermont to the ferry very easy. Compared to my newer Ford F-150 truck, this handles like a sports car!" It's noteworthy that Land Rover earned 90 automotive awards for this LR3 (Discovery 3) model — the most of any Land Rover model to date.
In addition to rescuing his LR3 from a likely life of hauling artisanal foodstuffs around gentrified neighborhoods, Seth also has a '70 Series IIA hardtop, purchased from his father's best friend in Winthrop, ME. The drivetrain has a genuine 32,000 miles on it, some of them from annual trips to a hunting camp, some of them from wintertime plowing. "The frame is toast, but I'm planning on buying a frame from Rovers North and having a shop complete the refurbishment."