Summertime might mean more outdoor adventures and off-roading for Land Rover enthusiasts, or it might mean more hammock time. Regardless, we know you're searching out Land Rovers in commercials, advertisements, movies, and social media. Thanks for all your entries and for keeping the Land Rover spirit alive during the lazy, hazy days of summer.
It's always helpful for veteran and novice Sighters alike to review the rules that govern when we award a Coveted Mug:
Rule #1 – All Sightings receive recognition and our appreciation, but not necessarily a mug. We reward only those Sightings that capture the unique qualities of Land Rovers as well as their owners, and display them in a distinctive way.
Rule #2 – If your Sighting doesn't really surprise you, it won't surprise us, either — thus we can't award you a mug. We're delighted, but not surprised, that Land Rovers appear in British television programs, British publications, films with British themes and shows about African safaris. You shouldn't be surprised, either, and should consider looking for other ways to get a coffee mug.
Rule #3 – At an ever-changing date before publication, we close off the Sightings; for this issue, it was June 30, 2019. If we've mentioned the Sighting in an earlier issue, we might not mention it again. If you're new to the family of Land Rover enthusiasts, you may not have seen your Sighting in an earlier issue.
Rule #4 – We're not outfitting your kitchen. If you qualify, one mug per Sighting per issue.
Rule #5 – Sightings that are Land Rover references in books go to our Literary Land Rover editor for the mention, but only when space permits.
Rule #6 – Psst… email submissions – remember we can't send a mug by email. To be considered for a Coveted Mug, send us your real name and shipping address, too.
Rule #7 – Grudgingly, very grudgingly, the Editor admits he might have made an error. Let us know if you think you've been jobbed, but all decisions of the Editor are final.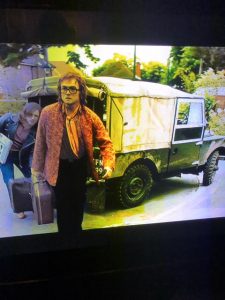 Movie producers love to place Land Rovers in their films. John Lane, North Yarmouth, ME, sent out a spoiler alert that the Hulk rides in the back of a Defender 110 pickup in the Avengers movie Endgame. Chris Sand, Lebanon, NJ, Rick Mackie, Fond du Lac, WI, and Jane Barrett, Plainfield, ON, spotted a Series I in the trailer for the Elton John biopic, Rocketman. Television shows benefit from Land Rovers, too. Rick Mackie, Fond du Lac, WI, spotted a Series III 88" on an episode of Jay Leno's Garage; Leno drove his first Series Land Rover during that episode. Scott Just, Berkley, MI, spotted a Marine Blue Series III in the movie Yesterday.
Want people to pick up your magazine? Why not put a Land Rover 109 on the cover, as Sunset did — also on its Instagram feed; better yet, photograph one with a Rovers North sticker on the rear door! Kenneth Jones, Santa Ana, CA, Todd Svetin, Kaunakakai, HI, Joey Boerner, Forest Grove, OR, Josh Harris, Jamul, CA, Scott Williams, Hills- borough, CA, Keith Comess, Portland, OR and Jeff Briggs, Meadow Vista, CA, enjoyed taking it all in. Tom Proctor, Frenchville, NJ, read an article on the supermodel Arizona Muse, photographed on her farm in Sussex, UK. She stood beside a commercial Defender 90 in a field, but as she wore a green velvet pants suit, it's unlikely she was engaged in serious agricultural work at that moment. Garden & Gun continued its use of a Series Land Rover on the cover, this time, an RHD Series III, noted Lisa Monish, Pensacola, FL, John Milner, Trent Woods, NC, Adam Setliff, Flower Mound, TX, Derek Leath, Frontenac, MO, Buzz Dozier, Jacksonville, FL, Jay Bopp, Greenville, SC, David Russell, Snellville, GA, Kraig Mackett, Perrysburg, OH, Tim Stovall, Chesapeake, VA, John Hickey [See Rule #6], Walt Brown, Burlington, NC, and Kathy Tyson, Grimesland, NC. Pat Harris, Vero Beach, FL, enjoyed seeing the RHD Defender in a Yeti ad that appeared in The Surfer's Journal. Mark Kulik, Berthoud, CO, spotted a Land Rover 110 in the opening spread of a "Summer of Fun" article in Colorado Country Life magazine.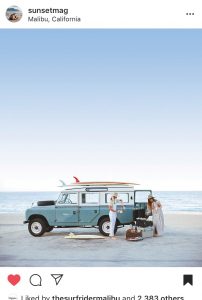 Advertisers of a wide range of products know that the appearance of a Land Rover in their ad can capture readers' attention. Brendon Mahoney, Atlanta, GA, received an email blast from Simple Tire; what drew his attention was the front half of a Land Rover 90 on the home page. Corey Moore, Windham, NH, received an Instagram ad for In the original, a sunblock product to protect your tattoo from fading away. The ad shows a model with her tattooed arm stuck outside of a Series sliding window. As Corey wrote, "I can see why they used a Rover; preserving a work of art can always be appreciated." Jeremy Vimislik, Seattle, WA, found a Land Rover 110 County with "Go Faster" stripes in a Toyo Tire commercial. Peter Haarala, Yerington, NV, has clearly memorized the appearance of a Land Rover rear crossmember as he saw one on the Icebreaker of New Zealand website. Paul Kennington, Pendleton, OR, spotted an RHD Defender in an unidentified financial services firm commercial. Joseph Powell, Mount Olive, AL, spotted a Defender 110 towing a trailer with 4 ATV's, promoting JAX Outdoor Gear. P T Schram, Churubusco, IN, watched a History Channel program with an ad for Firestone Tires that included a Defender.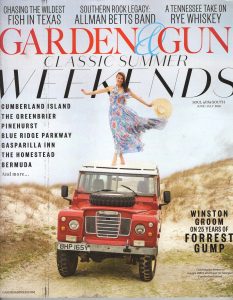 Sightings can appear online, too. Brian Jones, Raleigh, NC, found an RHD Defender
on the BB&T banking website. Mike Shaw, Ashland, VA, read an article on thisismoney.uk, which featured Prince Harry getting a look at a camouflaged New Defender. Advanced Auto Parts, which really doesn't carry much for Land Rovers, put a quad cab Defender pickup on the home page of its email blast, notes Rob Lynch, Apex, NC, Matthew Clark, Seattle, WA, and Durk Tyson, Grimesland, NC. Jason Sheehy [See Rule #6] received an Instagram from CraftsmanCapitol for automotive tools, all shown working on a Defender. Bill Schimikowski, Westborough, MA, and Scott Monico, Long Lake, MN, spotted a P38A on the top of the Outside Editors online newsletter. Adam Setliff, Flower Mound, TX, spotted a Defender 90 in a post from BackCountry.com.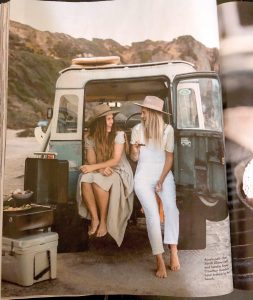 We've mentioned these before, but we want to credit avid Sighters for keeping us abreast.
Steve Greene, Goldsboro, NC, Damon Schim- ming, Wichita, KS, and Chris Hopek (See Rule #6), noted how Mountain Khakis continues to run a Land Rover on their catalog covers. Eric Stockmann's Series Land Rover has appeared in a Fabulously British column in Rovers Magazine. Rob Marsh, Ft. Bragg, NC, was pleased to see it in a Prometheus Design Werx website. Ben Boerum, Washington, DC, spotted a commercial for POLO products featuring a Defender 90.
Winners:
Kenneth Jones Santa Ana, CA
Todd Svetin Kaunakakai, HI
Keith Comess Portland, OR
Lisa Monish Pensacola, FL
John Milner Trent Woods, NC
Scott Monico Long Lake, MN
Adam Setliff Flower Mound, TX
Scott Williams Hillsborough, CA
Mark Kulik Berthoud, COBill Schimikowski Westborough, MA
Walt Brown Burlington, NC
Joseph Powell Mount Olive, AL
Matthew Clark Seattle, WA
Durk Tyson Grimesland, NC
Rob Lynch Apex, NC
Josh Harris Jamul, CA
Jeff Briggs Meadow Vista, CA
Tim Stovall Chesapeake, VA
Kraig Mackett Perrysburg, OH
David Russell Snellville, GA
Kevin Ayers Portland, OR
Kathy Tyson Grimesland, NC
Jay Bopp Greenville, SC
Buzz Dozier Jacksonville, FL
Derek Leath Frontenac, MO
Joey Boerner Forest Grove, OR
Jeremy Vimislik Seattle, WA
Corey Moore Windham, NH
Brendon Mahoney Atlanta, GA
John Lane N. Yarmouth, ME